Don't Like Traditional Veggie Burgers? Make Falafel Patties Instead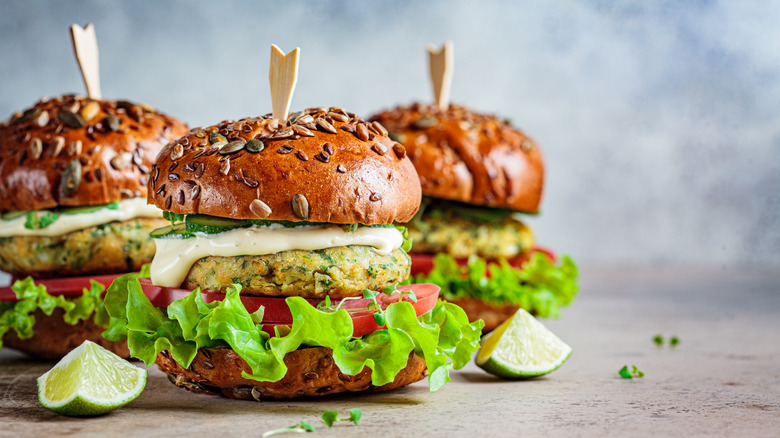 Vaaseenaa/Getty Images
If you follow a plant-based diet or just like switching up how you enjoy burgers, veggie burgers make for a great crave-curbing meal. When made with vegetables and legumes, they're full of fiber and protein, and are hearty like a beef burger without, well ... beef. However, If you're not keen on black beans or pea protein, but still need ideas for plant-based patties that aren't just store-bought Beyond Meat burgers, try using chickpeas to make falafel burgers instead. From its texture to flavor and versatility, falafel burgers are a delicious alternative to their vegan counterparts.
Falafel's crunchy exterior gives the patty a delicate resistance that breaks open into an aromatic, fluffy interior. And whether it's classic burger fixings or Mediterranean toppings, the mild, nutty taste of chickpeas complements a wide range of flavors. You don't have to limit your falafel patties to stereotypical burgers, either. Burger-adjacent bites like sandwiches, subs, and stuffed pita bread are some alternative homes for falafel patties. Falafel patties are not only versatile in how they can be assembled, but also in how they are cooked. For that classic, crunchy texture, deep-frying falafel works best. If you want to avoid frying oils and the excess calories, you can grill, bake, or air-fry falafel patties instead. Falafel is a protein-rich food full of vitamins and nutrients that will keep you satiated between meals, making it an excellent addition to a healthy diet.
Making falafel patties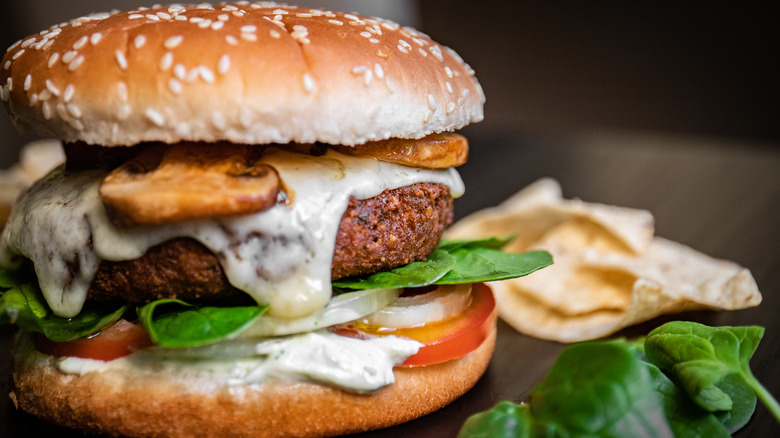 Daniel Myjones/Shutterstock
Although falafel has a vibrant flavor profile, as long as you pay attention to a few minor details, it's surprisingly easy to make. A basic falafel recipe calls for chickpeas, garlic, red onions, seasonings, fresh herbs, olive oil, salt, pepper, lemon, and a pinch of baking powder. Start with either canned or overnight-soaked chickpeas, then grab your aromatics and veggies, and pulse the ingredients in a food processor until it's ground into a coarse mixture. Form into patties and bake or fry with your preferred method of cooking.
Before cooking the falafel, it's important to keep the moisture level just right so that the falafel isn't too crumbly or too stodgy — you want the patty to be moist and structured. Overcooked falafel can dry out, and undercooked falafel won't crunch, so cook until golden brown on the outside and soft on the inside. If you're making multiple patties at once, avoid overcrowding the pan so that each patty cooks evenly. Although it's not traditional, you can add breadcrumbs to your falafel for extra breading and crunch. And because chickpea water is a binding agent, you don't need eggs to hold everything together. Don't be afraid to mix and match the herbs, veggies, and spices that go into your falafel mix — bell peppers make a great falafel remix. Serve it your way, or pair falafel patties with tahini, red onions, cucumber, and mixed greens on toasty, sesame-topped burger buns with a tabbouleh side salad.