Take Leftover Mashed Potatoes And Make Fall-Inspired Gnocchi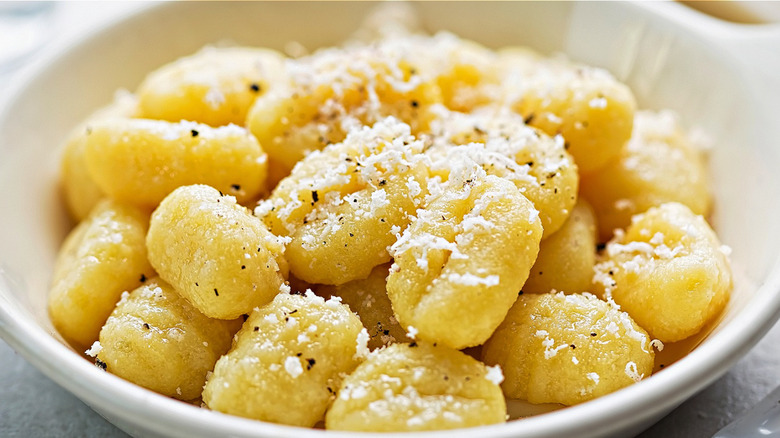 Bartosz Luczak/Getty
There's nothing quite like indulging in the heartwarming flavors of fall when the leaves start to turn and the air grows crisp. As we bid farewell to the warmth of summer, our taste buds eagerly anticipate the arrival of seasonal comfort foods. One dish that beautifully captures the essence of autumn is gnocchi, the delicate, heavenly Italian dumplings that effortlessly combine a soft texture with a satisfying bite. Did you know you can elevate your culinary repertoire by giving your leftover mashed potatoes a magnificent fall-inspired makeover?
Mix mashed potatoes with a small amount of all-purpose flour and an egg yolk to help bind the mixture together. Gently knead the ingredients until they form a soft dough, being careful not to overwork it. Once your dough is ready, shape it into ropes and cut them into bite-sized pieces. To enhance the sauce-catching texture of gnocchi, press each piece with a fork or your fingers to make ridges. Boil the gnocchi in salted water until they float to the surface—a quick process that echoes the fleeting nature of fall's beauty.
Combining the basics of making gnocchi with the inviting flavors of fall creates a dish that satisfies your palate and resonates with the changing scenery and cozy ambiance of the season. It's a culinary journey that embraces tradition while celebrating the evolving beauty of autumn.
Use fall flavors in leftover mashed potato gnocchi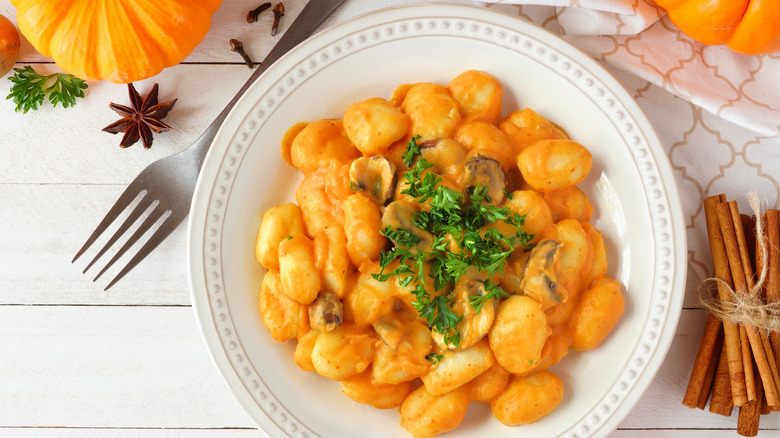 JeniFoto/Shutterstock
Elevate your fall dining experience by infusing leftover mashed potatoes with seasonal flavors like roasted butternut squash, pumpkin, sweet potato, and grated nutmeg before you turn them into gnocchi. Earthy, vibrant ingredients add depth and infuse soft, pillowy gnocchi with rich orange and red colors that symbolize fall's beauty. 
Then comes the sauce, a blank canvas for infusing your meal with even more autumnal magic. Melting butter until golden brown captures the warm, inviting fall hues and imparts a nutty, roasted flavor. To take it up a notch, sage leaves, a touch of rosemary, or cinnamon in brown butter can transport you to a rustic setting where herbs are freshly gathered and fill the air with fragrant notes. 
Alternatively, you can create a pumpkin Alfredo sauce for your gnocchi. When plated with grated Parmesan, the finished dish embodies fall. Remember, this isn't just food; it's a tribute to autumn's colors, flavors, and the changing seasons. Hearty comfort foods like gnocchi inspire us to cherish moments, welcome the evolving beauty of fall, embrace tradition, and enrich our dinner tables with the season's essence.