KFC's Hot & Spicy Wings Review: Fast Food's Cheapest Wings Are A Bland Value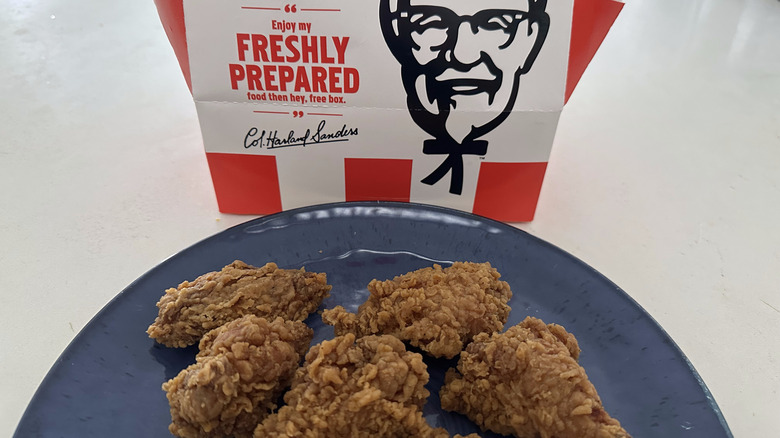 Bryn Gelbart/Mashed
If the chicken sandwich wars are finally a thing of the past, the fast food industry is moving on to a new battlefield in 2023. This is the year of the hot wing — don't let anyone tell you different. In January 2023 Popeyes brought back its Ghost Pepper Wings. That same month Taco Bell added Crispy Chicken Wings to its menu for a limited time. At last, with fall just around the corner, KFC has answered the inevitable call to compete with its fast food fried chicken rivals. Enter KFC's Hot & Spicy Wings. 
The colonel's take on the hot wing is the latest menu item from the nearly 100-year-old fried chicken franchise. Starting on September 10, you can buy these for a limited time from your nearest participating KFC location. The question of the day remains: Are they any good?
We got a chance to try KFC's Hot & Spicy Wings before they were released to the general public. We wanted to help you determine whether this latest offering is worth your time and money. Here is everything you need to know about the latest fast food wing.  
What is in KFC's Hot & Spicy Wings?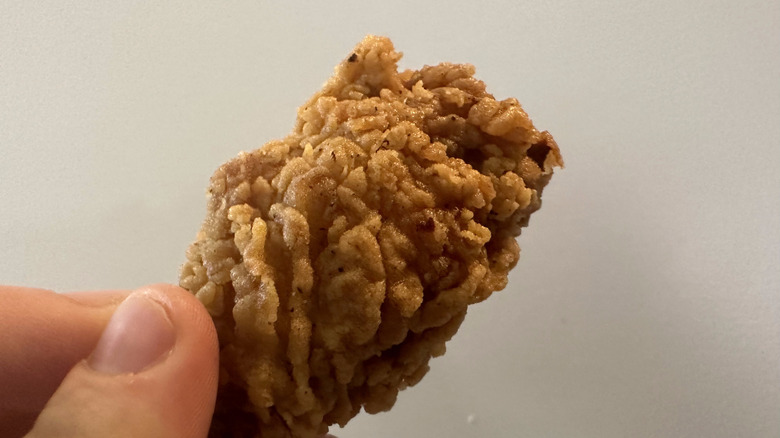 Bryn Gelbart/Mashed
Each order of KFC's Hot & Spicy Wings comes with eight breaded and fried wings. Each piece of chicken is marinated in spices and double-hand-breaded in the brand's signature Extra Crispy coating. These aren't aiming to be the spiciest wings in the world, but they are meant to provide a mild kick. If you want a little extra spice, we recommend asking for a cup of Buffalo Ranch sauce on the side to crank up the heat. 
The Hot & Spicy Wings may be brand new for the U.S. market, but they are not exactly an untested recipe. This exact item has shown up before in global markets. The first place the recipe appeared was at KFC locations in Trinidad and Tobago, according to the fast food chain. KFC has expanded the sale of the item to other markets such as Europe, Asia, South Africa, and Australia, but never North America. Not until now.
How much do KFC Hot & Spicy Wings cost?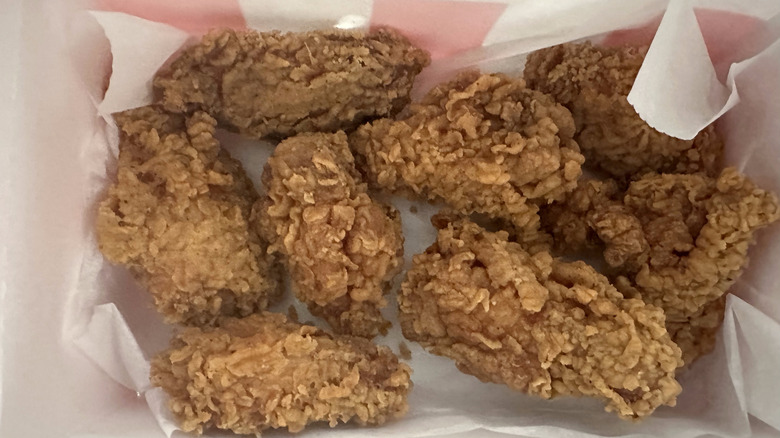 Bryn Gelbart/Mashed
We can say with confidence that the price is the best part of the new KFC Hot & Spicy Wings. Those looking for fast food wings at fast food prices will be surprised by the generous portion of eight wings for $4.99. We know KFC is cheap, but at less than a dollar per wing, the chain is providing one of the best deals in fast food with this smokin' hot offer. 
In addition, the brand is coughing up another offer, doubling down on the release of the Hot & Spicy Wings. Playing into the theme of wings being a perfect companion to football, KFC is offering free delivery on any orders via KFC.com and the KFC app, but only on Thursdays. We don't know if this will last through the entire NFL season. But until at least the end of the wings promotion, you will be able to get your KFC wings and other favorite items delivered free for Thursday night football. 
Where and how long will you be able to get these wings?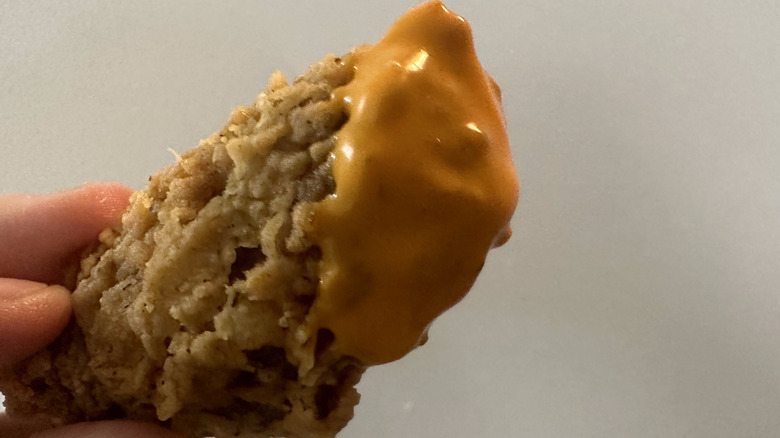 Bryn Gelbart/Mashed
Starting on Sunday, September 10, the KFC Hot & Spicy Wings will be available for a limited time at participating restaurants. This is a nationwide promotion, but to be safe you should still check with your local KFC to see if it is carrying the new wings before planning a get-together featuring them. The limited release is coming just in time for the NFL season to kick off, but for some reason we doubt these will be around until the Super Bowl. 
Unless these wings manage to make it to the main KFC menu, we suspect they will be available only as long as supplies last. Like most limited-time menu drops, we don't know exactly how long the Hot & Spicy Wings will be available. It could be a matter of weeks or more than a month, depending on how well the item is selling in your region. 
How do the wings compare to other KFC items?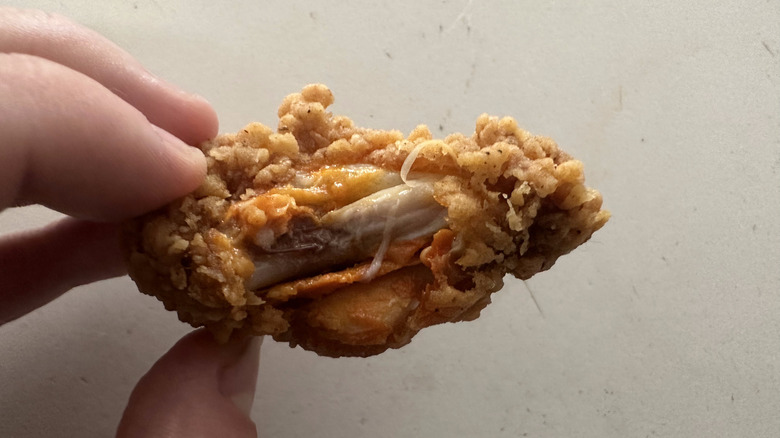 Bryn Gelbart/Mashed
While we can't compare these directly to KFC's regular chicken wings because they were removed from the menu earlier in 2023, they are plenty of menu items similar to these hot wings. A prime example is the regular old fried chicken bucket.
If you wanted hot and spicy Extra Crispy KFC chicken, you can already order that. Since the new wings use the same ingredients as the spicy Extra Crispy fried chicken, what you are getting in terms of flavor is the same. In terms of the quality of meat, what you get with the wings is comparable to any other dark meat chicken you can get at KFC.
The Hot & Spicy Wings are not anemic, but they are far from the most meaty wings we've ever tried. You are going to get a decidedly larger amount of protein by opting for a three- or four-piece combo instead of the wings. At $4.99, though, an order of eight wings is less than half the price of a three-piece combo (at least at the KFC location nearest to us). 
Our final verdict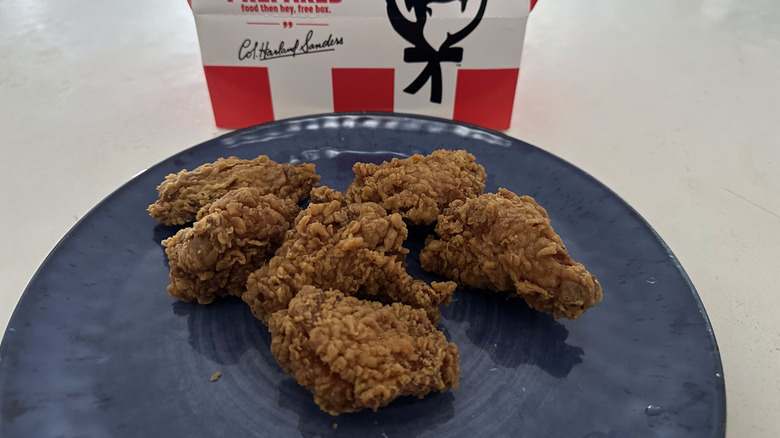 Bryn Gelbart/Mashed
If you are a wing aficionado,  KFC Hot & Spicy Wings aren't going to blow your mind. They bring a mild level of spice that was good but could've used some amping up — especially compared to Popeyes Ghost Pepper Wings. The quality and seasoning of the meat is in line with what we've come to expect from KFC. We could definitely taste the signature KFC spice blend and see the marinade on the meat inside the wing. However, the wings are a little light on salt. This is all to say that the chicken itself is a known quantity. We think these new wings are fine, but if you don't like KFC in the first place, these wings certainly won't change your mind. 
We can't deny that at the price of admission, this is the cheapest basket of wings you can probably find anywhere. Eight wings can be a meal in and of itself, but when it comes down to quality versus quantity, you are getting more of the latter. KFC's Hot & Spicy Wings might be a great value, but they fail to bring the heat.