Popeyes Ghost Pepper Wings Are Back For The New Year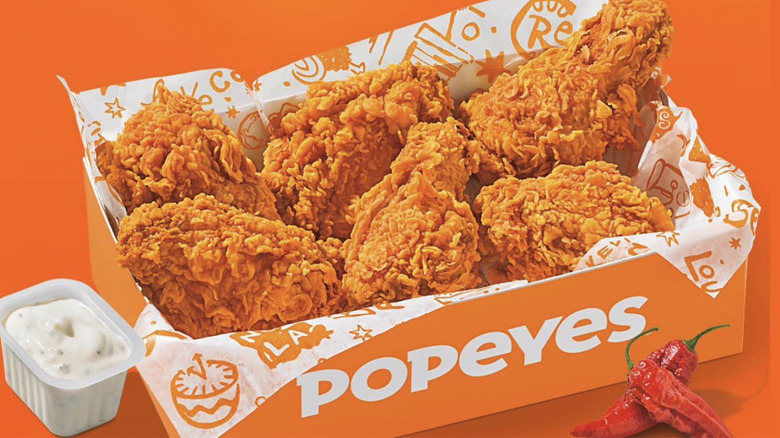 Facebook
Popeyes knows how to keep customers on their toes with the chain's new and limited-release items and deals. The chain famously went viral in 2019 after the release of its fried chicken sandwich (per The Trippy Life) and even attempted to end the chicken sandwich wars. Even after the hype settled, they continued to release new offerings and special deals to keep fans talking. After the success of its O.G. chicken sandwich, the chain released its new blackened chicken sandwich. The sandwich is not breaded but packs a punch with the cajun and creole spiced marinade (per People).
To celebrate the end of the year, Popeyes released a BOGO deal on its chicken sandwich combo. Customers could treat themselves (or a friend) to a free chicken sandwich for the price of one (via Chewboom). In 2022, Popeyes delighted customers with a limited-time addition to its dessert menu. The Louisiana chain added berry-filled beignets to the menu. According to Brand Eating, the wildberry beignets flipped a classic fried beignet on its head by adding a berry sauce filling. This year, fans of seriously spicy chicken will rejoice at Popeyes' newest offering.
Wing lovers, rejoice!
To celebrate the new year, Popeyes is offering a great deal and a limited-time new item. According to Business Wire, the chain is bringing back its ghost pepper wings for the first time since 2020. The deal includes six fried chicken wings for only $5. The wings are marinated in a spice-filled ghost pepper marinade and served with the chain's buttermilk ranch. Ghost peppers are incredibly spicy, clocking in at about 1 million Scoville heat units (per Britannica), so these wings are sure to pack a punch. To sweeten the deal, customers can earn a free apple pie via 200 bonus points.
This isn't the first time Popeyes has released a ghost pepper spiced item. In 2019, Popeyes released its limited edition voodoo tenders. The fried chicken tenders are tossed with garlic, ghost peppers, and fried onions. Unfortunately for some spice fans, they felt the heat was lacking in the wings. Those who are seeking heat can try out the ghost pepper wings to see how it stacks up against Popeyes' other spicy offerings.