Kimchi Adds A New Crunchy Dimension To Tuna Melts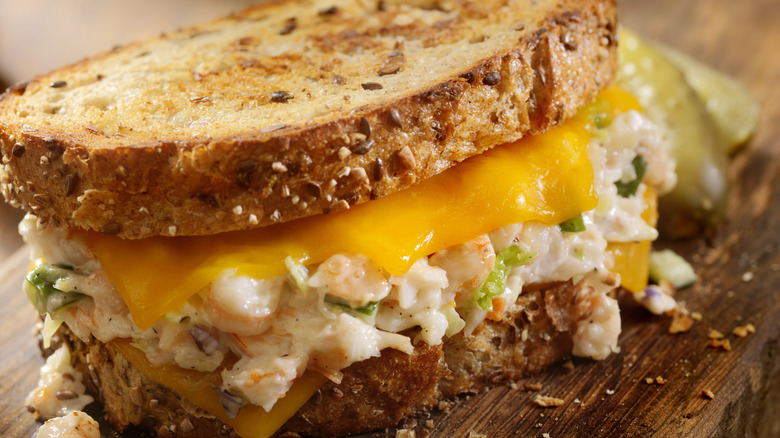 Lauripatterson/Getty Images
Everyone loves Korean kimchi, and recently people have been finding ways to incorporate this ingredient into new recipes. Kimchi is very healthy for both your heart and gut, and is a great addition to anyone's diet. The tasty, fermented food is high in probiotics and has antioxidant and anti-inflammatory properties (via WebMD). What's more, tuna fish is high in omega-3, and it's recommended by the American Heart Association to include fish in your diet twice a week. So, adding kimchi to a simple tuna melt recipe makes for both a delicious and nutritious meal, perfect for your next lunch.
The best thing about a kimchi tuna melt is how easy it is to make. Unlike a regular tuna salad which might require chopping celery, carrots, and dill, adding kimchi all by itself will pack loads of flavor and crunchy dimension into the sandwich. Just roughly chop the kimchi and you're good to go. Then, stir up your kimchi, canned tuna, and some mayo, and toast it like a grilled cheese sandwich in a skillet with some cheese. Although this tuna melt is worthy to eat all on its own, adding some sliced avocado to the sandwich once it's off the stove will add a creamy texture and nutty flavor that perfectly balances the salty, sour bite of kimchi.
Tuna and kimchi go back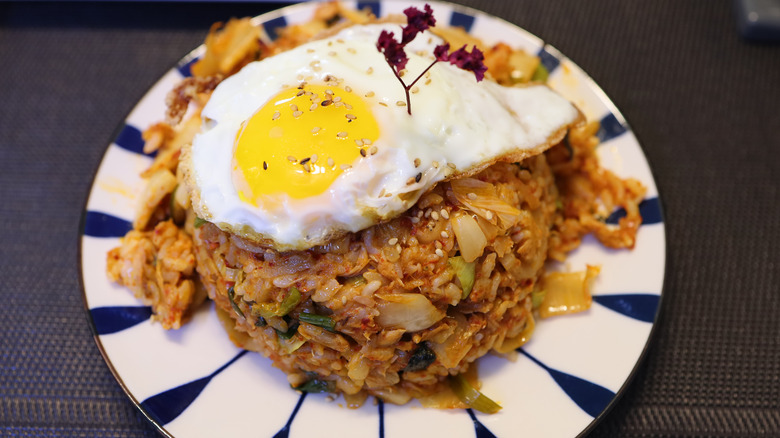 Boki Kang/Shutterstock
This combination of kimchi and canned tuna is not new at all in Korean cuisine. Although they might not be readily making kimchi tuna melts over there, these two ingredients are both staples of Korean cuisine that run into each other in many rice and stew dishes. For example, tuna kimchi jjigae is a soul-warming stew that links the striking flavors of these two ingredients in a spicy kimchi-infused broth. This dish has tofu and other vegetables and is normally eaten with a bowl of rice.
Additionally, kimchi and canned tuna work well together in rice dishes. Simply mixing tuna, mayo, and kimchi into rice with some Japanese furikake seasoning makes for a great meal, but kimchi-tuna fried rice is another yummy way to go. By using the juice from kimchi, some gochujang (Korean pepper paste), and soy sauce, you have a great sauce base to fry tuna and kimchi into the rice (or to use as a base for your next sandwich). Add an over-easy fried egg to the top, and the dish is complete. 
So, go ahead and take inspiration from these flavorful kimchi-tuna combinations — and try them out in an easy, satisfying way by adding kimchi to your next tuna melt sandwich. When doing so, just be sure to avoid the common mistakes everyone makes with canned tuna (like omitting the draining step or storing your sandwich near heat).