Grate Mushy, Flavorless Figs And Repurpose Them Into Fresh Jam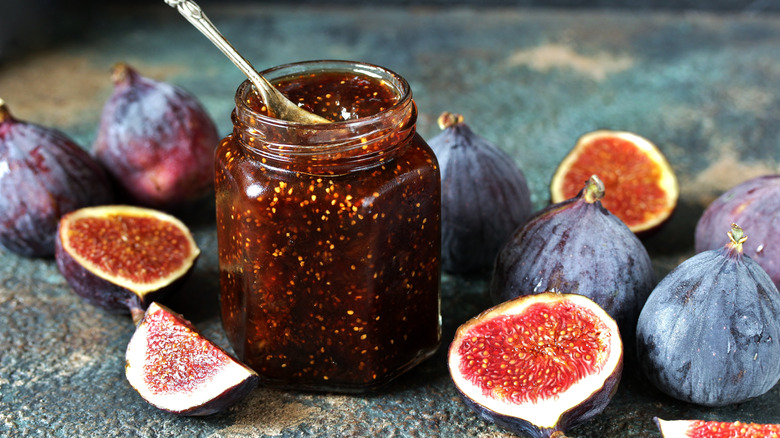 Lyudmila Mikhailovskaya/Shutterstock
Figs are a very unique fruit — they're basically inverted flowers. Their subtle, nectary flavor and velvety texture make them a compelling eat, but not everyone knows their ins and outs. When you're testing figs for ripeness, they should be slightly soft to the touch. On their way to becoming overripe, the skin will start to wrinkle. They may not be as popular as other summer fruits, but figs are at their best from August to September. Don't worry if you missed their peak ripeness, though; an easy homemade jam is a delightful way to eat them, even when they're mushy.
Grating figs results in an irresistible, fresh jam that gives their mushy status new purpose. Eating mushy figs sliced or whole is no fun, so you might as well mask the unappealing texture by grating them. This fresh fig jam can accompany all sorts of sweet, savory foods, like crackers and toasts, or as part of a perfect charcuterie board.
What pairs well with freshly grated fig?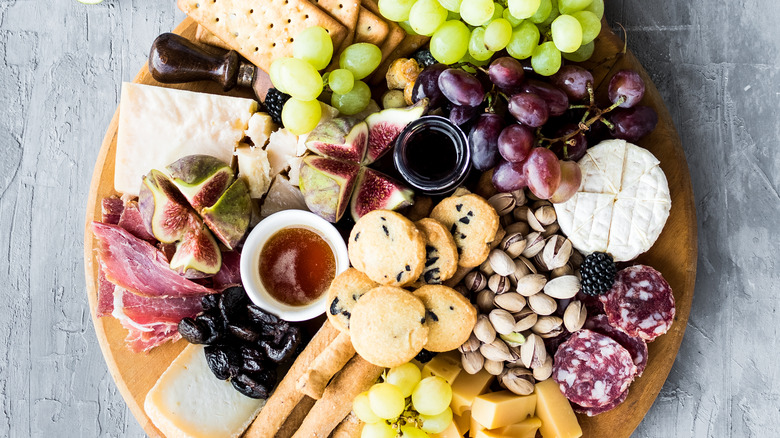 Nelli Kovalchuk/Shutterstock
The fig's complex yet subtle flavor can elevate any accompanying ingredients. Even if your figs aren't very flavorful, fresh fig jam can be seasoned or sweetened to enhance its existing floral notes, or to match a more complex dish. You may have noticed figs and ricotta are popular yet unexpected ingredients to add to breakfast toast; you can enhance this flavor combo even further by swapping out sliced figs for a grated jam. To play with even more textures and flavors, add hot honey, walnuts, and a sprinkle of blue cheese. For a sweeter route, start with freshly whipped ricotta, then grated fig, and top it off with a dash of cinnamon and a drizzle of maple syrup. These toasts are hip and clean-tasting — and more interesting than avocado toast.
A fig's fruity, floral taste pairs excellently with nutty, earthy flavors. Try grating figs into a small, pretty bowl and making it the centerpiece of a board filled with cheeses, crisps, and cured meats. Just stick a small spoon in the jam, and your house guests will finish it up in no time.