Waffles Are The Perfectly Sweet Replacement For Savory Burger Buns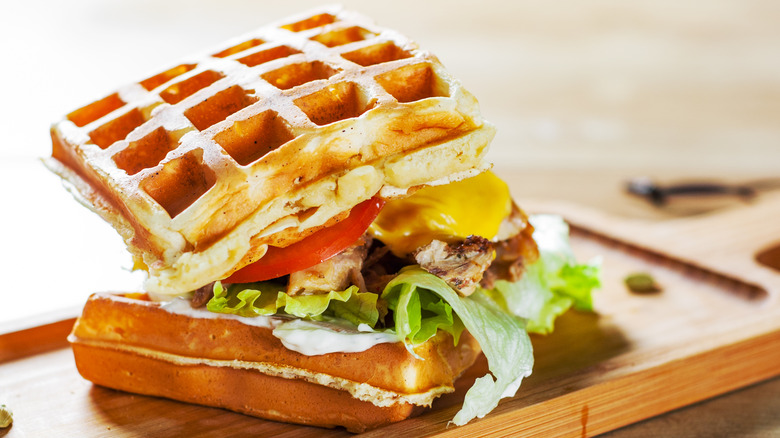 siamionau pavel/Shutterstock
Chicken and waffles have become a staple of sweet and savory breakfasts, but chicken isn't the only meat you might want to pair with these doughy treats. Waffles make a perfect replacement for burger buns, whether you're looking for unique brunch options or a way to sweeten your go-to barbecue handheld. Given their flat shape and crispy texture, waffles can easily hold a burger — and all the toppings that typically adorn it — together. While pancakes or French toast buns have the potential to get messy, waffles are arguably more sturdy. And, in some cases, sturdier than typical burger buns.
If you're the type to experiment with burgers, consider buying frozen waffles to replace your buns next time you do a grocery run. When toasted, storebought frozen waffles harden enough to serve as the bookends of a sandwich or burger. They're also not as sweet without syrup or other toppings, so they'll strike a good balance of flavors. If you want extra sweetness, try using blueberry, chocolate chip, or cinnamon waffles for your grilling experiment. You can also tailor this mash-up to your preferences by making your waffle buns from scratch.
Tips for making waffle burgers at home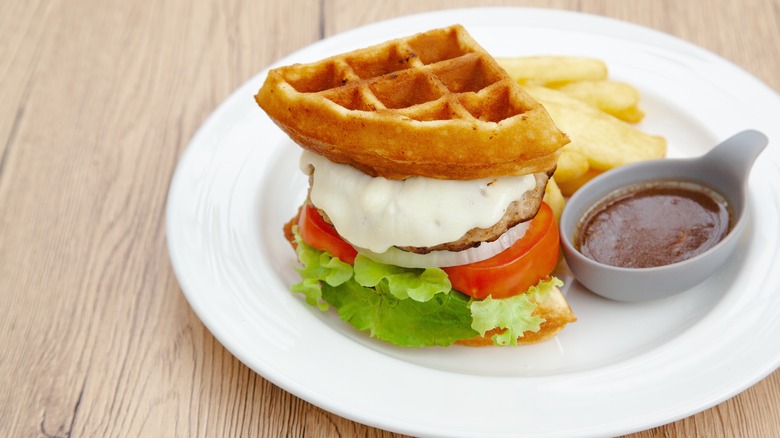 Kwanbenz/Shutterstock
While frozen waffles are a suitable replacement for burger buns, homemade waffles can give your dish a more authentic look and feel. First, you'll need the right size waffle maker and a Belgian waffle recipe. Many waffle makers create a large, rounded item that can be broken into four smaller pieces. These smaller sections are triangular but can still work as burger buns. However, if you're hoping for a smaller waffle, you'll need to find a mini waffle maker or one that's capable of making multiple waffles at once.
After your waffle maker is secured, it's as simple as buying waffle mix and following the instructions. Most store-bought waffle mixes require a combination of ingredients like eggs, water, and oil. If you choose to make the batter from scratch, you may need a few additional items, including flour, baking powder, and butter. The important thing is to follow whatever recipe you're using and ensure everything is thoroughly cooked.
Once the main components are cooked, you can customize your waffle burger with toppings and sides. Topping options are endless, but bacon and eggs can turn a waffle burger into the perfect brunch dish. A light syrup coating spread on your waffle buns amplifies the sweetness, resulting in a maple-infused flavor. For a more savory taste, stick with the traditional burger fixings. After all, you can't go wrong with cheese, lettuce, and tomato, no matter what you choose as buns.