The Copycat Cookies That Give Crumbl A Run For Its Money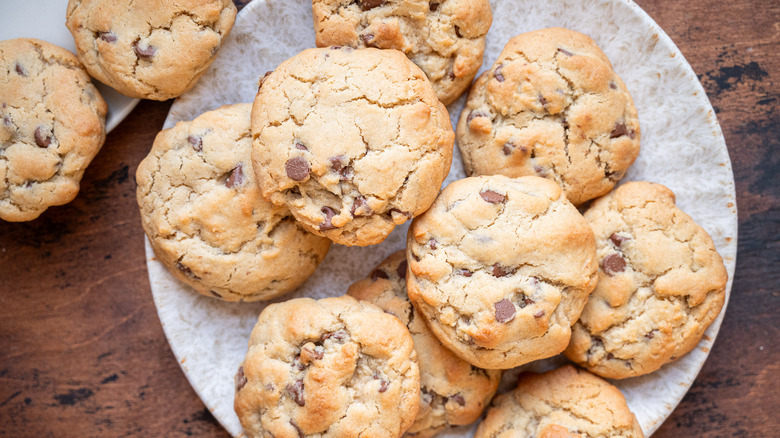 Christina Musgrave/Mashed
While Crumbl cookies may be pretty pricy, you get a lot for your money. Plus, the ever-changing line of flavors is a lot of fun, too. (Spoiler alert: We've tried a few Crumble cookies ourselves, and we love them too.) While it's always fun to see the new cookies come out each week, some tried-and-true favorites remain in regular rotation, including the fan-favorite chocolate chip cookies.
Since not everyone lives close to a Crumbl location, however, and not all budgets will allow for dropping a few bucks on a single cookie, we asked Mashed recipe developer Christina Musgrave to come up with a copycat recipe for Crumbl chocolate chip cookies, The results are something she describes as "good for any occasion," as chocolate chip cookies tend to be. While the results are somewhat smaller than the monster cookies Crumbl is known for, a batch yields 18 of them and at 371 calories per cookie, they're just slightly more than half of the 720 calories you'd be ingesting if you ate an entire one of the chain's standard-sized milk chocolate chip variety.
This recipe involves no special ingredients or techniques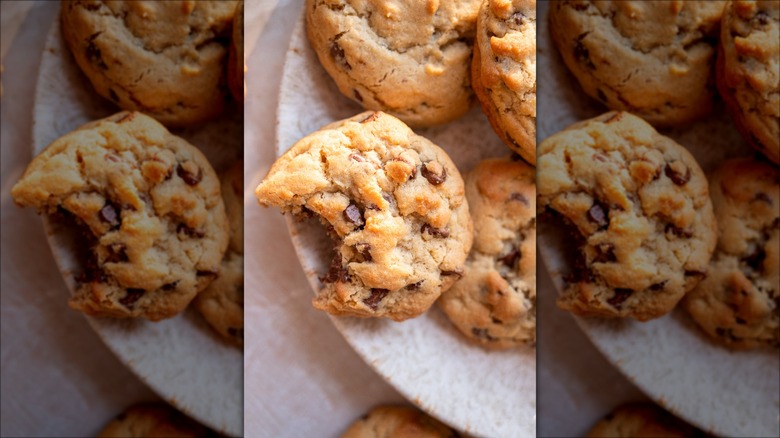 Christina Musgrave/Mashed
The ingredients you'll need to make these copycat Crumbl cookies are pretty much the same ones you'd use for any other kind of chocolate chip cookies: butter, sugar (both brown and white), eggs, flour, asking soda, baking powder, salt, vanilla, and, of course, chocolate chips. Musgrave also uses a bit of cornstarch, an ingredient that can make for chewier cookies. While Musgrave sticks with the milk chocolate chips favored by Crumbl for her copycat cookies, you can certainly swap them out for semisweet ones if that's what you prefer. If you really want to mix things up, she suggests "You can add in caramel, crushed peanut butter cups, or sprinkles to these cookies for more flavor."
Once you've mixed up your cookie dough, you just scoop up a good-sized portion — Musgrave uses ⅓ cup measure for this — and roll it into a ball. Repeat until you've covered a cookie sheet, leaving plenty of room between cookies so they can spread out as they bake. Once every last cookie is baked and cooled, the only thing left is to eat them. While Musgrave recommends "a classic milk and cookies pairing" for serving purposes, if milk's not your thing, chocolate chip cookies also go great with coffee, tea, or lemonade.