Christmas Is Coming Early As TGI Fridays Adds 14 New Cocktails To Its Menu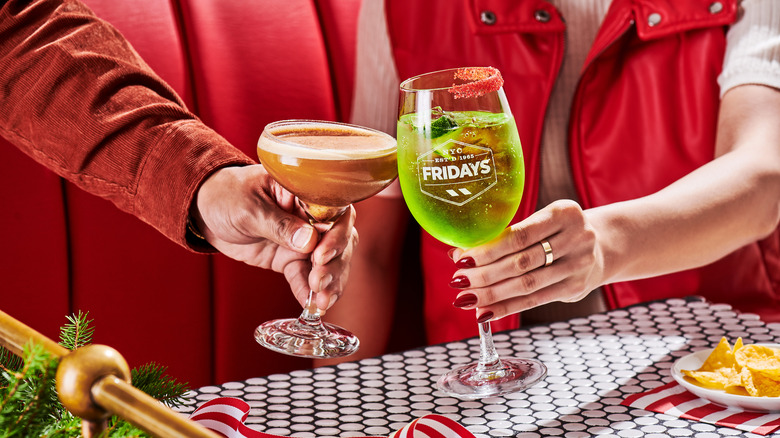 TGI Fridays
Big news for cocktail fans this holiday season: TGI Fridays has a fresh, diverse menu of curated beverages to keep the festivities going all winter long. This menu — per a recent press release – is called Claus for Celebration, and it's a throwback to TGI Fridays' cult cocktail days of the '80s and '90s, as well as a nod to the restaurant's bar roots. The business' first location in N.Y.C.'s Upper East Side started as a singles bar and, since then, TGI Fridays has become a mainstay of the American bar experience.
This isn't the first time TGI Fridays has spread the holiday spirit. TGI Fridays' 2021 holiday menu ushered in three cheery cocktails, but the chain upped it to a whopping 14 this year. With holiday flavors like peppermint and cider plus ingredients like freshly squeezed juice and house-made syrups, these cocktails aren't messing around. Like the 2021 menu, the 2023 one also features a pumpkin spice-inspired drink. The Pumpkin Spiced Espresso-tini puts an autumnal twist on a classic drink by combining Absolut Vodka and Frangelico with pumpkin and Owen's Nitro Espresso. For those who want something sweet, Skrewed Up S'mores is a chocolatey whisky-liqueur combo topped with torched vanilla foam and a piece of graham cracker. Plus, the chain even offers a non-alcoholic option, the Nice Blood Orange Margarita.
You can also enjoy holiday food combos
TGI Fridays' drinks are only the beginning of its festivities. The restaurant is out to make fans' holidays memorable with three Holiday Combos, paired to create a celebratory eating and drinking experience. Each combo features two proteins sauced up with bold flavors, as well as two sides of your choice. This new menu seems inspired by TGI Fridays' combo entree concept, in which customers could enjoy two fan-favorite entrees in one dish. Sometimes, you can't pick just one.
The three Holiday Combo options include spiked orange glaze made with Hennessy, Korean red chile, and Crispy Whiskey. Fans might already recognize Crispy Whiskey from menus past — this classic combo highlights land and sea with half-rack, double-basted pork Big Ribs and crispy fried shrimp, paired with the whiskey-glaze sauce. Those who are looking for a fiery kick might opt for one of this year's new combos: Korean red chile. Both chicken and crispy shrimp are smothered in Korean red chile sauce and garnished with sesame, parsley, and crushed chili flakes. These meaty combos are intended to pair with any of the 14 drinks on the Claus for Celebration menu.