Restaurant Chains Offering Deals For National Fried Chicken Sandwich Day 2023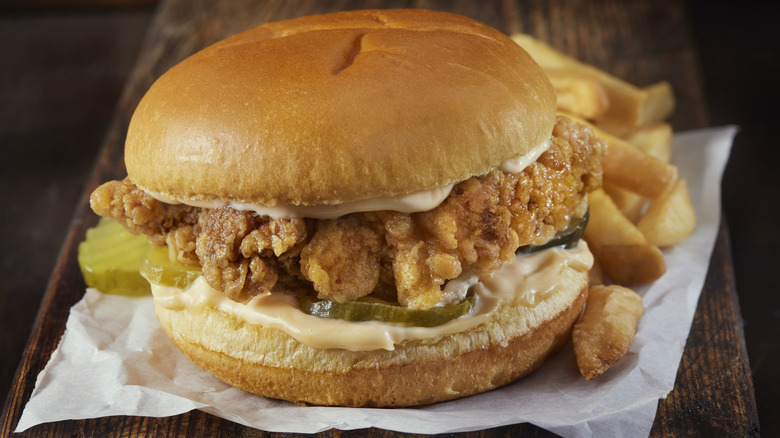 Lauripatterson/Getty Images
Did you know National Fried Chicken Sandwich Day exists? Of course, it does, and it takes place on November 9 for no discernible reason — perhaps this was the only day not spoken for by the time chicken sandwiches staked out their territory. Interesting to note, however, is that the celebratory day doesn't mark the date that the infamous Chicken Sandwich War broke out, which was sometime during the summer of 2019. (A lifetime ago, it seems, and yet fast food fried chicken sandwiches largely remain the same.)
So, with all of that in mind, where can you score the best bargains to kick off your fried chicken sandwich celebration? We've managed to find a flock of deals to help feather your nest, but be warned: If you like to do things old-school and buy your sandwiches by walking up to a restaurant counter, you might have to adjust your strategy. Nearly all of these promos only apply to orders placed online or through an app — some are even delivery-only. Perhaps the bigger question, though, is which chicken sandwiches are even worth buying — deal or not. Fortunately, our very own Mashed Bros ranked 21 chicken sandwiches in a day (and somehow survived), providing all of the info needed to navigate National Fried Chicken Sandwich Day with ease. 
Unfortunately, Raising Cane's — the winner of our first-ever Mashelin award for best fried chicken sandwich — doesn't seem to be offering any deal. There are still lots of highly-ranked sandwiches to choose from, though!
Burger King
Burger King is one of the few chains offering an actual freebie, but there is a catch. Not only must you be a Royal Perks member to collect it, but you'll need to order $5 worth of something else on November 9, either in the app or online. You'll also need to visit the "Offers" tab to activate the deal, but once you do, you'll receive one Royal Crispy Chicken Sandwich, compliments of the King.
KFC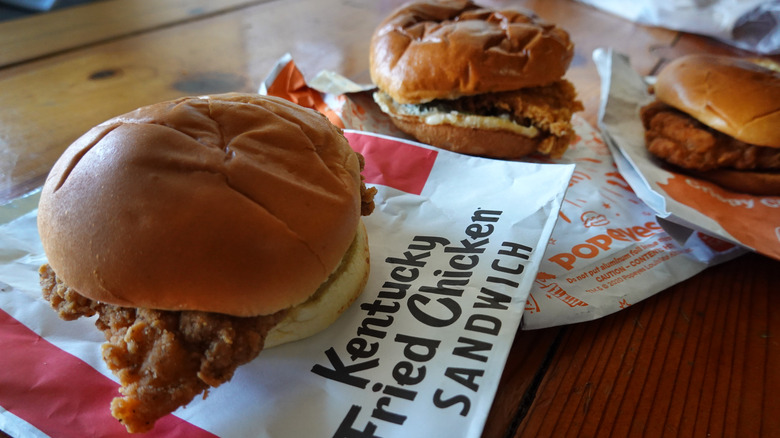 Scott Olson/Getty Images
At KFC, the National Fried Chicken Sandwich Day deals are all about delivery. Order through GrubHub? You get a 50% discount on any chicken sandwich priced at $5 or below, as long as your order totals $15 or more. DoorDash and Uber Eats are being a bit more generous, as both are giving away a free chicken sandwich with that same $15 purchase. Should you prefer to keep things in-house and place your delivery order via KFC's app or website, you won't get a free or half-off deal, but you will score $0 delivery.
Krystal
Krystal is another establishment that's keeping its National Fried Chicken Sandwich Day deals online, although there's no mention of an app. Instead, you can order like it's 2005, right on the website. To get Krystal's deal, just order two Chik sandwiches on November 9 and use the code CHIKITOUT at checkout (get it?). If you do, that second sandwich will be half off. The best thing about this deal is that you can use it multiple times, and with each order, you can score up to five half-price chickwiches.
Jollibee
Jollibee is giving everyone something to "bee" jolly about this National Fried Chicken Sandwich Day, as it's extending the festivities for an entire week. Starting on the day itself, November 9, and running through November 15, if you order a spicy chicken sandwich online and enter the code NCSDBOGO at checkout, the chain promises to double your order and turn that single chicken sandwich into two at no extra cost.
Pollo Campero
While Pollo Campero isn't giving away its chicken sandwiches for free on the holiday that bears their name, it's doing the next best thing: Selling the sandwiches for $1. Yes, just a buck for a cluck ... but, of course, there's a catch. Not only do you need to order online to use the promo code SANDWICH23, but you must also purchase a large drink in order to get this rock-bottom price. This deal also spans a whole week — it started on November 6 and will wrap up on November 11.
Popeyes
Popeyes is offering an extended deal for National Fried Chicken Sandwich Day. Up through November 12, if you order any of its chicken sandwich combos, it will throw in an additional standalone sandwich for free. This offer will be available in the app and on the website, and it applies to either pickup or delivery, although it doesn't extend to third-party delivery services like GrubHub or DoorDash.
Wingstop
While Wingstop may specialize in wings, the chain also offers chicken sandwiches. This may well be the sandwich of choice for anyone who likes to mix things up, since they're available in all of the wing sauce flavors. National Fried Chicken Sandwich Day would be a great time to try out some new ones, since using the code BOGOSAMMY will get you a two-for-one deal on whichever 'wiches you choose. This promo code is good through November 12, just in case you want to continue the experiment.
Zaxby's
Zaxby's isn't offering any freebies, nor does it have a BOGO offer or a discounted meal deal. What it does promise, however, is that any rewards club members who place an order for either the Chicken Philly sandwich or Chicken Philly sandwich meal will receive double the points for that item. One thing to note about this deal, though, is that, while it applies to online and in-app orders, it can also be used in the restaurant itself.