Costco's Spiced Cranberry Margarita Review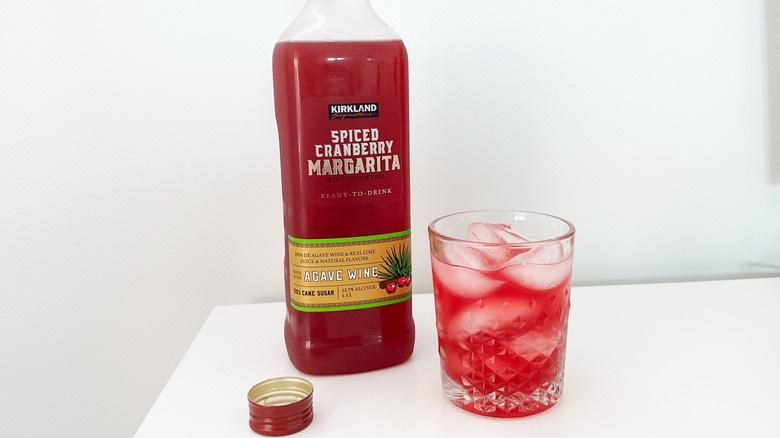 Kirstie Renae/Mashed
Tis the season for holiday releases from grocery stores across the country. From festive flavored drinks to desserts fit for a holiday party, now is the time to start scoping out the aisles of your local grocer to find the best limited-edition items to help celebrate the upcoming holidays. As any seasonal food shopper knows, one of the best places to snag great seasonal bites and drinks is everyone's favorite warehouse club — Costco. Whether you plan to grab Costco's infamous pumpkin pie for your Thanksgiving table or secure one of the store's unbeatable (and highly coveted) wine and beer advent calendars, the seasonal releases at Costco are often must-haves. However, there will always be some releases that aren't a hit, and with newly released items, it can be especially hard to tell if certain items will ultimately be worth your money.
One of the store's latest seasonal releases, Kirkland Signature Spiced Cranberry Margarita, has sparked discussion online, with some customers being excited to try the new pre-made margarita beverage and others saying it's too sweet and, ultimately, hangover inducing. When it comes to margaritas, I consider myself an expert. I'm a former bartender who has made plenty of margaritas, and the cocktail was even my signature drink at my wedding. So, I bought a bottle of Kirkland Signature's newest holiday margarita and gave it a taste test. Read on for all the sweet and spicy details, and find out whether this bottle is worth picking up for yourself.
What is the Kirkland Signature Spiced Cranberry Margarita?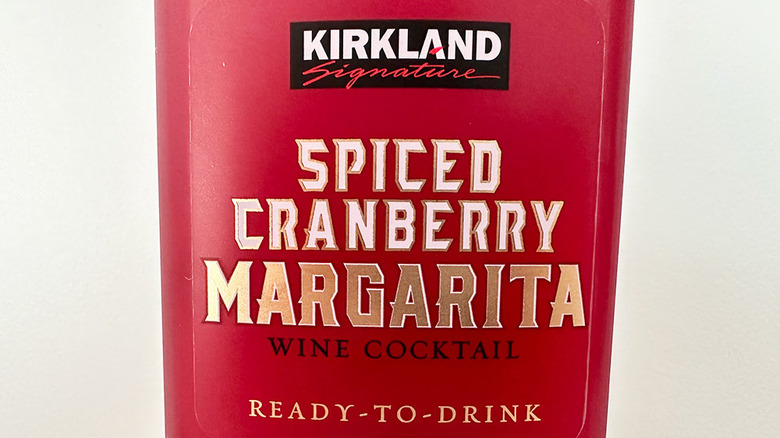 Kirstie Renae/Mashed
The Kirkland Signature Spiced Cranberry Margarita is a festive, pre-mixed, ready-to-drink alcoholic wine cocktail that's designed to capture the essence of a cranberry margarita blended with holiday spices like cinnamon. This seasonal release from Costco is a charming addition to their Kirkland Signature lineup.
While it comes in a slightly smaller 1.5-liter bottle compared to the standard 1.75-liter size we're used to seeing from the Kirkland Signature golden margarita, this size is perfect for a seasonal release. It strikes a nice balance, offering a generous quantity for gatherings without being overly massive, making it a solid choice when you want to introduce some variety to your drinks menu. After all, not everyone's first choice at a party is the same, and this spiced cranberry margarita provides a refreshing alternative.
The spiced cranberry margarita from Costco is crafted using 100% agave wine rather than tequila. Despite not containing any liquor, this spiced cranberry margarita boasts a respectable 12.7% alcohol content, ensuring that each sip delivers an alcoholic kick for those who enjoy their cocktails with a bit of zest. Real lime juice and cane sugar are included in attempts to bring authenticity and balance to the margarita flavor. Natural flavors are also incorporated to recreate the signature tang of cranberry and spiced notes you'd expect from a holiday margarita. And for a cranberry hue, a dash of vegetable juice has been added.
How much does the Kirkland Signature Spiced Cranberry Margarita?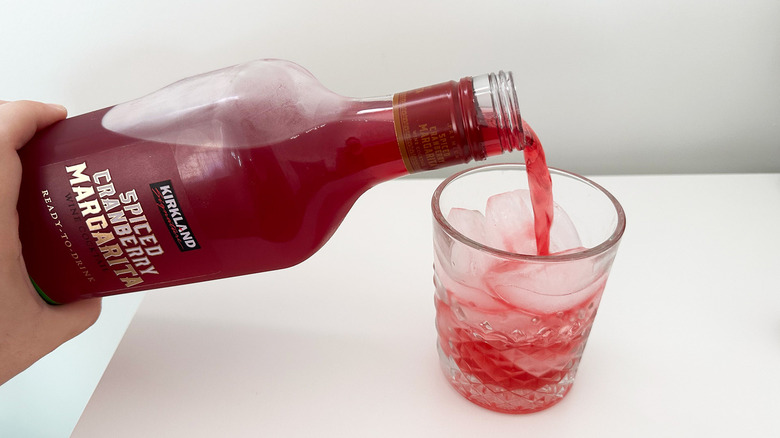 Kirstie Renae/Mashed
The cost of the Kirkland Signature Spiced Cranberry Margarita can vary depending on your location and any ongoing promotions or discounts. When I purchased it in California, the price was slightly over $10 for the 1.5-liter bottle. However, it's worth noting that Costco often runs promotions and offers, which can significantly affect the price of its items. For example, in a viral TikTok video, one customer showed that the Costco location where they purchased the margarita priced it at just under $7 after applying $2 off in-store discounts. Keeping an eye out for these kinds of deals and coupons can be a great way to enjoy this flavorful margarita at an even more budget-friendly cost.
To break down the cost per ounce, considering an average $10 price for a 1.5-liter bottle, you would be paying approximately $0.18 per ounce for the Kirkland Signature Spiced Cranberry Margarita. If you serve a standard 8-ounce margarita, that translates to around $1.44 per serving. As with most Costco products, this is pretty economical, especially if you find it on sale or with coupons and compare it to purchasing a drink at your local bar or restaurant. The affordability of enjoying the spiced cranberry margarita definitely makes it an attractive option for those who appreciate a flavorful cocktail without breaking the bank.
How long and where will the Kirkland Signature Spiced Cranberry Margarita?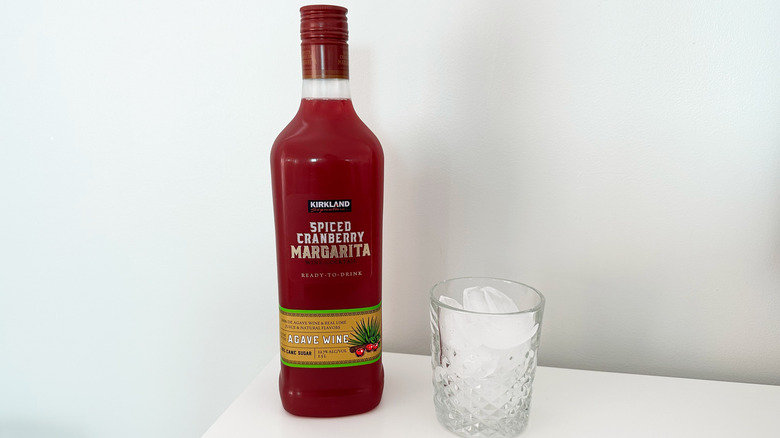 Kirstie Renae/Mashed
When it comes to Costco's seasonal products like the Kirkland Signature Spiced Cranberry Margarita, availability typically varies from store to store. Although Costco is known for having different items in stock at different locations, seasonal products typically have a broader presence across their stores.
To find out if the spiced cranberry margarita is available near you, the best approach is to check with your local Costco in person or online. Since seasonal items can come and go, it's best to keep an eye out for it early in the season. These products tend to be in high demand and may sell out quickly. Costco frequently adds new products to its inventory, so regular visits to the store or website can help you stay updated on the latest deals and offerings.
Additionally, according to Tasting Table, there are a few helpful tips to identify whether a product at Costco is nearing the end of its availability. Keep an eye on the price tag and note if you spot an asterisk on the sign accompanying the item or if the price ends in .97. The asterisk signifies that the item won't be restocked, while the .97 price ending suggests that the product has been marked down. This information can be handy for those who want to ensure they don't miss out on seasonal items like the Kirkland Signature Spiced Cranberry Margarita before disappearing from the shelves.
How does the spiced cranberry flavor compare to other Costco margaritas?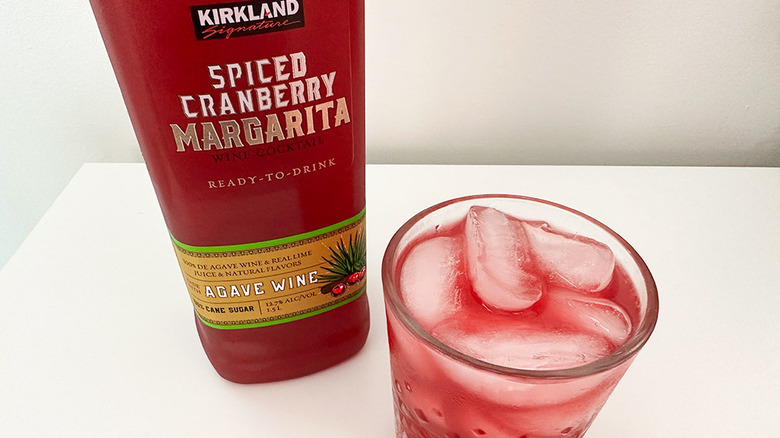 Kirstie Renae/Mashed
Costco has ventured into the world of ready-to-drink margaritas with various enticing flavors, including strawberry, mango, and peach. Opinions on these flavored margaritas can vary. Some enthusiasts welcome the change of pace that flavors like the spiced cranberry variety can bring to the table. They find it refreshing and different from the traditional lime margarita flavor, making it an appealing choice for those who seek variety, especially during the holidays.
On the flip side, some margarita purists might have reservations. These flavored margaritas tend to be on the sweeter side and are crafted with agave wine instead of tequila, which might account for their different taste profile. For those who are accustomed to the more traditional, tequila-based margarita, these flavored options may come across as resembling juice-based mixed drinks or wine coolers more than authentic margaritas. It's worth noting that Costco's original, tequila-based margarita consistently receives high praise, boasting a 4.9-star review on Costco's website. It might be a better choice for those wanting an authentic margarita flavor.
Ultimately, the appeal of the Kirkland Signature Spiced Cranberry Margarita and other flavored varieties will depend on your personal taste and whether you're open to trying something with a twist. If you're a fan of the original Costco gold margarita made with tequila, you may find these flavored alternatives a downgrade, but they can be a pleasant change for those searching for a unique, fruit-infused experience.
What are the nutrition facts for Costco's Spiced Cranberry Margarita?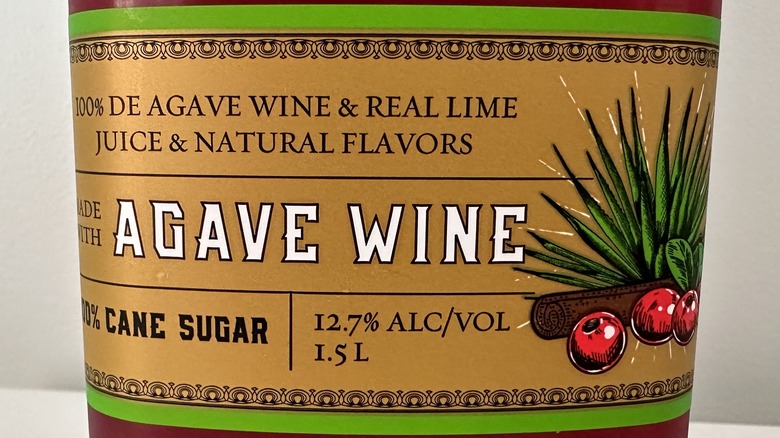 Kirstie Renae/Mashed
Unfortunately, Costco doesn't provide specific nutritional information online or on the packaging regarding its Kirkland Signature Spiced Cranberry Margarita. The available details surrounding what's inside the bottle are limited to featuring a 12.7% alcohol content and using ingredients like cane sugar, lime juice, and natural flavors.
Based on the ingredients and the overall taste, I found this ready-to-drink margarita cocktail to be solidly on the sweeter side, which means a relatively high sugar content. Additionally, as it contains alcohol, it's safe to assume that both the sugar and carb values are likely higher than an average beverage. It's also likely that the drink is not calorie-free, given its overly sweet flavor profile. Lastly, since the drink is made with agave wine, the labeling lists that it contains sulfites.
In any case, when enjoying alcoholic beverages like the Kirkland Signature Spiced Cranberry Margarita, moderation is key. If specific nutritional information is important to you, I'd recommend seeking out an alternative beverage option that provides more detailed labeling.
Overall opinions on the Kirkland Signature Spiced Cranberry Margarita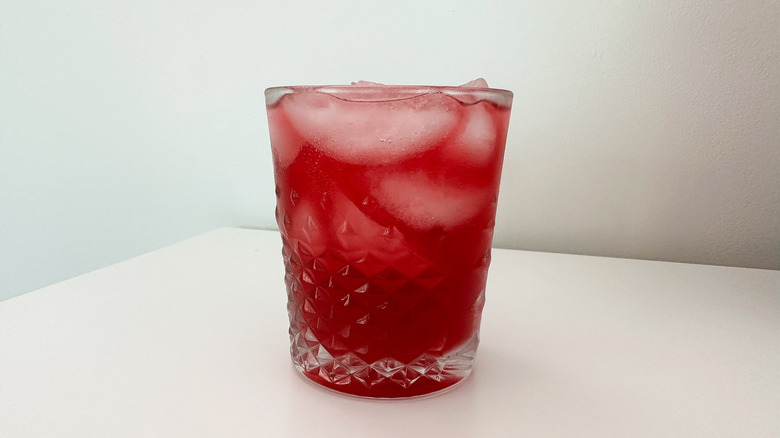 Kirstie Renae/Mashed
To say my hopes were high for this margarita would be an understatement. However, I was a little disappointed overall. The base of the pre-mixed margarita is agave wine, so I was left wanting a more iconic margarita flavor. Although I have to give Costco credit for using agave wine instead of malt liquor to try and impart more of a tequila-like flavor, it ultimately just didn't come through.
But let's say you're alright with a wine-based cocktail. After all, they can be great for parties and quick drinks. How does the ready-to-drink beverage fare if you're not looking for authentic tequila flavor? I'd rate it a 6 out of 10, primarily because it lacked some of the flavors it boasted. I didn't detect much, if any, spices at all, and it didn't have an authentic margarita flavor. The cranberry did come through, however, and I appreciated that it was a true tart take on cranberry that mixed well with the lime. Ultimately, the cane sugar added made it to where I feel it may be too sweet for some. All that said, I think this margarita could really shine if mixed into a spritzer or used in other DIY holiday cocktails.
Overall, the Kirkland Signature Spiced Cranberry Margarita is not terrible, especially if you're using it as a part of a recipe or serving batches of holiday drinks. I think, ultimately, there are better options available.