The Cake Zach Cherry Would Have Made In The Great American Baking Show: Celebrity Holiday Special - Exclusive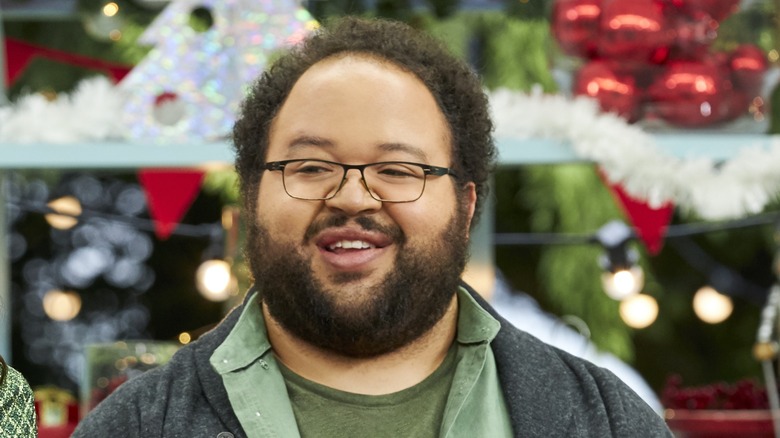 Courtesy of The Roku Channel
If you've had a chance to check out The Roku Channel's new "The Great American Baking Show: Celebrity Holiday" special — featuring co-hosts Zach Cherry and Casey Wilson alongside judges Paul Hollywood and Prue Leith, and six celebrity amateur bakers vying for the top spot as star baker — then you already know the competition's showstopper challenge. For the uninitiated, though, "The Great American Baking Show" asks competing bakers to complete three challenges; the last and often hardest of these is the showstopper challenge, during which bakers are tasked with creating a larger-than-life, showstopping bake. For the 2023 holiday special, the judges asked the celebrity bakers to create cakes inspired by a favorite childhood toy or holiday gift.
On the show, host Cherry has a few opportunities to try some delicious baked items from the contestants, but he's not exactly in a position to show off his own baking skills — which he described to Mashed in a recent exclusive interview as "dabbling," saying he could make a pie and some basic brownies. However, if he were given the chance, he has an idea for what he would've made for this year's holiday special's showstopper challenge: a "surprise inside" cake inspired by a prank his parents pulled when he was a child.
A cake with a surprise inside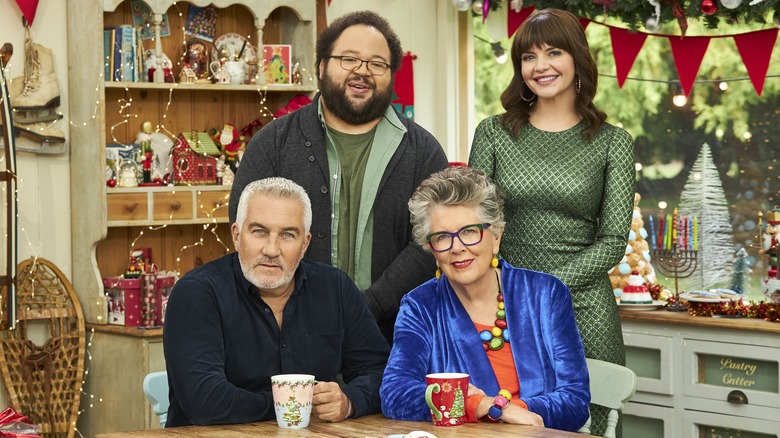 Courtesy of The Roku Channel
Zach Cherry recounted for us one of his Christmases as a child, asking for a video game that he fully expected to get. However, after making his way through his gifts on Christmas Day, no video game — but his parents did give him a box of Cheerios.
"I'm like, 'Oh, okay, thank you.' I'm a very polite little boy. I don't want to be like, 'Why did you get me Cheerios?'" he explained. "I go up to my room and I am pretty distraught. Then, a few minutes later, my parents were like, 'Why don't you open the box of Cheerios?' I opened the box of Cheerios and the video game was inside ... Maybe I would try and do a cake shaped like a box of Cheerios. Then, when you cut into it, there's something else hidden inside. I don't think I could pull that off, but I would attempt it."
Whether or not he'd be able to pull off that particular bake, Cherry does have two favorite holiday bakes that he looks forward to every year that are easy enough for even the baking dabblers among us. He told us that he loved making cookies decorated with candies to look like turkeys with his family at Thanksgiving, and for Christmas, he loves his mom's strawberry dump cake.
"The Great American Baking Show: Celebrity Holiday" is available to stream for free on The Roku Channel.