How Much Gordon Ramsay Is Really Worth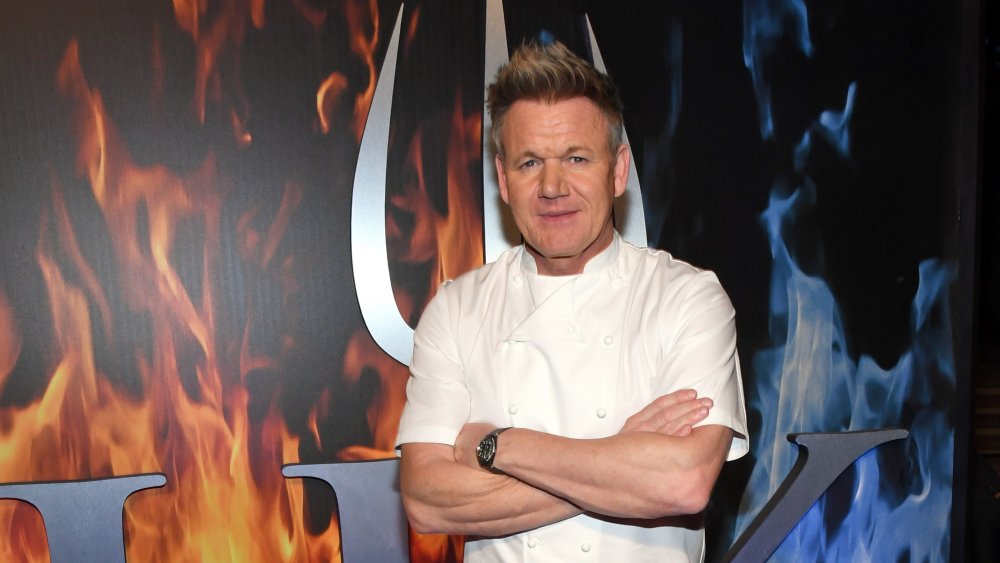 Ethan Miller/Getty Images
Some are motivated by harsh words and plenty of swearing, while others just love watching other people get chewed out after a hard day. Whichever camp you fall into, chances are you've seen Gordon Ramsay turn red by screaming at someone on television. Thanks to his ambition and drive, however, Ramsay has certainly become a well-known success despite a challenging childhood.
Born in Scotland and raised in England, Ramsay's father moved the family often to seek out opportunities that usually failed. His father was a violent alcoholic, so Ramsay moved into his own apartment at the age of 16. He even started a career as a soccer star at the age of 12, trying out for his favorite team when he was older. Thanks to many injuries, Ramsay left the game by the time he was 19, but his love of cooking had already begun. 
As he climbed the culinary ladder and won Michelin stars, Ramsay eventually became a success as a writer, food critic, and television personality beyond his status as a chef and restauranteur (via Celebrity Net Worth).
Gordon Ramsay's net worth
Roy Rochlin/Getty Images
Today, Ramsay is the only chef on Forbes' Celebrity 100 list. He has 35 restaurants worldwide and a $100 million deal with Lion Capital, which he sold his 50 percent share of, to build another 100 restaurants in the U.S. over the next five years. Between Hell's Kitchen and MasterChef and other programs, Ramsay also has more than 75 hours worth of programing down that has earned Fox upwards of $150 million in annual ad revenue (via Forbes).
All of these accomplishments have provided Ramsay with a net worth of $220 million and an annual salary of $60 million (via Celebrity Net Worth). Ramsay makes $223,000 per episode he films and even receives a 10 percent cut for some of the brands and products he endorses. With earnings like that, his $8.4 million London home is just a drop in the bucket (via Celeb Insidr). Apparently blind ambition and rage do make millions.