We Finally Have Stouffer's Iconic French Bread Pizza Recipe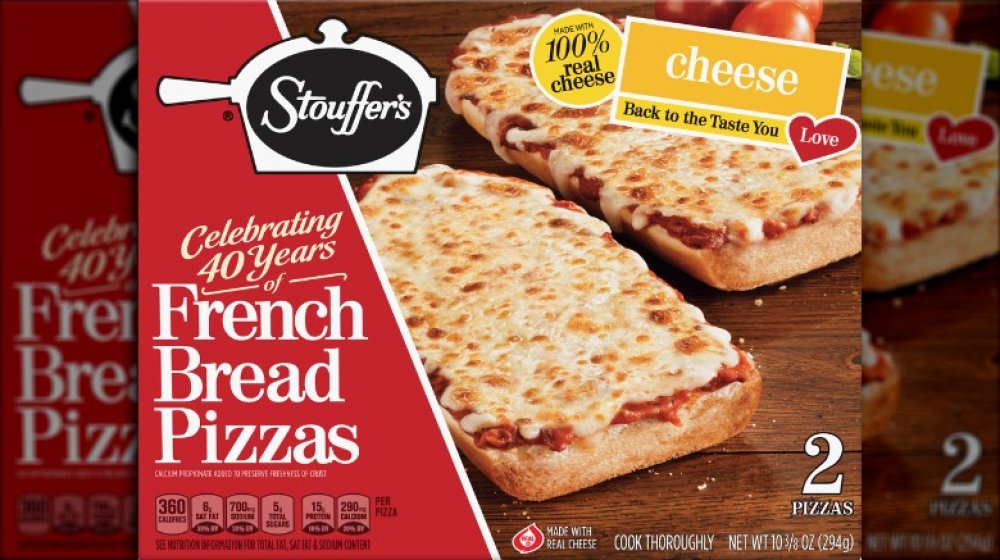 Stouffer's
Remember Stouffer's French Bread Pizza? Wasn't that, like, the best-ever after-school snack? So easy to make, and yet, way more substantial than the other single-serve frozen pizzas. Also somehow more sophisticated than either English muffin or tortilla pizzas. That tangy sauce, the crunchy crust, the just-right amount of melted cheese... Come on, you know you want one. But guess what? You may be able to satisfy that craving without even a trip to the grocery store, at least as long as your fridge and pantry are decently-well stocked (okay, perhaps not Martha-Stewart-level stocked, since nothing but a full-blown gourmet emergency requires more than one type of olive oil and/or fancy salt).
Yes, Stouffer's has joined the list of restaurants and food companies sharing their once-secret recipes — in addition to DIY DoubleTree cookies, Disney Dole Whips, and IKEA meatballs (some assembly required), you can now make your very own Stouffer's-style French bread pizzas.
How to make Stouffer's French bread pizzas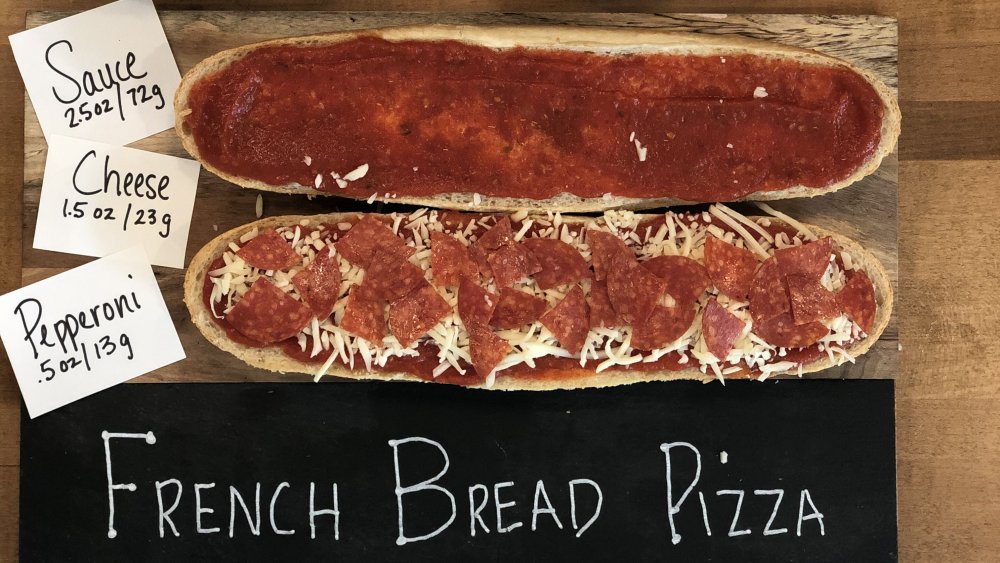 Stouffer's classic French bread pizza recipe starts out with a small loaf of French bread, halved lengthwise (or a larger one, halved both ways). Put the bread on a baking sheet, cut sides up, and spread each slice with 2.5 ounces (5 tablespoons) pizza sauce, either premade or homemade. Top each pizza with 1.5 ounces of shredded low-moisture, part-skim mozzarella (science does say it is the best pizza cheese), and .5 ounces of sliced pepperoni, each slice being cut in quarters. The final secret ingredient? Just a sprinkle (1/16 teaspoon per pizza) of fennel seeds. Oops, no fennel? Guess you may need to make a grocery run after all, or else try one of these substitutes. You could always go fennel-free, although your pizza, in that case, won't be a perfect Stouffer's clone. That's okay, though, Stouffer's themselves are pretty forgiving, saying you can use any pizza toppings you like, or even sub out a different type of bread, roll, muffin, or bun as long as you adjust cooking times accordingly.
Speaking of cooking times, bake your pizza at 375 degrees for 15 to 18 minutes until the cheese is brown and bubbly. After removing the pizzas from the oven, let them cool about 5 minutes, then your after-school snack is served! Or add a tossed salad, open a bottle of wine (might we suggest a modest, unassuming little Winking Owl from Aldi?), and it's a delicious dinner à deux (or quatre).