COVID-19 Has Sparked A Big Change For McDonald's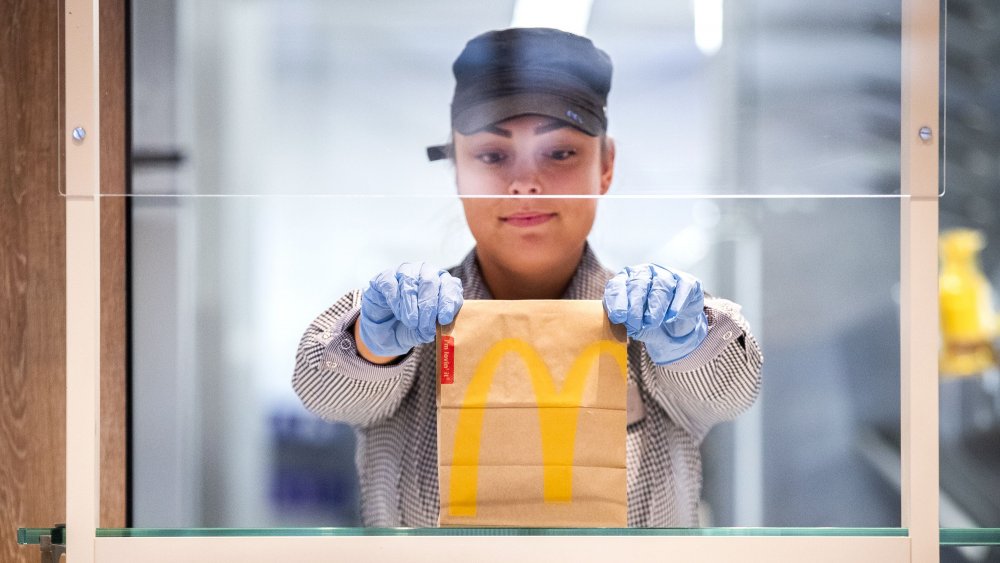 Remko De Waal/Getty Images
It's not an overstatement to say the pandemic has affected the entire restaurant industry. When the coronavirus began to pose a threat, restaurants were forced to pivot to delivery and takeout, close locations, furlough employees, and implement stringent sanitizing and protective measures. But the impact COVID-19 has had on the industry will continue to be felt even after things settle down.
Businesses around America are slowly reopening or preparing to do so, but they won't necessarily be operating the same as before. McDonald's recently announced a plan detailing new safety procedures as it looks to reopen the dining areas of its 14,000 U.S locations. One notable change mentioned in the fast-food chain's 59-page instructional booklet is keeping self-serve beverage bars "closed or sectioned off and staffed in restaurants," which is mentioned in a sample page from the company.
This means from here on out, McDonald's customers will likely have to specify which drink they would like with their order instead of walking over and pouring out their own soda beverage, at least in stores where an employee cannot maintain certain sanitary standards and regularly clean the section. Getting rid of the DIY fountain machine also means that refills will have to be requested, unlike before, pre-COVID-19, when customers could freely fill their cup whenever they wanted (via The Atlanta Journal-Constitution).
How COVID-19 has pushed McDonald's to close self-serve soda stations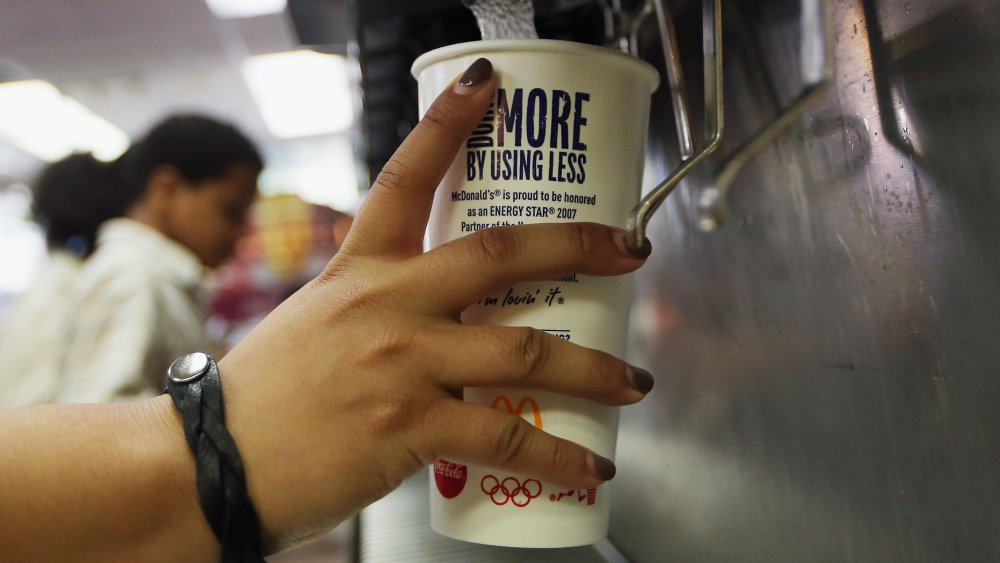 Mario Tama/Getty Images
McDonald's decision to take away its beverage bars has been mirrored by other fast-food restaurants such as Burger King and Popeyes as well as convenience stores such as 7-Eleven and Kwik Trip. According to McDonald's, the issue lies in keeping the drink stations thoroughly sanitized on a consistent basis if guests resume self-serving once its stores open back up. Each person has the potential to contaminate utensils and equipment and workers will not be able to constantly keep tabs on every patron that touches the beverage station.
The move to get rid of self-serve drink areas is part of "nearly 50 process changes" that McDonald's has put into place. Joe Erlinger, president of the U.S. branch of the company, stated that since the pandemic began, he and his team have been "meeting three times a day to evaluate and adjust [their] plans while also adopting best practices from our franchisees and global markets."
According to Yahoo! Finance, in addition to the closure of beverage bars, McDonald's play areas are closed and protective panels have been installed on counters and drive-thru windows. The fast-food chain has also switched to contactless payment systems at all locations and put decals on floors to enforce social distancing among customers. McDonald's also said it's offering 10 percent bonuses for pay earned this month and two weeks sick leave for employees at company-owned stores.