How Many Children Does Paula Deen Have?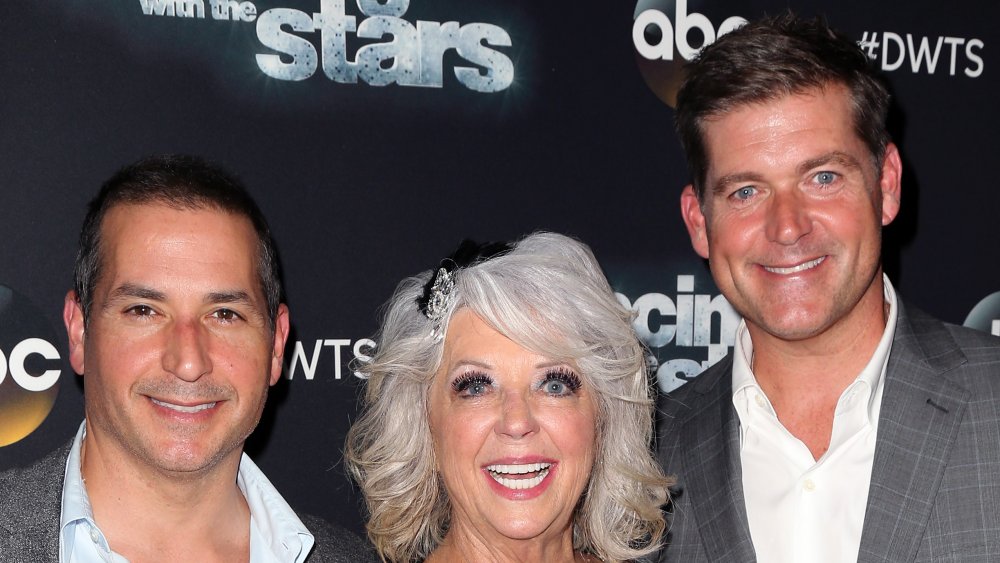 David Livingston/Getty Images
Paula Deen the butter queen is quite the domestic diva, what with her cooking shows, her cookbooks, her restaurants, and her entire southern food empire. Working right alongside her for much of the time have been her two boys, referenced in the name of her Savannah restaurant The Lady and Sons. What's really impressive, besides the fact that mother and sons remain close despite their long working relationship, is that Paula pretty much raised them solo, since her unhappy marriage to the hard-drinking Jimmy Deen (not the sausage guy) was more of a hindrance than a help.
Paula Deen's website describes son Jamie Deen as "an entrepreneur, businessman, [and] author," citing his sole authorship of the book Good Food as well as his having co-authored several other cookbooks with his brother. Bobby Deen is a TV personality in his own right, hosting shows such as the Cooking Channel's Not My Mama's Meals and Junk Food Flip and the Food Network's Holiday Baking Championship and Spring Baking Championship. He and his brother also co-hosted Food Network's Southern Fried Road Trip, and Bobby has written two cookbooks of his own, From Mama's Table to Mine and Everyday Eats. He's also the one member of the Deen family to share his mom's propensity for becoming involved in politically incorrect scandals, as a 2015 photo is still floating around the internet of him appearing in brown-face to cosplay Cuban-born Ricky Ricardo.
Paula Deen is also a grandma
In addition to her two sons, Paula is now the proud Nana of (at last count) six grandchildren, although the total is actually up to 10 when you add in all of the step-grandkids she shares with her husband Michael Groover. Her oldest two grandkids, Jamie's teenage Jack and 9-year-old Matthew, are described by AmoMama as looking just like Paula (only without the bouffant and mascara). The twosome is now a threesome, as they were joined just this past April by baby Davis (via Instagram).
Bobby remained childless up until October of 2018, but then he made up for lost time by providing Paula with 3 more grandkids all at once. Triplets Amelia Ann, Olivia Marie, and Linton were born nearly 4 months ahead of term, according to the Daily Mail, but they are all doing well now. Pretty soon they'll probably be ready to host a cooking show of their own!