The Untold Truth Of Carl's Jr.'s Breakfast Menu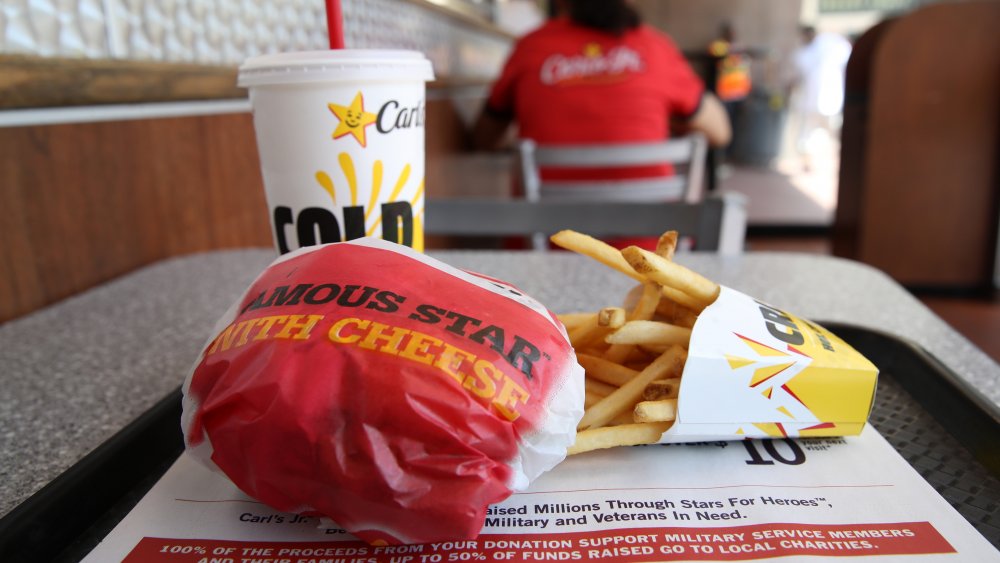 Justin Sullivan/Getty Images
First started in 1941, Carl's Jr. has steadily made a name for itself in the country. Its charbroiled burgers are especially a crowd favorite, as per the Carl's Jr. website. The franchise now serves customers in more than 1,000 spots in the US and is also present in 28 countries across the world. A former truck driver and businessman, Carl Karcher started the Carl's Jr. franchise with his wife, Margaret, with just a hot dog cart, eventually expanding to their first restaurant in less than five years.
By the time the 1970s rolled around, the Carl's Jr. brand was busy making burgers at over 200 locations in California. Undoubtedly, the chain has made a name for itself over the years, known for making advancements in the fast-food industry with its unique offerings such as the Charbroiled Turkey burgers, which Carl's Jr. and Hardee's sold nationally before any other fast-food restaurant (via QSR Magazine). But while people know about the chain's burgers, it's also worth talking about Carl's Jr.'s lesser-known breakfast menu.
The menu has a little something for everyone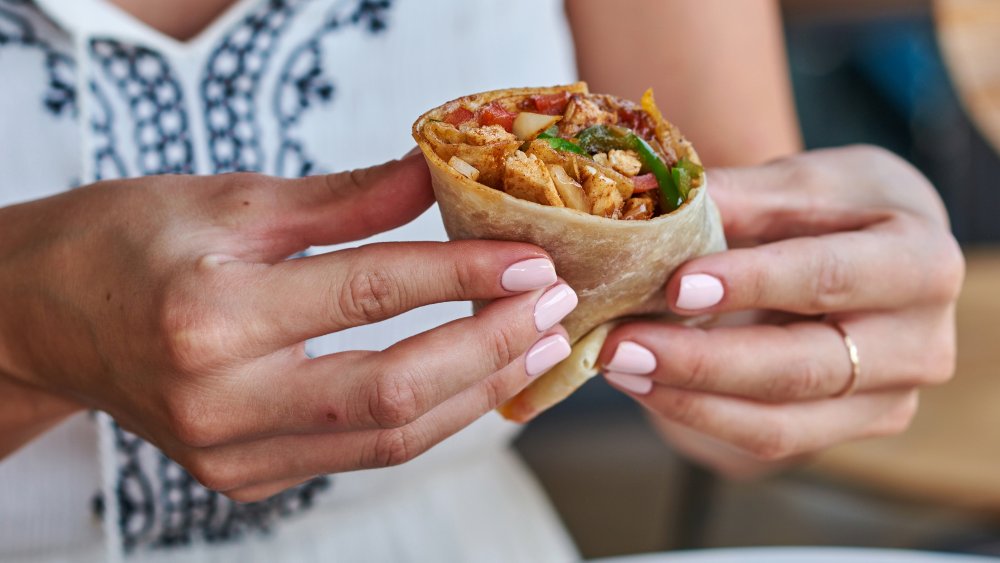 Shutterstock
Carl's Jr. has a rather appealing menu overall, with options such as its burgers, burritos, ideas, beverages, and desserts. And when it comes to one of the most awaited meals of the day, breakfast, the restaurant doesn't let you down. Be prepared to get your hands on comforting biscuits, filling burritos, sugary French Toast Dips, and the hearty sandwiches like the Grilled Cheese Breakfast Sandwich. That said, the food is high on both taste and calories (The Grilled Cheese Breakfast Sandwich has between 690 and 840 Calories) and is definitely not for those who can't afford to cheat a little.
According to Eat This, Not That!, the Bacon Egg Burrito shines with its simplicity and a generous serving of cheese. It also has 1,000 milligrams of sodium, so if you're looking at cutting down on sodium, ask for the order without bacon.  But if you're craving protein and melty cheese, the options on the menu seem made to satisfy you. The breakfast options deliver in the savory department and have something for your sweet tooth.
Carl's Jr.'s breakfast icon
One of the most appetizing items on the breakfast menu is called, well, the Breakfast Burger. What can you expect? Lots of cheese, ketchup, a beef patty, some bacon, egg, and hash brown, as per QSR magazine. Sounds delicious, right? You're essentially prepping yourself for a big meal that will probably keep you full even during lunch hours. While originally offered only during breakfast, the item was made available all day for its fans in 2017. Mind you, the Breakfast Burger itself has been around for a very long time (since 2004, to be precise). 
Carl's Junior claims to be the first fast-food chain to put an egg on a burger and prides itself on that. Brad Haley, chief marketing officer at Carl's Junior said back then, "Carl's Jr. has always sold its entire burger line during breakfast — and they make up a significant portion of all of the meals served in the morning — so it became obvious that we needed to create a true 'breakfast burger' for our guests." So, there you have it. The Breakfast Burger remains one of the most iconic options on the menu that will have you tasting many classic breakfast items all at once.