How To Win J Balvin's Diamond-Encrusted McDonald's Jewelry
Did you notice the fast food themed bling J Balvin was wearing in his McDonald's commercial? The three pieces around Balvin's neck are gem-encrusted versions of the items featured in the J Balvin meal, a special offer at McDonald's that's available through November 1st. Famous jeweler Gerard Alexander of Saint Jewels created the bejeweled Big Mac, box of fries, and Oreo McFlurry using yellow gold, rubies, diamonds, sapphires, and other gems (via The British Journal). Alexander was especially proud of the McFlurry, which used two different cuts of white diamonds — one for the cup, and one for the ice cream on top.
J Balvin and McDonald's must have figured these unique pendants are too cool not to share, as fans can win their very own replica of each — including the real gems — by entering a drawing on the NTWRK app (via Shore Fire). The Big Mac drawing is up first, and closes at noon PST on October 22nd. The Big Mac chain features 2.4 carats of brown, white, champagne, and yellow diamonds. The drawing for the French fry piece runs from noon to noon PST, October 22nd to 23rd, and the McFlurry will be last, with a drawing at noon PST on the 24th. The fries are made with yellow gold, rubies, and yellow diamonds, while the McFlurry has more than 14 carats of white full and single-cut diamonds, black diamonds, and sapphires, according to Delish. Talk about icy.
Winners of the J Balvin McDonald's jewelry will pay only $10, plus shipping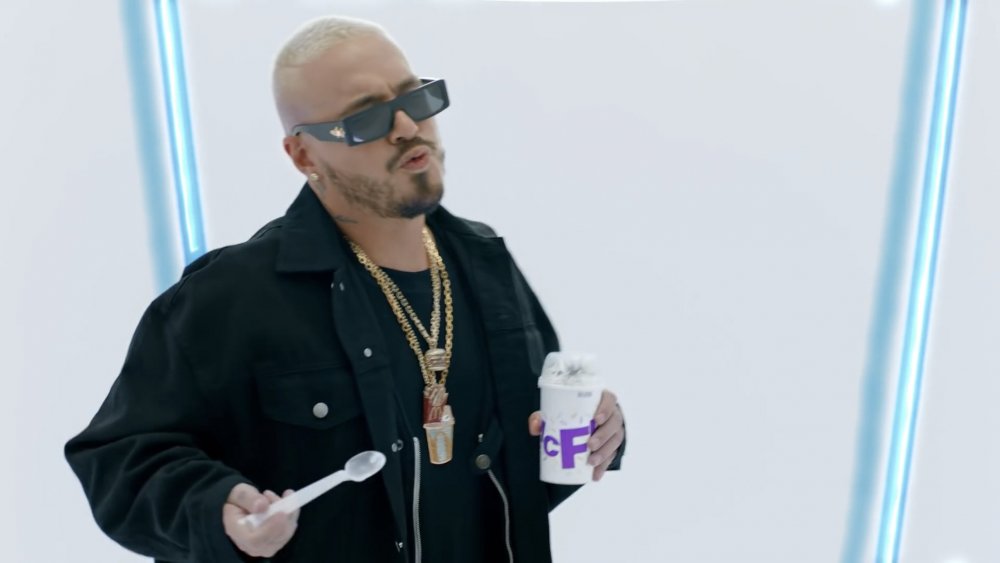 YouTube
While it's free to enter each drawing, it's not free to win. To enter, you must approve a $10 payment for the jewelry, plus tax and shipping. (We went through the motions of entering the drawing and found a shipping fee of $14.95 for one location.) You will only be charged these fees if you win, so no need to worry about wasting your money. While all the gems are insanely tiny — nothing you would dare to pass off as the centerpiece of an engagement ring, that's for sure — $10 plus shipping for one of these exclusive pieces still sounds like a pretty good deal to us.
Before J Balvin fans had a good reason to swing by McDonald's, the fast food chain offered up a meal in collaboration with performing artist Travis Scott. Fans of the Houston rapper could enter a contest on Twitter to win one of five Scott action figures, similar to the one featured in Scott's McDonald's ad. Scott also offered all kinds of McDonald's-themed merch for sale in his online store, which sold out quickly — even the $90 Chicken McNugget shaped body pillow. Balvin, a recording artist from Colombia who appeared with Jennifer Lopez in the most recent Super Bowl halftime show, is famous, but maybe not Travis Scott famous. Why do we say that? All of Balvin's McDonald's merch is still available at his online store. But who knows, maybe they just made more of it following the popularity of Scott's products.