Instant Pot Pumpkin Pie Recipe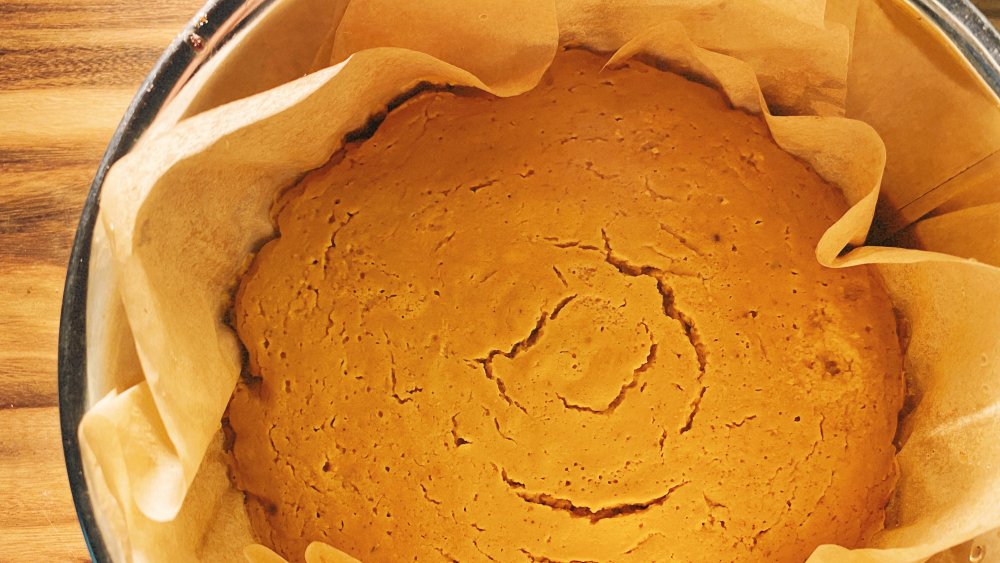 These days, an Instant Pot is an essential kitchen appliance. Fans of this multi-purpose cooker are obsessed with the vast array of quick, effortless recipes you can make in the Instant Pot, which makes everything from basic tasks like cooking pasta and hard boiling eggs to typically complex, time-consuming recipes like pulled pork a breeze. 
A lot of people tend to think of the Instant Pot as something that is primarily used for making quick and easy weeknight dinners, but there's more to this appliance than savory cooking. Desserts that are typically baked in a water bath, which means that you place the baking pan in a shallow tray of water before putting it in the oven, are prime candidates for making in an Instant Pot. That's because when you put water in the bottom of the Instant Pot, it steams whatever you're cooking — just like the water bath baking method. 
Instant Pot pumpkin pie recipes have been floating around the internet for years. We were initially a little skeptical about making pumpkin pie in an Instant Pot because it almost seemed too good to be true, but after some testing, we determined that it is absolutely worthwhile. Read on to learn how to make what we think is the best Instant Pot pumpkin pie. 
Gather the ingredients to make this Instant Pot pumpkin pie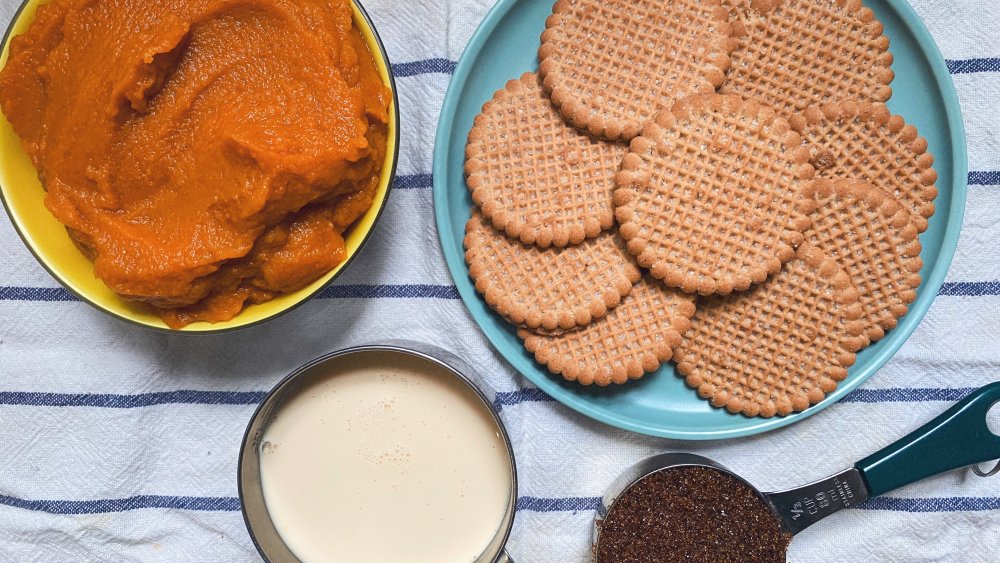 Carina Finn/Mashed
Making an Instant Pot pumpkin pie is very easy — the whole thing should take you around an hour and a half, start to finish — but there are a few things it's a good idea to keep in mind before you get started. 
First and foremost, you'll want to make sure you have the right size and style of pan. In most cases, your typical 9-inch cake or pie pans will not work for this recipe. To make pumpkin pie in an Instant Pot, ideally you'll want to have a 7-inch springform pan. This size pans fits perfectly inside the 6-quart Instant Pot, and it has high sides and a removable base that will help prevent water from seeping into your pie and ruining it. You'll also need parchment paper or nonstick spray to prepare the pan. A food processor or high-speed blender is helpful for making the crust, but not necessary. 
In terms of ingredients, the list is short and sweet. For the crust, gather your favorite packaged cookies (more on this later), a stick of butter, maple syrup, and fine sea salt. To make the filling, you'll need a 15-ounce can of pumpkin puree, a 5-ounce can of evaporated milk, dark brown sugar, eggs, salt, and your favorite pumpkin pie spice. 
What kind of pumpkin should you use for this Instant Pot pumpkin pie?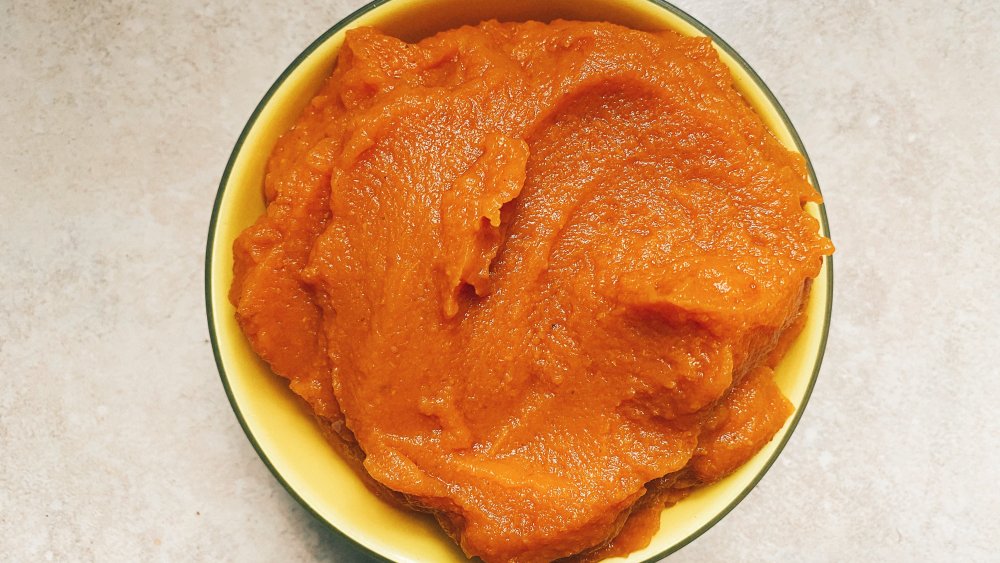 Carina Finn/Mashed
While you technically can use pre-made canned pumpkin pie filling (instead of plain pumpkin puree) to make this Instant Pot pumpkin pie, we strongly encourage you to try making your own, especially if you haven't tried making pumpkin pie filling before. This step is incredibly easy: all you have to do is whisk the ingredients together, and pour them over your crust. Making your own pumpkin pie filling allows you to customize both the level of sweetness and the particular flavor profile of the spice, which are both major advantages to DIY-ing your pumpkin pie filling. 
For this Instant Pot pumpkin pie recipe, we went fairly light on the sugar so that pumpkin and spice were at the forefront of the flavor profile. We recommend using a high-quality, organic pumpkin puree to make this recipe, since the pumpkin flavor is so pronounced. If you happen to have a whole pumpkin that you want to turn into pie, that works too! Just cut your pumpkin in half, scoop out the seeds, and brush the flesh with a bit of oil. A two-pound pumpkin will roast at 350 degrees Fahrenheit for around an hour. Once your pumpkin is roasted, scoop out the flesh, mash it, and weigh out 15 ounces to make the recipe. Any leftovers can be stored in the fridge for around a week, and will keep for months in a tightly sealed freezer bag or mason jar. 
What should you use to make the crust for Instant Pot pumpkin pie?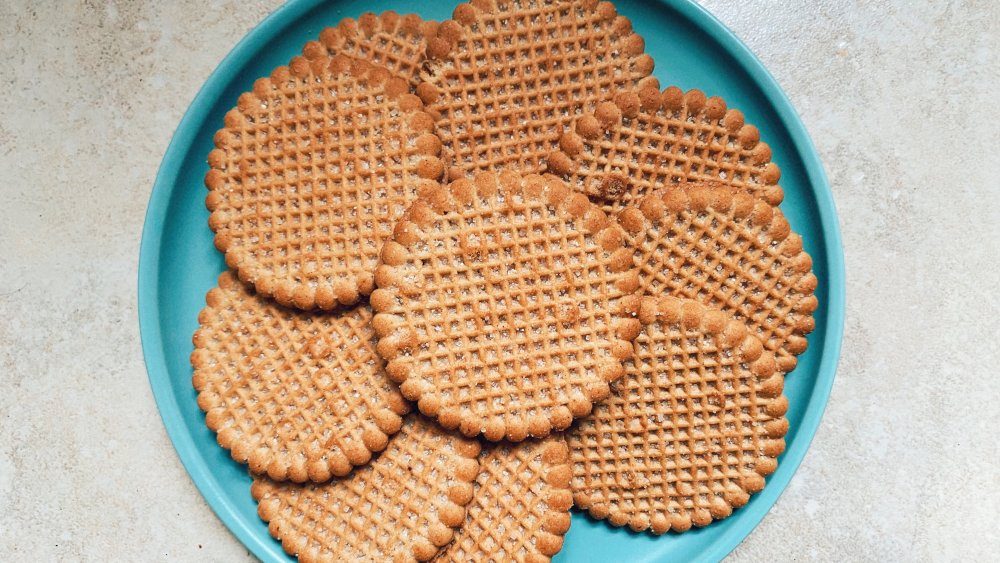 Carina Finn/Mashed
We think that the crust is often what makes the pie, and this is no exception. One of the best things about making this Instant Pot pumpkin pie is that you can use pretty much any packaged cookie in order to make the crust. We used Canelitas, a delectable cinnamon-flavored butter cookie that you can find at most Mexican grocers. This particular cookie gives the crust the buttery richness of shortbread combined with the spicy cinnamon flavor of a graham cracker, which we think is the perfect compliment to the pumpkin filling, but we've also made it with Nilla Wafers, Oreos, and cinnamon flavored Graham Crackers. All of them are good, and there are many, many other cookie options out there! 
Whichever cookie you choose to use, just make sure you have enough to make one and a half cups of crumbs. The easiest way to make cookie crumbs is to pulse them in a food processor or a high speed blender, but if you don't have either, don't sweat it — you can still make this recipe. Just place your cookies in a gallon-sized Ziploc bag, seal it, and beat the cookies with a rolling pin or wine bottle until you have fine crumbs. 
The secret to a perfect Instant Pot pumpkin pie crust? Browned butter.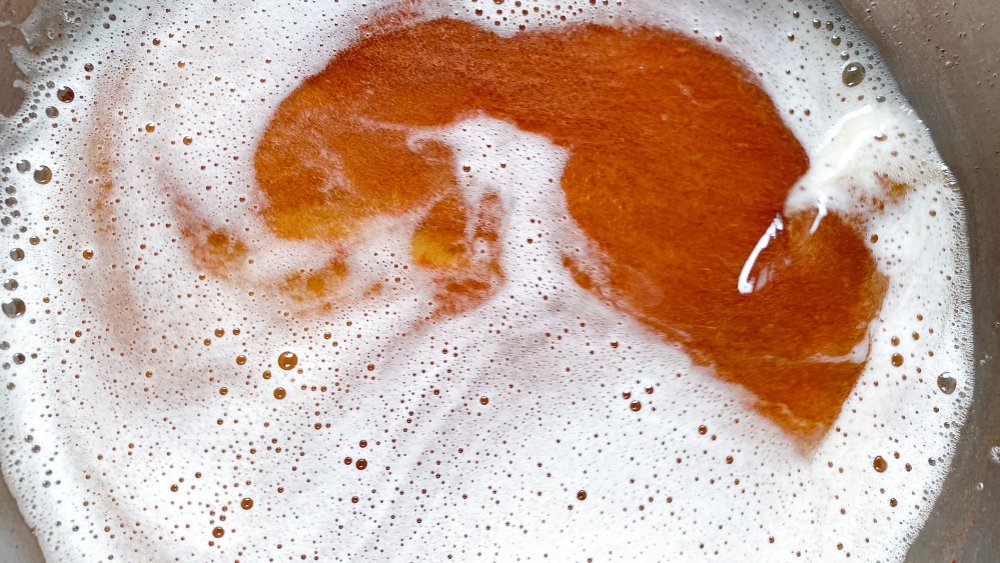 Carina Finn/Mashed
If browning butter seems intimidating, don't let it fool you: this is one of those simple kitchen hacks that only seems fancy. Browned butter adds a delicious, nutty flavor to anything it touches, and it is absolutely worth the extra few minutes it takes to turn plain melted butter into pure liquid gold. When you brown butter, you caramelize the naturally present milk solids, which makes it smell and taste nutty and sweet.
To make browned butter, just place your butter in a small saucepan over low to medium heat. Once the butter has melted, you'll notice it start to get white and foamy, which is a sure sign that your browned butter is almost ready. At this point, we like to swirl the pan gently to prevent burning. When you start to see brown flecks in the foam, it's ready! Remove it from the heat immediately, and either pour it into an empty bowl, or directly over your cookie crumbs for making the crust. 
Making browned butter takes less than 10 minutes and adds an incredible depth of flavor to your finished Instant Pot pumpkin pie, but if it seems like too much, you can just use plain melted butter, and it will still be delicious. 
Bake your crust before you put it in the Instant Pot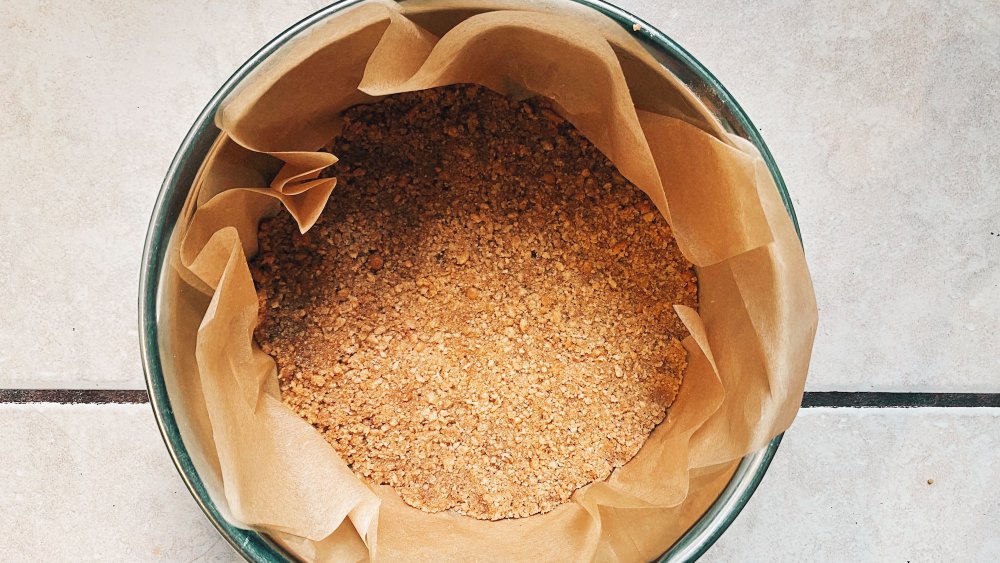 Carina Finn/Mashed
Technically, you could simply press your crust mixture into your prepared springform pan, pour the filling over the crust, and pop it in your Instant Pot. We say technically because we think it's worth taking the extra step of baking the crust before you put your Instant Pot pumpkin pie in the pressure cooker. 
Baking the crust first helps to set the base, ensuring that you'll have distinctive layers, and it also helps to improve the flavor of the crust. Especially if you decide to skip using browned butter in your crust mixture, don't skip the baking step, as this will impart some of the toasted, nutty flavor that plain melted butter lacks. 
To bake your crust, just press the mixture firmly into your prepared springform pan, then pop in an oven that has been preheated to 350 degrees Fahrenheit. It will take around 10 minutes to set, and once the crust comes out of the oven, let it cool for five minutes before pouring your filling on top. 
Whisk together the filling for your Instant Pot pumpkin pie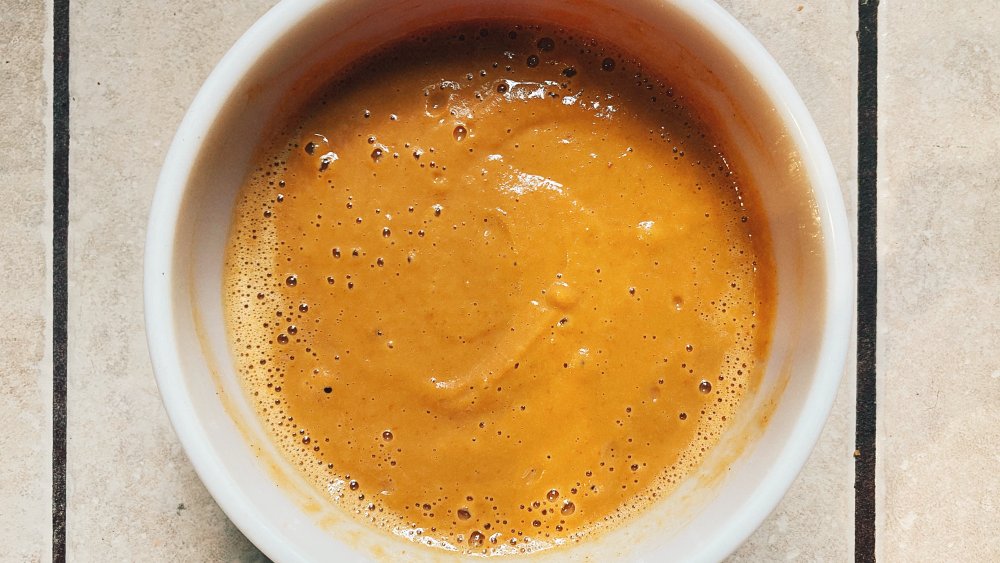 Carina Finn/Mashed
Making the filling for Instant Pot pumpkin pie is as easy as, well, pie! To make the filling, all you do is combine the ingredients in a medium-sized mixing bowl. That's literally it. One thing to keep in mind is that you do want to slightly aerate the mixture, so we recommend using either a whisk or an immersion blender, if you have one. If you really want to make the filling process even easier, you can also make it in a blender. If you do take this route, just be sure to use the pulse setting, because you don't want to liquify the mixture. 
For this recipe, we went with a pared-down pumpkin spice blend and just used a combination of cinnamon and ground ginger, but remember — pumpkin spice is highly customizable! If you have a pre-made pumpkin pie spice blend that you love, use that. If you prefer to just use cinnamon, that is also absolutely okay. 
Make sure your pan is properly prepared for the Instant Pot pumpkin pie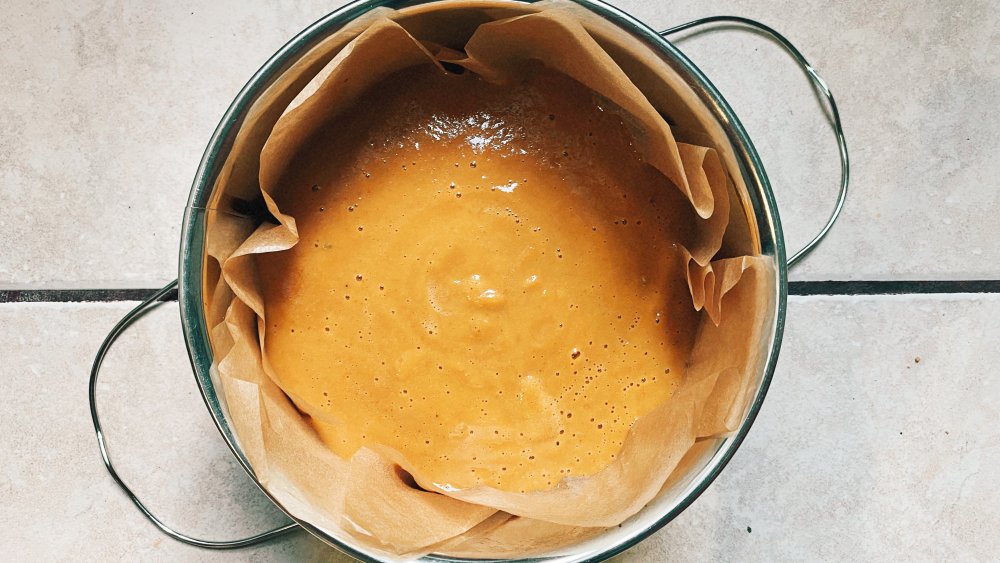 Carina Finn/Mashed
Once you have your crust and your filling prepared, make sure your pan is ready before you put everything in the Instant Pot to make your pumpkin pie. One of the things you want to guard against when making Instant Pot pumpkin pie is water getting into your custard mixture. While that won't completely ruin your pumpkin pie unless you get a lot of water in there, it is generally better to keep the filling as dry as possible during the cooking process. 
There are two ways you can approach this. The first is to spray your springform pan with your favorite nonstick spray, like Pam or Baker's Joy, and then wrap the outside of the pan in aluminum foil: this ensures that water can't leak through the seam where the base connects to the collar. We generally prefer to use parchment paper to line the inside of the pan, since it does the double work of both making sure that your pie comes out of the pan easily, and it also keeps water out of the custard. 
Set your Instant Pot to cook the pumpkin pie.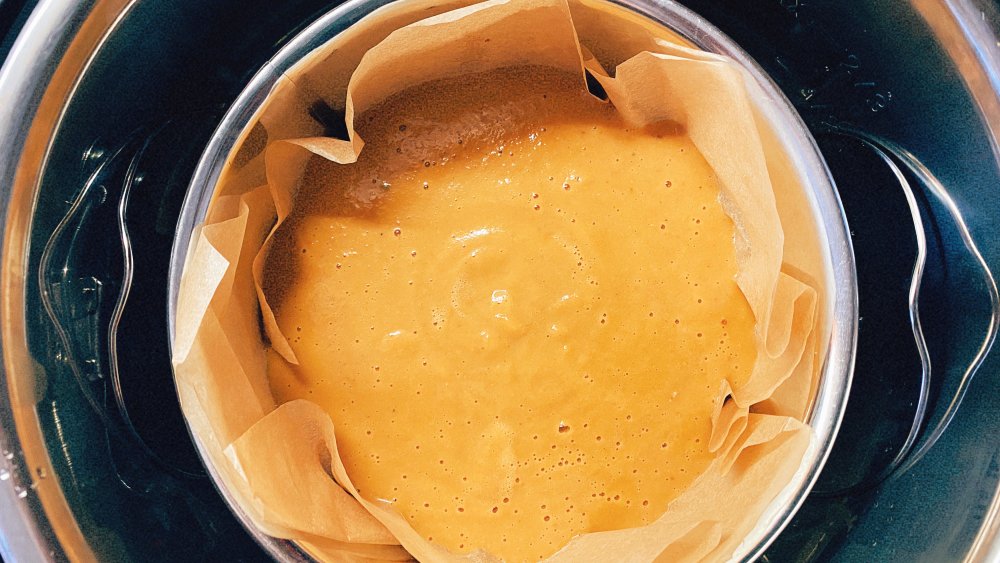 Carina Finn/Mashed
One of the best things about making Instant Pot pumpkin pie is the fact that it is relatively quick and hands-off. Making a classic pumpkin pie recipe that gets baked in the oven can take upwards of two and a half or three hours, but this one cooks in the Instant Pot for just 40 minutes. Before you put your pie in the Instant Pot, pour one cup of water in the bottom of the pot, and then place the metal trivet that comes with the Instant Pot over the water, with the handles unfolded on either side — this will make it easier for you to lift the whole pie out of the Instant Pot when it's done cooking without risking splashing water into the finished pie. 
Set your Instant Pot to pressure cook on high for 40 minutes, with a natural release. Once the cook time is up, set a timer for 10 minutes. Let the pressure naturally release for the first 10 minutes after the cooking is finished, then carefully quick release the rest of the pressure and remove the pie to cool. 
Is Instant Pot pumpkin pie worth making?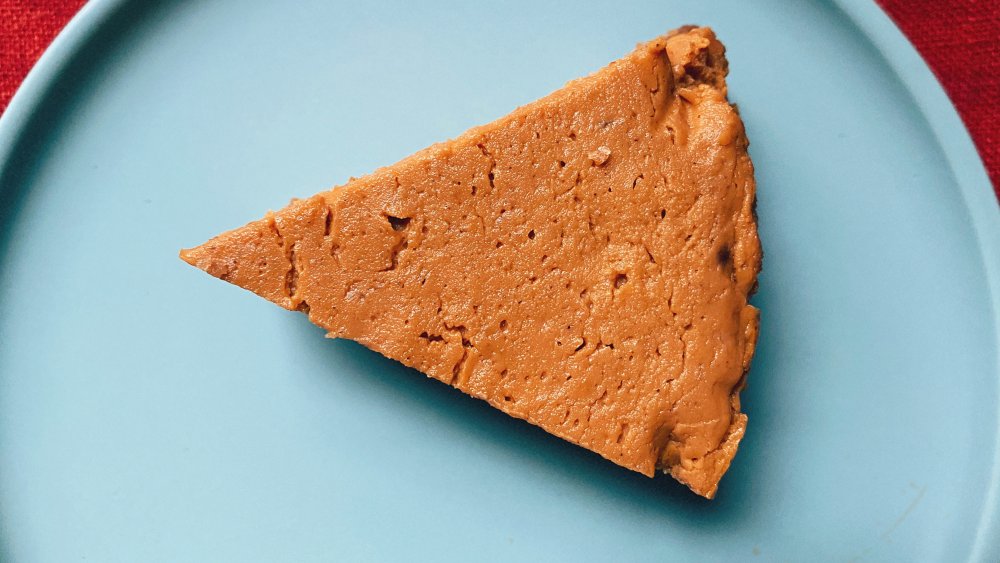 Carina Finn/Mashed
We absolutely thing that it is worth making Instant Pot pumpkin pie! 
The texture comes out perfectly, and it's an incredibly quick and easy seasonal dessert. You can also make it ahead of time, which we definitely recommend, since we think this pumpkin pie tastes best after it's had an opportunity to sit overnight in the fridge. 
One thing that's important to note: an Instant Pot pumpkin pie will not have the same dark, slightly caramelized top that one baked in the oven will, but we have a hack for that. If you really miss the browning, sprinkle a little bit of white sugar over the top of your finished pie after it has cooled, and then put it under the broiler for 3-5 minutes. Be sure to watch it closely, since sugar can burn very quickly, but this is a great way to have the best of both worlds! Also, remember that when you make this pie, you're making a 7-inch pie, not a full-sized one, so it won't feed as many people. We think it's the perfect size for 4-6 people. 
Instant Pot Pumpkin Pie Recipe
This Instant Pot pumpkin pie recipe is perfect for a autumnal treat when you don't want to spend a ton of time in your kitchen.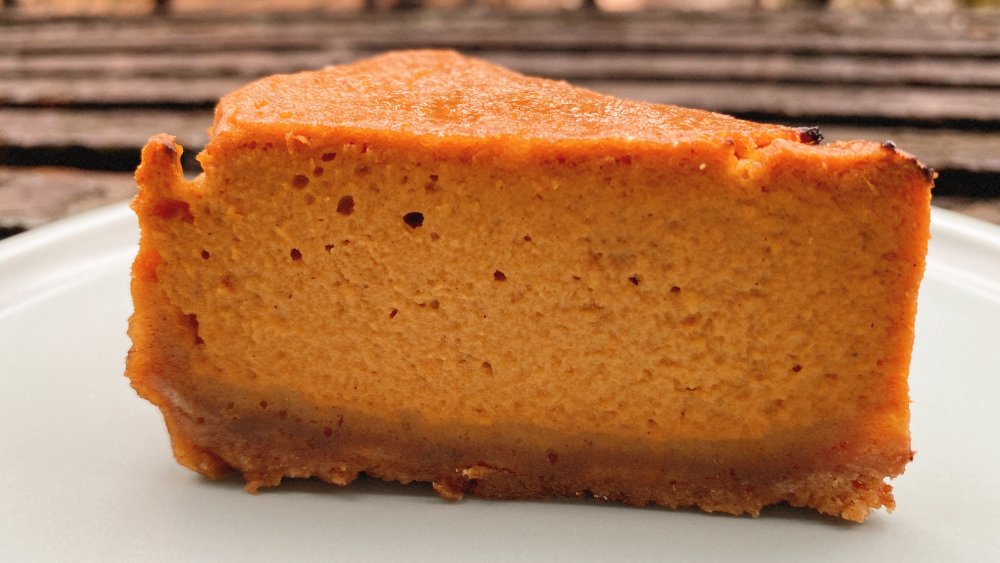 Ingredients
1 ½ cups cookie crumbs (approximately 16 cookies)  Note: we love Canelitas cinnamon cookies, but graham crackers, Oreos, or even Ritz crackers work 
6 tablespoons butter, melted or browned 
1 tablespoon maple syrup
½ teaspoon fine sea salt 
1 15-ounce can pumpkin pureé
1 5-ounce can evaporated milk
2 eggs
⅓ cup packed dark brown sugar
1 teaspoon cinnamon
1 teaspoon ground ginger
¼ teaspoon salt
Directions
Pre-heat your oven to 350 degrees Fahrenheit. Line a 7-inch springform pan with parchment paper and set aside.
In a food processor or high-speed blender, pulse cookies until you have fine crumbs. If you don't have a food processor or blender, place cookies in a quart-sized Ziploc bag and crush with a rolling pin. Pour crumbs into a small mixing bowl and set aside.
Place butter in a small saucepan over low to medium heat. Once the butter has melted and starts to foam, swirl gently in the pan until it smells nutty and has brown flecks in the foam. Pour over cookie crumbs, add maple syrup and salt, and stir to combine.
Press the crust mixture into the prepared springform pan and bake for 10 minutes.
While the crust is baking, combine all ingredients for the filling in a medium mixing bowl.
Whisk or immersion blend until smooth and completely combined.
Remove crust from the oven and let cool for 5 minutes before pouring filling over crust.
Pour 1 cup of water into the Instant Pot, and place the trivet over the water with the handles unfolded. Place the pie on top of the trivet.
Set the Instant Pot to pressure cook on high for 40 minutes, with a natural release.
After 10 minutes of natural release, carefully quick-release the remaining pressure and remove the pie to the counter to cool.
Let cool at room temperature for approximately one hour. Chill in the refrigerator for at least four hours, but preferably overnight.