Taco Bell Copycat Fiesta Potato Recipe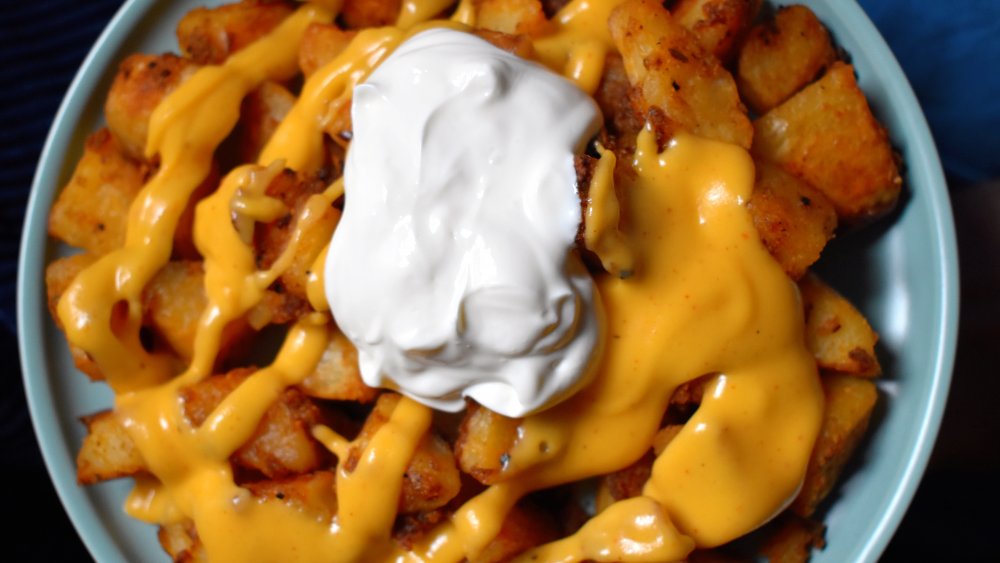 Carina Finn/Mashed
Ever since Taco Bell made the controversial decision to remove all items containing potatoes from their menu, fans of some of the Tex Mex chain's most popular items have been distraught. In particular, the absence of Fiesta Potatoes, a side dish that was, according to Eater, one of the best things on the menu at Taco Bell, has been deeply felt. Since we can no longer just head to the nearest drive through to fulfill our spicy, cheesy, crispy potato cravings, we've decided to recreate the dish with this copycat recipe for Taco Bell's Fiesta Potatoes. 
To make this at-home version even better than the original, we've used a few culinary tricks that result in extremely flavorful, ultra-crisp potatoes without the need to break out a deep fryer — because who wants to deal with deep frying in a home kitchen unless it is absolutely necessary? We've also included our technique for making an incredible, velvety nacho cheese sauce without resorting to using a hyper-processed cheese like Velveeta as the base. Each step in this process is simple in its own right, but it is important not to cut corners when you're making this recipe, because every step does serve a specific purpose in making the final product totally crave-worthy. 
Ready to learn how to made Taco Bell copycat Fiesta Potatoes? Read on to learn how we did it! 
Gather the ingredients to make Taco Bell copycat fiesta potatoes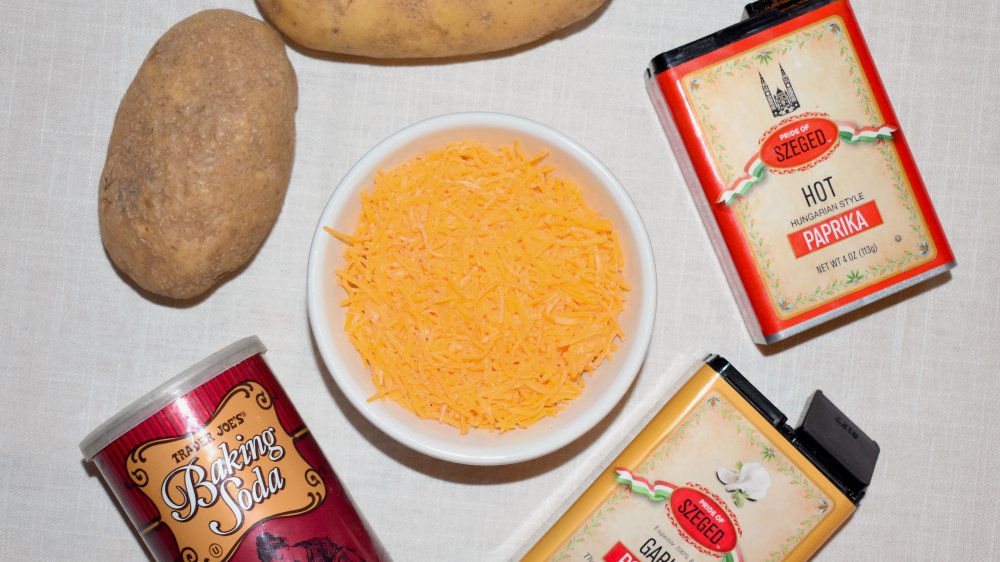 Carina Finn/Mashed
There's a pretty good chance that you already have almost everything you need to make Taco Bell copycat Fiesta Potatoes at home. To start, of course, you'll need potatoes, and the type of potato you choose does actually matter. We recommend using Russet potatoes for this recipe, because their higher starch content will yield a crispier potato. Potatoes fall into two categories: starchy and waxy. If you can't find Russet potatoes, go for another starchy option like Idaho or Yukon, but avoid using waxy potatoes like red-skinned or fingerling potatoes. 
To make perfectly crisp, spicy potato cubes, you'll also need hot paprika, garlic powder, olive oil, black pepper, cumin (whole seeds work the best in this recipe, but ground cumin will work just fine in a pinch), salt, baking soda, and corn starch. To make the nacho cheese sauce that will eventually get poured over the potatoes, you will need butter, flour, milk, and shredded cheddar cheese. Taco Bell actually makes a bunch of different branded shredded cheese blends, which we highly recommend using if you want a truly authentic Taco Bell-style taste. We used their classic "Taco Night" cheddar for this batch, but the Salsa Verde option is great if you're looking for a little extra kick. Any additional garnishes are completely up to you, but we love an old-school decadent dollop of sour cream. 
Boil your potatoes for the Taco Bell copycat fiesta potatoes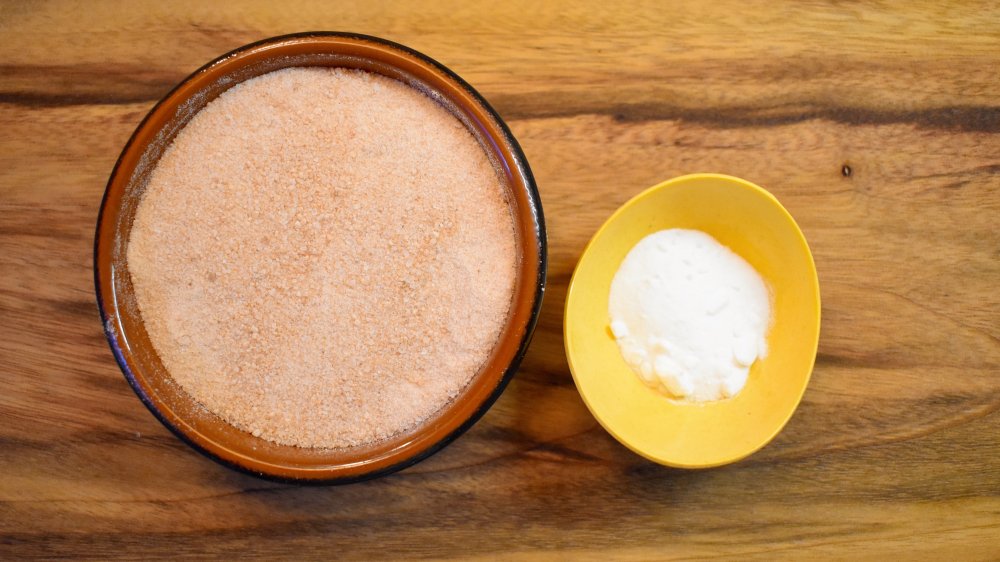 Carina Finn/Mashed
One of the secrets to getting perfectly crispy Taco Bell copycat Fiesta Potatoes is the method that we used for boiling. We took a leaf out of writer J. Kenji López-Alt's book and riffed on the method he outlines over at Serious Eats for making crispy roasted potatoes, combined with a classic Central New York method for cooking salt potatoes that adds crunch and flavor to the outside and creaminess to the interior of potatoes. Using very salty water will help the potatoes cook at a higher temperature, while the addition of baking soda helps to break down some of the potato starches during the par-boiling process. Those starches will coat the exterior of each potato cube, getting super crispy when we put them in a hot oven later on in the process. 
When you read the recipe, you'll probably think that there is way too much salt in the water, but don't skimp on it! Keep in mind that this is the only added salt we will use for this entire recipe, and that the vast majority of the salt will end up getting poured down the drain once the potatoes have been par boiled. We like to use fine pink Himalayan sea salt, but any fine salt will do — just try to avoid using very coarse Kosher salt, for example, which does not dissolve as quickly or as well. 
Make a spice-infused oil for the Taco Bell copycat fiesta potatoes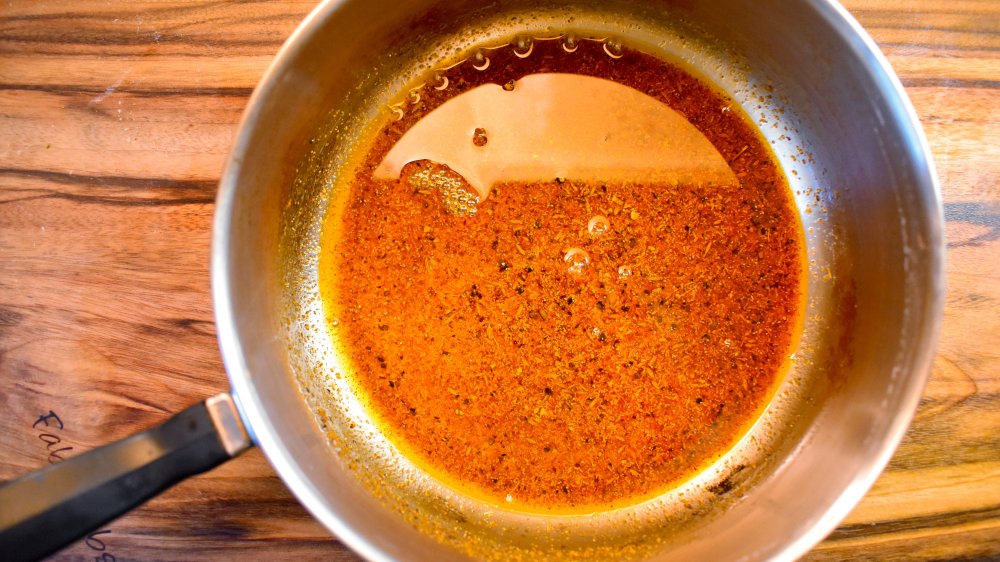 Carina Finn/Mashed
This next step is another one of our secrets to making Taco Bell copycat Fiesta Potatoes that we think are even better than the original. What we do in this part of the recipe is very similar to making a Tadka, which is an Indian cooking technique for tempering spices in hot fat. Rather than just tossing your potatoes in cold pre-ground spices and olive oil, take an extra minute to make this infusion. 
If you have whole cumin seeds and black peppercorns on hand, we recommend coarsely grinding those with a mortar and pestle before adding to the oil. If you don't tend to keep whole spices on hand, ground ones will also work in their place. This step only takes a little over a minute, but it is important to keep a close eye on the pan. Spices, especially ground spices, can burn very quickly and easily, so you'll want to keep the heat very low. 
Get your oil warmed up first, then add crushed whole spices and any ground spices. Use your nose to tell you when the oil infusion is ready. Crushed whole spices will start to sizzle and pop a little bit, and the oil will smell really good (but not at all burnt!) when it's time to take the pan off of the heat. 
Toss your potatoes in the infused oil to create crisp Taco Bell copycat fiesta potatoes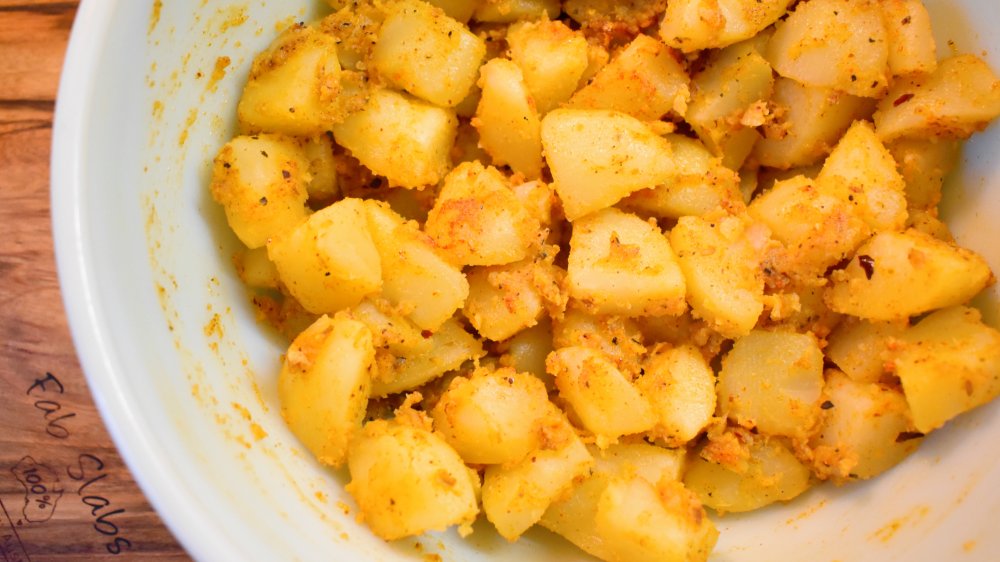 Carina Finn/Mashed
One your potatoes have been par boiled (you'll know they're ready when they're fork-tender), drain but do not rinse them. Add the drained potatoes to a large mixing bowl, then add a tablespoon of cornstarch and the warm, spice-infused olive oil. Make sure you toss the potatoes thoroughly to ensure that each cube is evenly coated with the starch, spice, and oil mixture. 
If you see the potatoes start to break down a little bit while you're mixing them with the spiced oil and extra starch, don't worry about it! This is a good thing — remember those broken-down starches we talked about in the par boiling step? The sticky coating on the outside of the potato cubes will give you the crispy, better-than-deep-fried texture we're looking for in this recipe. 
Pay attention to your Taco Bell copycat fiesta potatoes while they're baking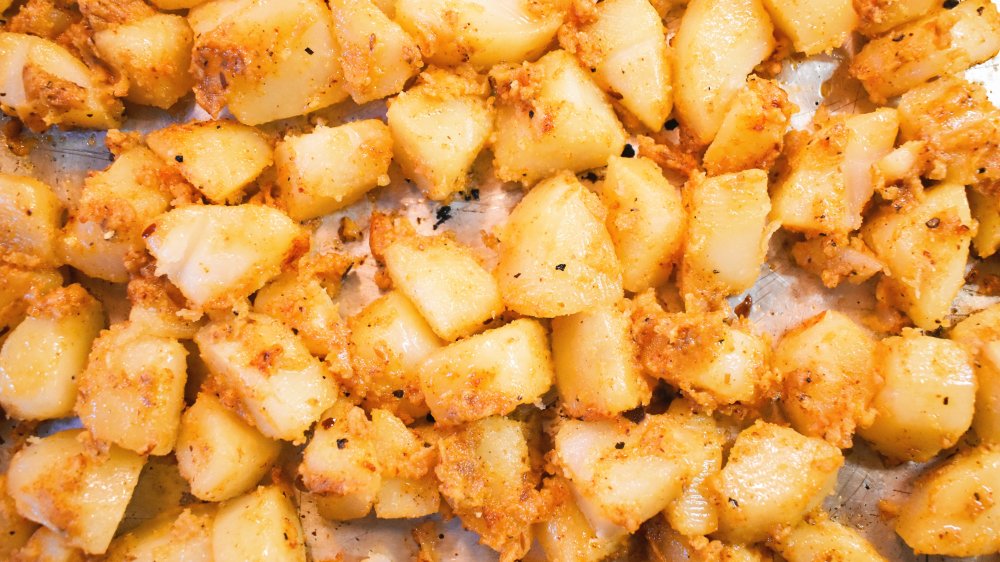 Carina Finn/Mashed
Before you put your potatoes in the oven, give the sheet pan an extra spritz of oil — but not too much, we want everything to stay crispy, not soggy. If you have potato cubes on top of one another, the ones that are on the bottom layer will not cook properly. If you're making a really big batch of Taco Bell copycat Fiesta Potatoes, it's worth spreading them out over two sheet pans so you don't have too much overlap.
Once your potatoes make their way into the oven, let them cook for the first 20 minutes completely undisturbed. At that point, you'll want to take the pan out of the oven for a moment, give everything a thorough mix, and then shake the pan to make sure that the potatoes are still in an even layer. If you're using two pans, switch the oven racks that the pans are on when you rotate them halfway through cooking, so that whichever tray was on the lower rack during the first 20 minutes ends up on the upper rack during the last 20 minutes. 
Make the perfect nacho cheese sauce for Taco Bell copycat fiesta potatoes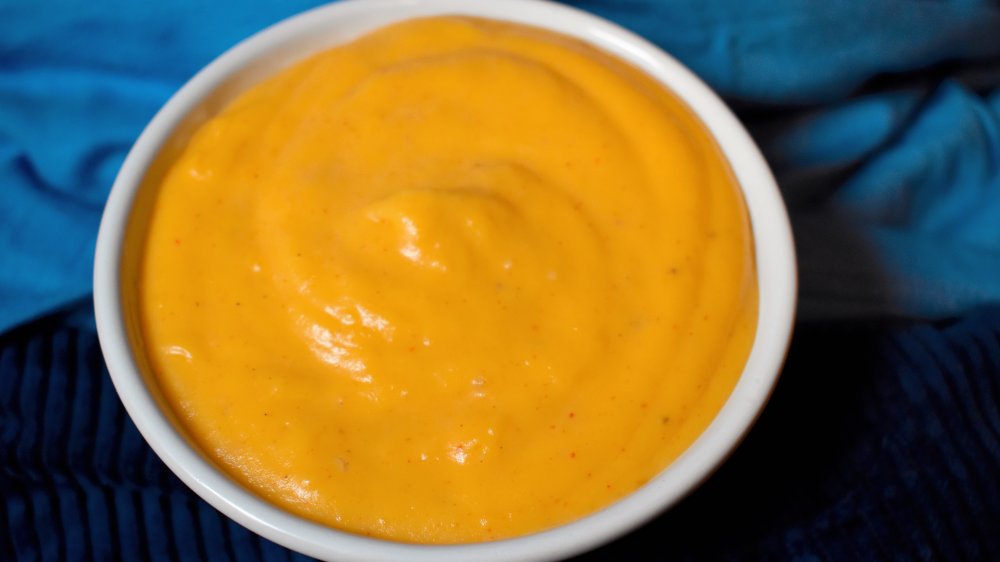 Carina Finn/Mashed
Making the perfect nacho cheese sauce uses another classic culinary technique that seems fancy but really isn't. To master this sauce, you'll need to make a roux, which is a fancy way of saying that you're going to melt butter and cook it with equal parts flour to create the thickening base for your nacho cheese sauce. This really takes these Taco Bell copycat Fiesta Potatoes to the next level, so you'll want to make sure you pay attention to this part of the recipe. Once the butter has melted, add the flour and stir it well over low heat, cooking for at least a full minute — this step ensures that your finished sauce will taste like cheese and not raw flour. Once your base has cooked, slowly whisk in some milk and spices. Keep the heat low and whisk the mixture often. You'll notice that it will start to thicken up after around three minutes. At that point, whisk in your shredded cheddar cheese until it's fully melted and combined. 
The best part of making your own nacho cheese sauce is that it only takes 5 minutes, but tastes at least five thousand times better than store-bought cheese sauce. Our recipe makes a bigger batch of sauce than you are likely to need for your Fiesta Potatoes, so feel free to save the leftovers and use it on...everything. It will keep for a week in an airtight container in the refrigerator, and is delicious on everything from nachos to pasta and even breakfast sandwiches. To reheat, just warm over low heat on the stovetop, adding a splash of milk to thin it out. 
Add the cheese sauce to the potatoes to complete your Taco Bell copycat fiesta potatoes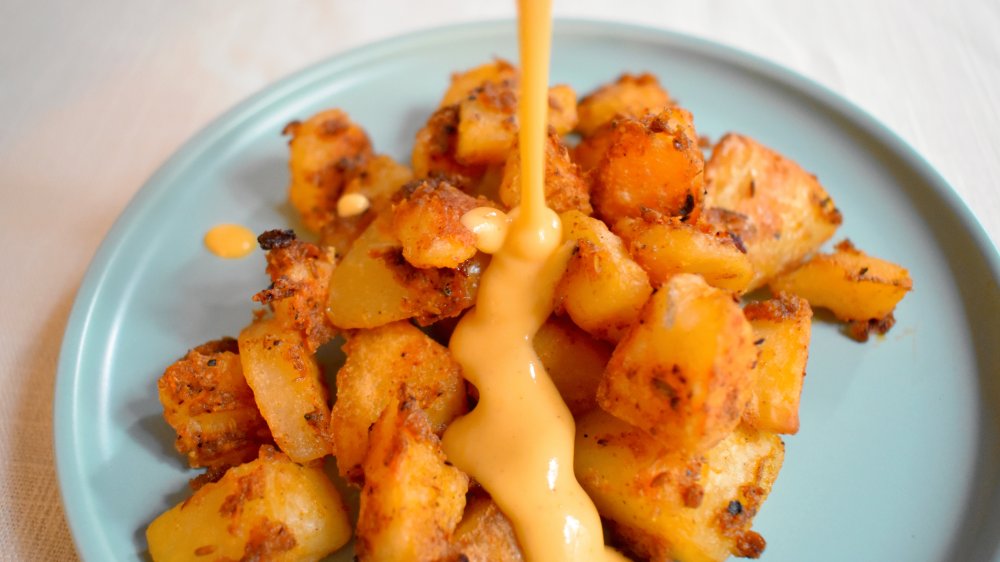 Carina Finn/Mashed
One of the best things about these Taco Bell copycat Fiesta Potatoes is the fact that there are so many contrasting textures and flavors. There's the textural contrast of the interior and exterior of the potatoes, the crispy potatoes and the velvety sauce, the spice of the coating with the creaminess of the nacho cheese. Because of that, it's important not to just toss the potatoes and the cheese sauce together. Instead, you'll want to keep the cheese sauce warm until just before it's time to serve or eat your final dish, and then pour the sauce on at the last possible moment. 
There are other things you can add to this dish to bulk it up: cooked ground beef or refried beans would turn this into a very satisfying dinner, and sliced green onion, chopped tomatoes, or cilantro can all make pleasant garnishes, too. How you customize these is totally up to you, but the one thing we really recommend adding is a dollop of full-fat sour cream. Yes, it's decadent, but it's also really delicious. If you're looking for a slightly healthier swap, go for full-fat Greek yogurt as opposed to low-fat sour cream. 
How close did we get to the original Taco Bell fiesta potatoes?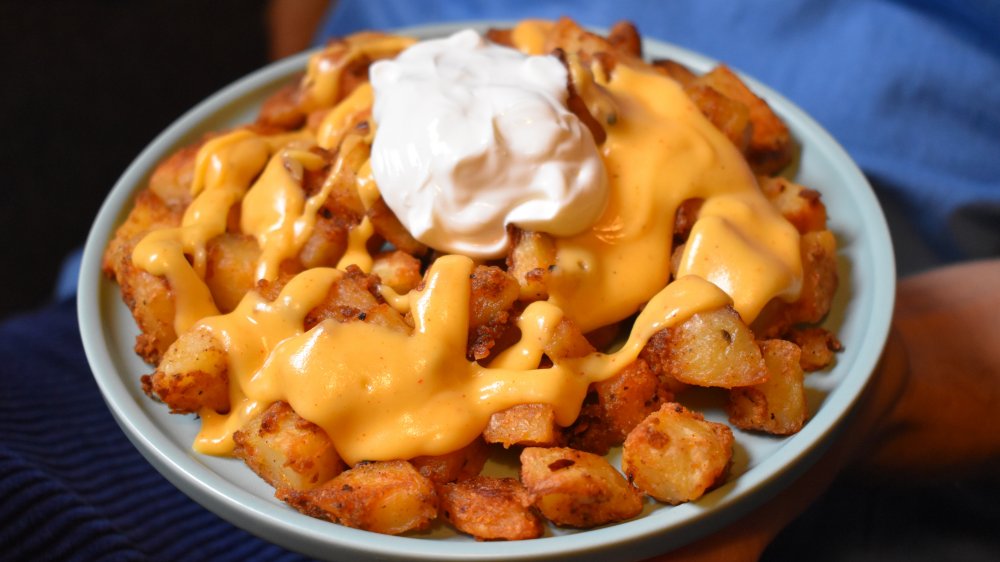 Carina Finn/Mashed
We think that our recipe for Taco Bell copycat Fiesta Potatoes is actually better than the version you used to be able to get at an actual Taco Bell location. Because our potatoes are baked rather than deep fried, they have all the crispiness of the original, but you taste more of the spices and less of the oil. Our spice mixture also has a little bit more of a kick than the original recipe, and a more complex flavor profile. 
Our cheese sauce has some additional spice built into it, and because it's made with whole ingredients, it tastes more like actual cheese while still retaining that pleasant melty quality that typically comes to mind when we think of nacho cheese. Our Fiesta Potatoes are incredible on their own — it's the kind of recipe that you really wish wasn't so good, because you want to eat more of it than is probably advisable. And while we haven't tried making our own Fiesta Potato burritos yet, it is only a matter of time. 
Taco Bell Copycat Fiesta Potato Recipe
We're showing you how to make a copycat version of Taco Bell Fiesta Potatoes at home. Want our delicious recipe? Keep reading.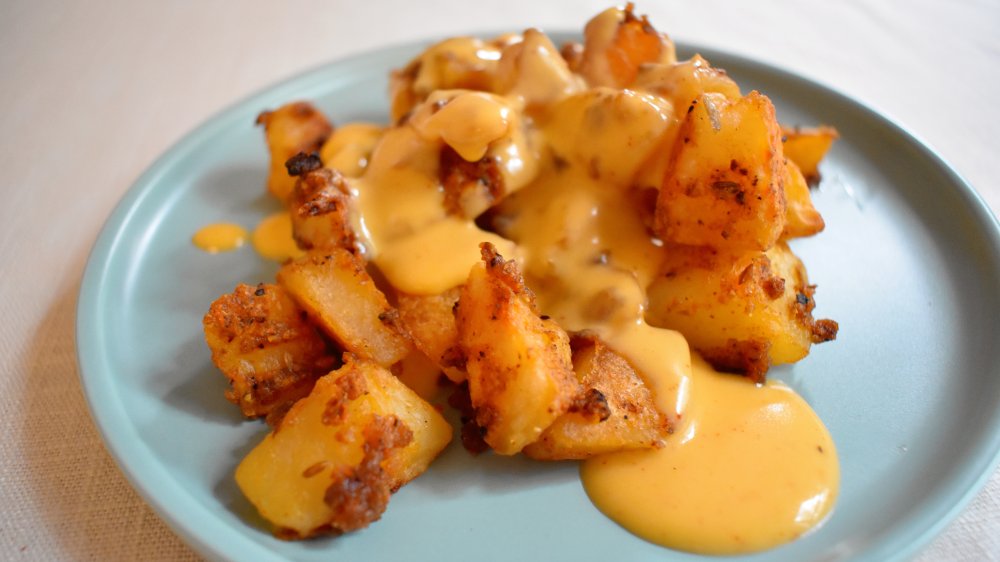 Ingredients
2 pounds russet potatoes (around 6 medium-sized potatoes)
¼ cup salt
5 tablespoons olive oil 
½ teaspoon baking soda
1 teaspoon crushed cumin seeds
½ teaspoon crushed black peppercorns 
1 teaspoon garlic powder
1 ½ teaspoon ground cayenne pepper 
1 teaspoon hot paprika 
1 tablespoon corn starch 
2 tablespoons butter
2 tablespoons all-purpose flour 
1 cup whole milk 
7 ounces shredded cheddar cheese 
Directions
In a large pot, bring salt and water to a boil. Preheat your oven to 450 degreed Fahrenheit.
Peel and cube potatoes. One the water is boiling, add baking soda and potatoes and cook until fork-tender, around 10 minutes.
While the potatoes are boiling, gently heat olive oil in a small saucepan. Add crushed cumin seeds and peppercorns, cook over low heat for around 30 seconds. Add the garlic powder, 1 teaspoon ground cayenne pepper (set aside ½ teaspoon for later), and hot paprika, and cook for an additional 30 seconds, stirring constantly, and remove from heat.
Once the potatoes are cooked, drain and add to a large mixing bowl — but do not rinse! Add cornstarch and spiced oil, and toss until evenly coated. There should be a sticky, starchy coating on the outside of each potato cube.
Lay potato cubes in a single layer on a sheet pan and cook undisturbed for 20 minutes at 450 degrees Fahrenheit.
After 20 minutes, remove the pan from the oven, stir the potatoes, and give the pan a shake. Return to the oven for another 20 minutes.
While the potatoes are still in the oven, start on the nacho cheese sauce. Melt butter in a small saucepan, then add flour and cook for at least one minute, stirring constantly.
Whisk in milk and ½ teaspoon cayenne pepper. Let the mixture cook, stirring occasionally, until slightly thickened. This should take around three minutes.
Whisk in shredded cheese and stir until combined, then reduce the heat to its lowest setting and cook for an additional 5-10 minutes, until the potatoes are ready to come out of the oven.
Remove the potatoes from the oven. To serve, place potatoes on a plate, and top with cheese sauce. Garnish with a dollop of sour cream.
Nutrition
| | |
| --- | --- |
| Calories per Serving | 649 |
| Total Fat | 41.9 g |
| Saturated Fat | 16.8 g |
| Trans Fat | 0.8 g |
| Cholesterol | 72.0 mg |
| | |
| --- | --- |
| Total Carbohydrates | 51.1 g |
| Dietary Fiber | 3.7 g |
| Total Sugars | 4.8 g |
| Sodium | 862.2 mg |
| Protein | 19.6 g |