This Is Dairy Queen's Most Underrated Menu Item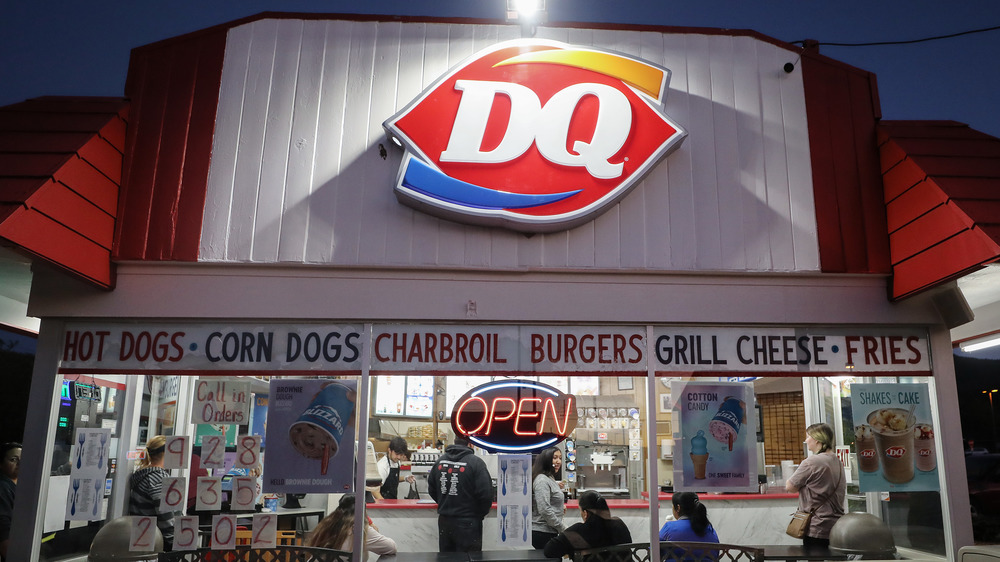 Mario Tama/Getty Images
If you strut into Dairy Queen ready to order a Salted Caramel Truffle Blizzard (the #1 Blizzard, according to Spoon University), take note — there's a secret menu item that will knock your socks off, and all you have to do is ask for it.
For over eighty years, Dairy Queen has been delivering treats to fans of all ages, and the company's mission is to "surprise and delight" us every step of the way (via Dairy Queen). From their signature soft-serve ice cream, to malts, shakes, and slushes, it's the frozen creations that put this family-friendly, quick-serve joint on the global map.
Dairy Queen is probably best known for their Blizzards — soft-serve ice cream blended with mix-ins — because the concoctions are so thick, you can hold them upside-down (via Eat This, Not That). But DQ offers a variety of savory lunch and dinner options too, including cheeseburgers, hot dogs, chicken strips, onion rings, and fries, providing diners the classic American drive-thru experience.
This is the item you need to ask for during your next DQ trip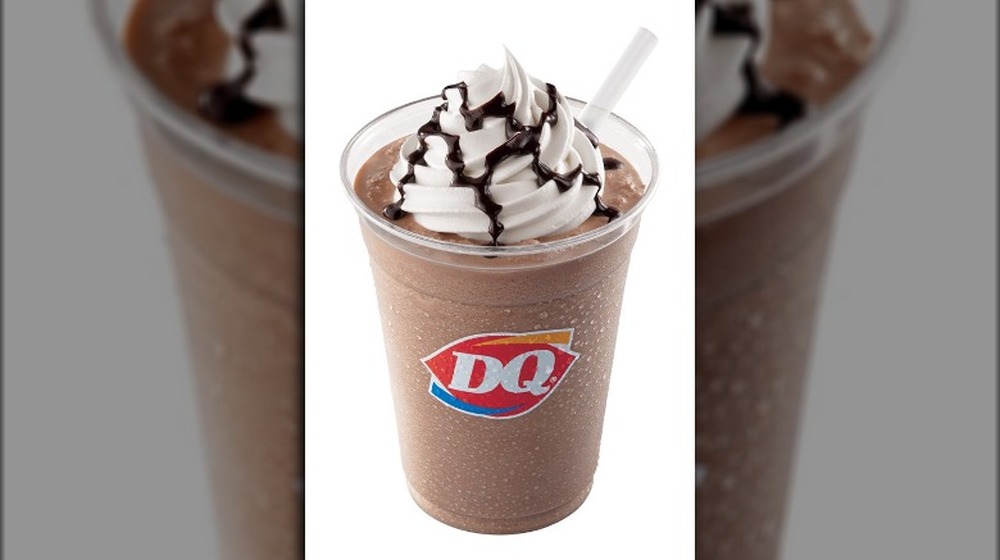 Dairy Queen
When you get to your local DQ, skip the Blizzards and chocolate-dipped cones and ask for the secret Frozen Hot Chocolate — a blend of Dairy Queen's icy slush mix, chocolate fudge, and vanilla soft serve ice cream (via Yahoo). It's exactly what you would expect frozen hot chocolate to be — rich and fudgy — and it's garnished with sweet whipped cream and a drizzle of chocolate (via Taste of Home).
Best Products asserts that it's everything you love about a mug of hot cocoa, but it's cold and quenches your thirst. The Daily Meal adds that the Frozen Hot Chocolate is like a chocolate shake, but much, much better.
Let's be clear: Nutritionally speaking, it's not the healthiest item on the menu. One small Frozen Hot Chocolate has 360 calories, 20 grams of fat, and 41 grams of sugar (via Dairy Queen). Take that into consideration and perhaps adjust the rest of your day's calories accordingly. The frozen version of winter's favorite drink is around for a limited time (via Today), so head on over to Dairy Queen and unearth what we need most these days — a hug in a cup.