Del Taco Is Adding An Interesting Twist To Its Popular Crispy Chicken Tacos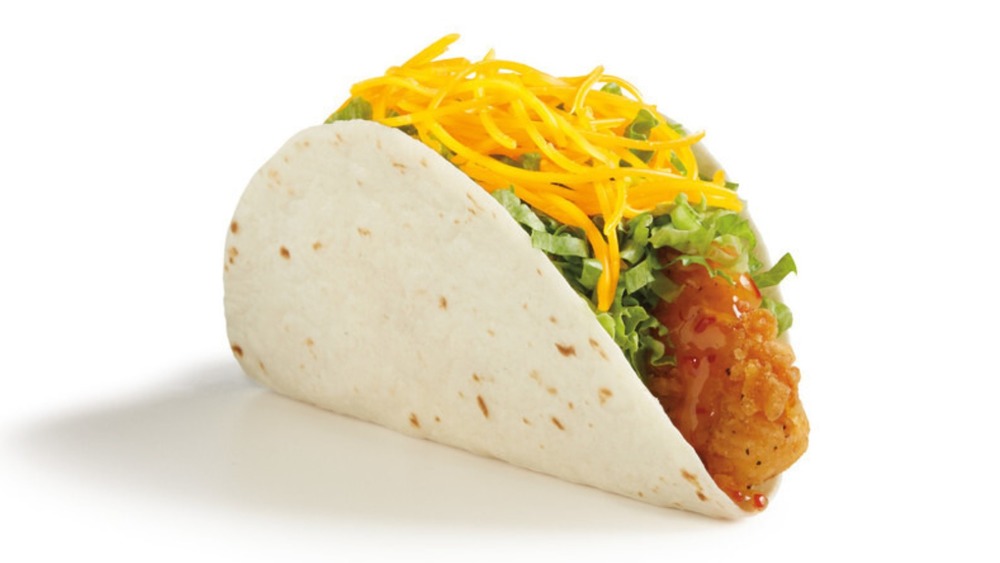 Del Taco
When Del Taco released its Crispy Chicken Taco last year, it quickly captured the hearts of a chicken sandwich-crazed nation. Chicken on a bun is awesome and all, but sometimes you just want something more... taco-like. Like a taco. While Del Taco's menu currently carries two varieties of this fan favorite, the original (crispy chicken strips, lettuce, cheddar, and ranch dressing in a flour tortilla) and a habanero version (replacing the ranch dressing with a creamy habanero sauce), Mashed received an email announcing their intent to "make 2021 sweeter" by introducing a new player to the lineup: Honey Mango Crispy Chicken.
This item is expected to be available starting January 11, which is welcome news in the depths of a particularly bleak mid-winter. In order to celebrate this notable new item with all due ceremony, Del Taco will also be resurrecting what may be the only fast food mascot inspired by '80s hair metal: Crys P (via Instagram). This time around, though, Mr. P won't be accompanied by his spandex-clad bandmates in Tyger, but will instead be fronting a new boy band called the CRYS*P BOYZ. 
We've been promised a new hit single called "Bang, Bang, Bango" in which the Boyz will "profess their love for Honey Mango Crispy Chicken Taco through high notes and smooth choreography." Can't wait? Luckily, you won't have to — this soon-to-be-classic can be streamed on Del Taco's Facebook, Instagram, and Twitter accounts.
How you can get the new Honey Mango Crispy Chicken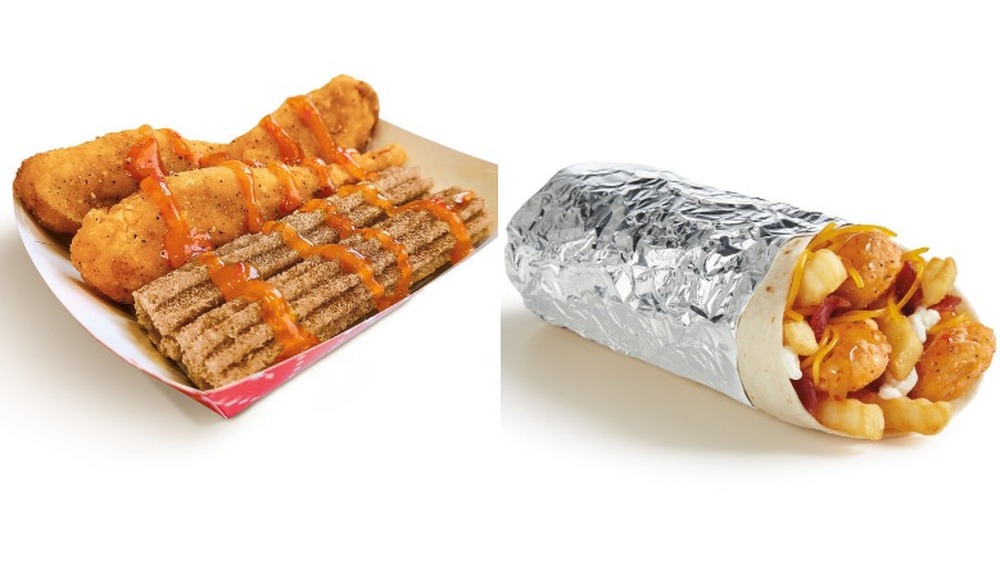 If it's the actual product you're salivating for instead of just the promo, you'll have to hustle yourself down to your nearest Del Taco or check to see whether delivery is available in your area. Once that's been established, all you'll have to do is decide which of the three new Honey Mango Crispy Chicken items you'd like to try first.
If you're not all-in on the honey/mango flavor combo, but still want to give this new item a try, you can order just a single taco as a Del Taco Dollar Deal. Even if you hate it, you're only out about the price of Starbucks' smallest coffee. If a honey and mango mashup is totally your thing, you might want to splash out for a $4 box. This comes with three Honey Mango Crispy Chicken tenders (not in taco form), but as an added bonus you also get — wait for it – churros. What could be better than that? Well, only one thing, perhaps: a $5 (but totally worth it) Epic Honey Mango Crispy Chicken and Bacon Burrito. 
This burrito not only contains crispy chicken strips, bacon, cheese, sour cream, and (of course) honey mango sauce, but it even has crinkle fries wrapped right up in the tortilla. Hmm. Mangoes + Bacon. Where have we seen that before? Anyway, sounds like a pretty genius flavor combo to us.