Lay's Has Great News For Fans Of Its Bacon Wrapped Jalapeño Popper Chips
Lay's Bacon Wrapped Jalapeño Popper flavor may have been improved
We may receive a commission on purchases made from links.
Remember the good old days, when potato chips only came in only two flavors: fried and salty? Now there are more flavors than you can shake a dip at. Go to the product webpage for a single brand — Lay's — and you'll find 16 different flavors. That's not counting Lay's Wavy or Kettle Cooked chips, or those Pringles-wannabe Stax. If you want potato chips that taste like dill pickles, fiery habaneros, or even Chesapeake Bay crab seasoning, then Lay's has you covered.
The employees in research and development at Lay's aren't necessarily the most creative thinkers in the potato chip business. Since 2012, they've been letting their customers do most of the work. Lay's asks fans to come up with new flavor ideas in a contest they call Do Us a Flavor (via Potato Pro). Contest winners earn $1 million and the glory of seeing their vision realized in the snack-food aisle. The 2017 winner, Crispy Taco, made it into the Lay's lineup again in 2020 (via Elite Daily).
At Lay's, a flavor doesn't have to win the contest to make the big time. Bacon Wrapped Jalapeño Popper chips didn't even make the top three in 2017, although it was among the 10 semifinalists. The potato chip flavor you never knew you needed — deep-fried, cheese-stuffed jalapeños...with bacon — first came out in August 2017 (via Potato Pro), several weeks before Lay's announced Crispy Taco as that year's contest winner (via PR Newswire).
Lay's Bacon Wrapped Jalapeño Popper flavor may have been improved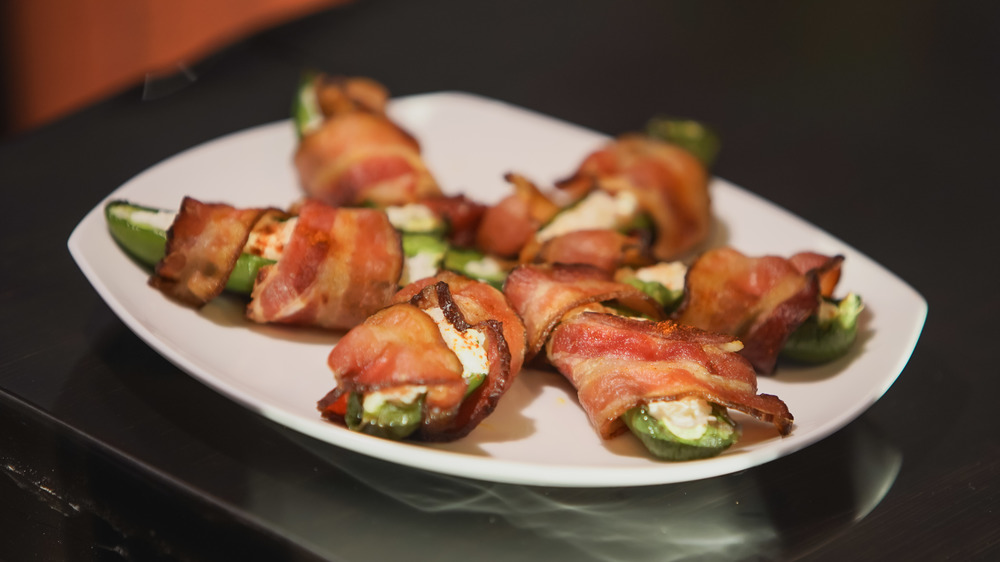 Shutterstock
If you were planning to try that jalapeño popper recipe for your upcoming Super Bowl party, you can leave your deep fryer buried in the bottom of your pantry and relax. Lay's just reintroduced its Bacon Wrapped Jalapeño Popper chips, alongside its Game Day Chili flavor. Instagrammer @i_need_a_snack_ wrote up a quick review of both flavors, saying they like Bacon Wrapped Jalapeño Popper but wish it had more kick. The jalapeño flavor hits you first, then the bacon, with cream-cheese flavor at the end.
Reviewers at Snack Gator and The Impulsive Buy, who tried the chip when it first appeared in 2017, were underwhelmed by the weak flavors. But @i_need_a_snack_ said the flavor got a "revamp" for 2021, so the muddled and missing flavors described in the early reviews may have been corrected.
We weren't getting any hits yet when searching for "Bacon Wrapped Jalapeño Popper Lay's" on Amazon or Walmart's website, but keep your eyes open. Best Products says the potato chips are available now at select stores.