Hennessy Is Releasing A Cocktail Kit Honoring Vice President Kamala Harris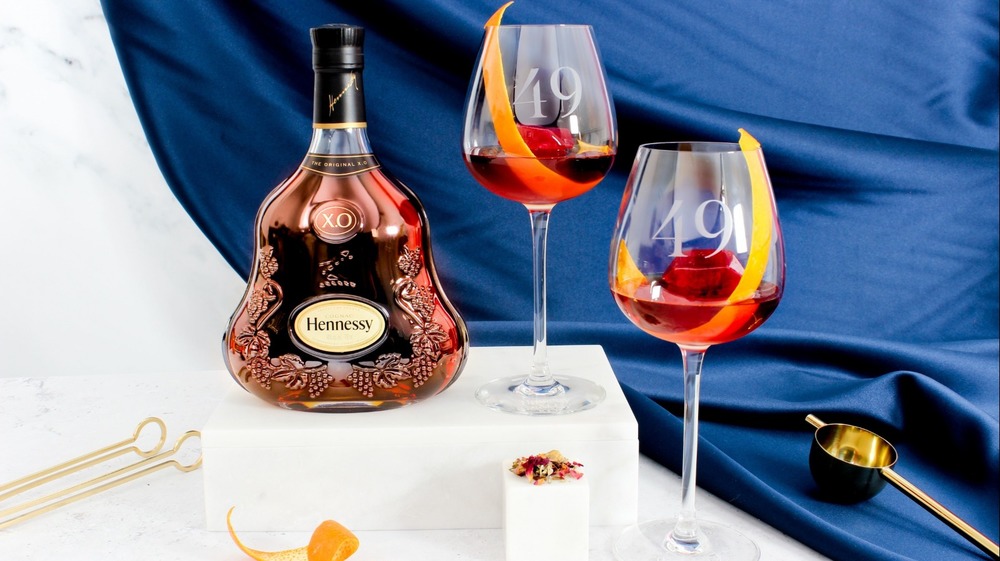 HennessyFhenn
We may receive a commission on purchases made from links.
While it may be a bit late to toast the inauguration of our new Vice President, that doesn't mean we have to wrap up the festivities. After all, it's a wonderful feeling each and every day to wake up in a country where we've finally elected a woman, and a woman of color, at that. (Not to mention, a woman with such excellent taste in footwear!)
Even before Kamala Harris was sworn into office, companies were rushing to commemorate the occasion with all manner of merch. You can rock your Harris t-shirt and face mask (via Etsy) (though sadly no official commemorative Harris Chucks yet) and celebrate her historic win with a wide variety of Harris-inspired ice cream flavors. You can also sip some California wine out of a stemless glass engraved with a quote from her debate with Mike Pence, which was famously won by an insect interloper (via Amazon). Stemless glasses, however, aren't really optimal for proper wine consumption, but they can make for great drinkware for sipping cocktails or even straight-up liquor. That could be convenient, seeing as how Hennessy has created a Kamala Harris commemorative drink as well as a cocktail set, both of which include the brand's X.O cognac.
How to make the 49th cocktail (with or without the kit)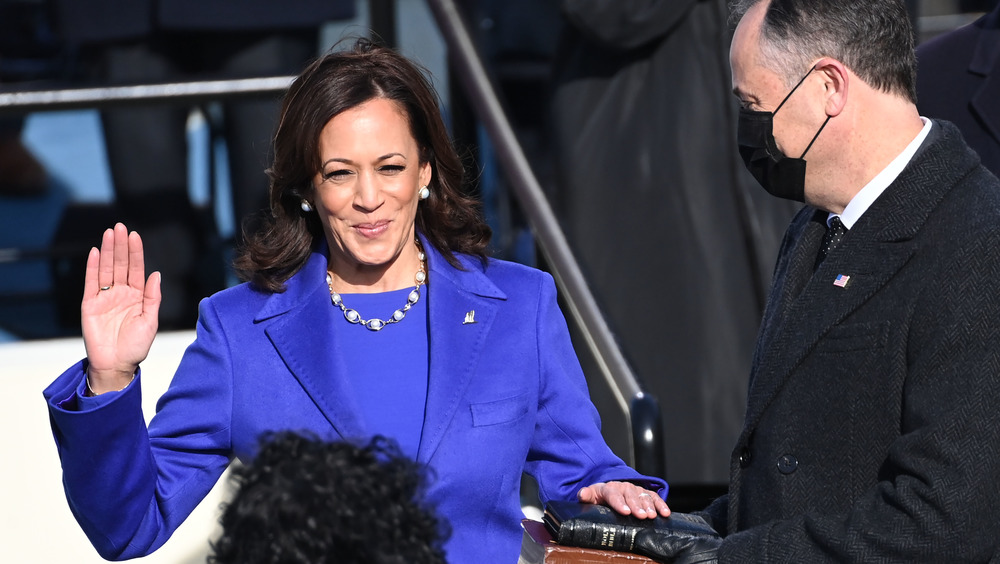 Pool/Getty Images
You may not need additional glasses if you purchase the limited edition Hennessy X.O 49 Commemorative Cocktail Set. According to a statement sent to Mashed, the set includes not only a 750 milliliter bottle of Hennessy X.O, but an ice cube mold (it plays a part in the cocktail recipe), a tray, and glasses etched with the number 49. Cocktail Courier indicates that the kit also contains flavored teabags and oranges. Plus — of course — the recipe for a special cocktail they've dubbed The 49th, honoring Harris as the 49th VP. 
For each one of these sets they sell, Hennessy will make a donation to the Thurgood Marshall College Fund to help women attending HBCUs, as Harris did (she's a Howard alum). Even if you don't pony up for a $260 cocktail set, though, you can still make the 49th, as Hennessy kindly supplied us with the drink recipe. To make the celebratory drink, you'll start with two different flavors of teabag: one pomegranate, one hibiscus. Steep both tea bags in 14 ounces of boiled water for 5 to 7 minutes, then use this tea to fill an ice cube tray. For each drink you wish to make, place one pomegranate/hibiscus tea ice cube into a glass and pour 1-1/2 ounces of Hennessy X.O over the top. Garnish with a twist of orange peel. Enjoy, but drink responsibly! Madam Vice President would expect no less of you.