The Real Reason Eli Manning Is Going To Douse TikTok Star David Dobrik In Hot Sauce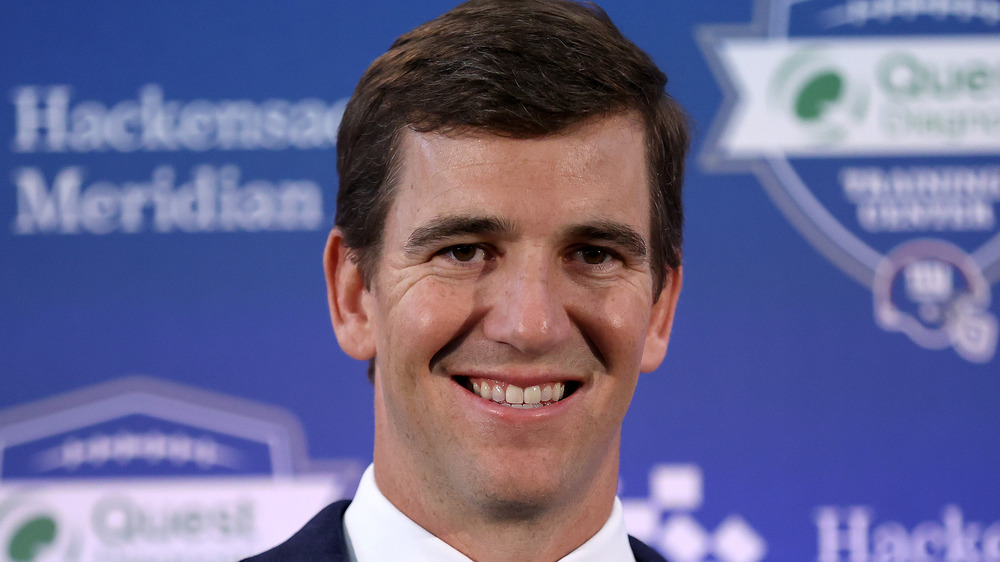 Elsa/Getty Images
Generations collide in the latest Frank's Red Hot promotion. Retired NFL quarterback Eli Manning might be the country's oldest millennial, born January 3, 1981 — the year that started the generation (via Kasasa). Social media star David Dobrik would be pushing it a little, but as a 1996 baby, he is on the cusp of Generation Z. In this promotion, the older guy is getting the upper hand ... for now, at least. 
According to a statement sent to Mashed, Manning will pour 100 gallons of Frank's Red Hot sauce onto Dobrik's head on February 4 at 2 p.m. on the brand's Twitter, cheered on by their fans (via Frank's). Frank's asked fans to post with the hashtag #FranksBigPour to reach a goal of 100,000 tweets before the event. The big hot sauce pour is being done in the name of charity, with Frank's planning to donate $100,000 to Tackle Kids Cancer.
The two are an unlikely pairing for the ad campaign. Manning found fame and fortune as a two time Super Bowl champion for the New York Giants (via Yahoo). Dobrik's claim to fame is total Gen Z: He makes Youtube and TikTok videos showing him and his friends goofing off, and he occasionally gives away cash and cars (via Distractify).
Having a former Super Bowl winner like Manning involved in an advertising blitz right before the big game appears to be no coincidence. This is the third year in a row Frank's has promoted itself around the Super Bowl without actually buying commercial airtime (via Marketing Dive).
Eli Manning also stars in a new Frank's Red Hot commercial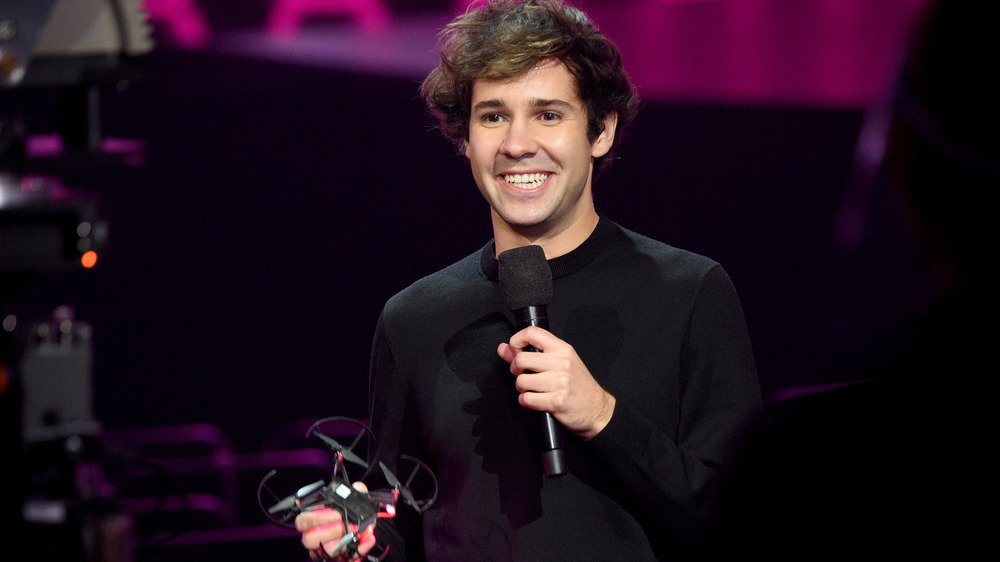 Kevin Mazur/ama2020/Getty Images
Last year, Frank's Red Hot livestreamed a game show on Twitter at the start of the Super Bowl, with a grand prize of $36,500. In 2019, Frank's asked people to tweet a chili pepper emoji during other brands' Super Bowl commercials for a chance to win prizes. All of this "counterprogramming" against the Super Bowl, as it's called in the advertising business, started shortly after McCormick and Co. acquired Frank's Red Hot in 2017 (via The Baltimore Sun).
Not to be left out of the conversation about cool new TV ads, Frank's Red Hot did drop a commercial this year. It's not technically a Super Bowl ad because it came out last month. Frank's got their ad out early and no doubt for less money than the $5.6 million CBS charged for 30 seconds of gametime ad space (via Sporting News). The Frank's ad features Eli Manning, who actually is one of two NFL quarterback brothers.
Older brother Peyton Manning has been comedy gold in ads for Nationwide insurance, Mastercard, and other products (via USA Today). Eli's turn with Frank's Red Hot has people wondering if he isn't the funnier brother after all (via Golf Digest). In the commercial, Eli spices up traditional retirement activities such as gardening and fishing by including Frank's Red Hot in everything he does. As he says at the end of the commercial, "I put that s*** on everything" (via iSpot.tv).