Panera Is Reuniting These Boy Meets World Stars Over Pizza For Valentine's Day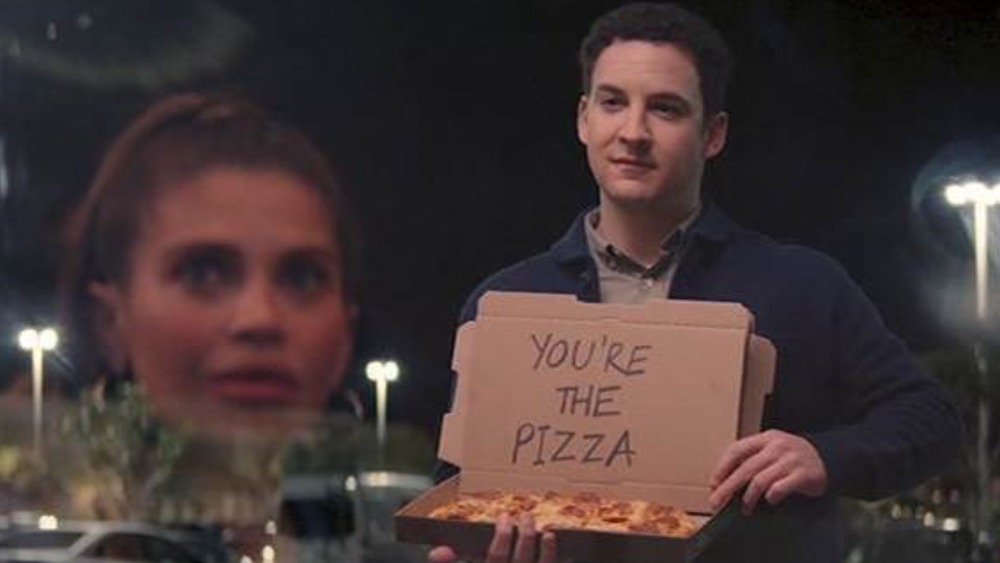 Panera
If there's one thing that's cheesier than a pizza, that thing would be a romcom... or perhaps a 90s sitcom. Better yet, a Valentine's Day romcom starring a 90s sitcom couple that revolves around pizza! Sounds like a bigger cheesefest than tailgating at a Packers game.
According to a press release Mashed received from Panera, that fast-casual chain's new commercial stars Ben Savage and Danielle Fishel –- yep, Cory and Topanga from Boy Meets World! While it doesn't quite attain the epic length of A Recipe for Seduction (surely you couldn't have forgotten Saved By the Bell's Mario Lopez playing a sexy Colonel Sanders?), it packs an entire dairy's worth of cheesiness into the one-minute mini-movie called Forever Flatbreads. Fred Savage, himself a 90s TV alum (and Ben's brother), directed the ultra-short epic that features the twosome falling in love all over again after fate engineers a seemingly serendipitous reunion over "the one thing that could pull them back together." What could that possibly be? Why, a Panera Pepperoni Flatbread Pizza, of course!
Savage gives Fishel a pizza his heart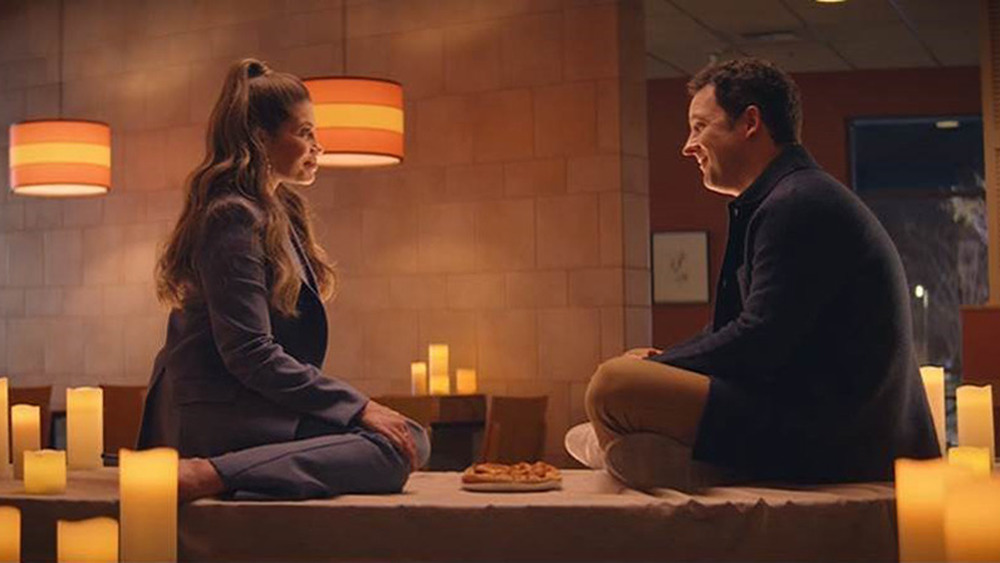 As the commercial unfolds, the two bond over their shared passion for pepperoni, pizza, and Panera; but then their budding romance succumbs to an overdose of alliteration. Just kidding! No such thing as too much of that particular literary device. Instead, the newly rekindled love affair goes on the rocks when Savage takes the last slice out of the box, a definite dating faux pas. Fishel is heartbroken, Savage may have heartburn, and it appears that all is lost until... inspiration strikes! Savage re-enacts the infamous poster scene from Love, Actually, only using a pizza box that is still full of pepperoni pizza. Fishel can't resist, of course, telling Savage "You had me at pepperoni!"
If you want to star in a flatbread love story of your own (with or without costar — it could just be you and the pizza, since that's true love, too), Panera is now offering five different flatbreads: Pepperoni and Four Cheese (both new to the menu), plus the original trio of Cheese, Margherita, and Chipotle Chicken & Bacon. To sweeten the V-Day deal for you and your sweetie (pizza) pie, from the 9th through the 16th of February, you can enter the promo code TGIF (which stands for "Thank God It's Flatbread") when ordering using the Panera app and you'll save 50 percent. (You had us at discount.)