The Truth About Darnell Ferguson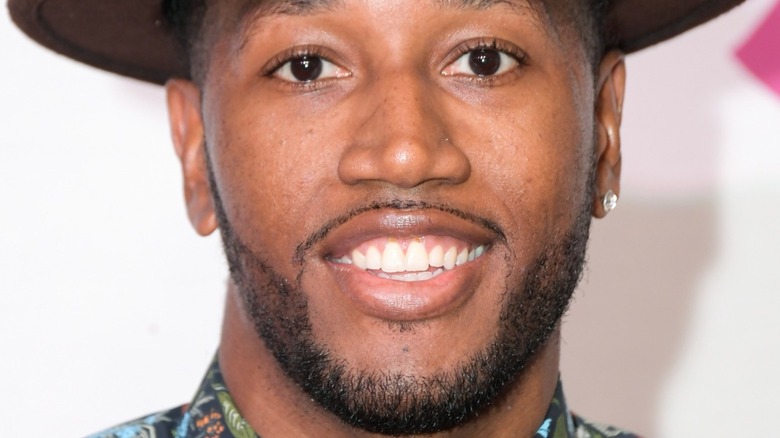 Michael Loccisano/Getty Images
Fans of Guy Fieri's Tournament of Champions should be in high spirits as season 2 is sure to be stocked with some exciting twists. One of those new developments is the introduction of "wild-card" entries. So far, the Food Network has already announced 14 of the 16 chefs that will be competing on the show, but the last two spots are still up for grabs and will be determined by a two-week tournament (via Food Network).
One of the chefs returning from the first season is Darnell Ferguson. If you watched the series, you might recall Ferguson's epic win against Alex Guarnaschelli in the first round. You also might recognize him from appearing on Beat Bobby Flay or from winning Giada De Laurentiis' 2018 Ultimate Thanksgiving Challenge that also aired on the Food Network (via I Am Super Chef). He is known for his "Urban Eclectic" culinary creations, like the Super "Scriddle" pancakes he prepared for the Today Show.
Outside of his frequent television appearances, Ferguson has built an impressive cooking resume. He has opened several restaurants (via The Columbus Dispatch), starting with a breakfast pop-up restaurant in Lousiville. He went on to open more restaurants under the super-hero-themed SuperChefs name in the Columbus, Ohio area with a partner, eventually splitting from that endeavor, but opening other restaurants in Louisville, Atlanta, and Alabama. Ferguson's journey to success is a true comeback story.
Things haven't always been so easy for Darnell Ferguson
Though Ferguson was off to a promising start after graduating from Sullivan University's National Center for Hospitality Studies and serving as a chef for Team USA in the 2008 Beijing Olympics, he didn't take the smoothest path to become a TV chef and restaurateur (via Courier-Journal). To make money during school he sold marijuana and ecstasy. After school, his drug selling escalated. He was arrested several times and spent a year in and out of jail and even lived in his Pontiac Grand Prix and couch-surfed for a time after losing his apartment (via The Columbus Dispatch). 
Luckily for restaurant-goers throughout the country, Ferguson's faith, along with his kitchen skills put him back on track. His career continues to be on the rise and isn't showing any signs of slowing. According to Biz Journals, Ferguson even has his sights on another joint-venture: opening a seafood restaurant in Louisville that will be named Drippin Crab. Of course, the new restaurant isn't scheduled to open before season 2 of Tournament of Champions airs, which is set to premiere on March 7.