Ferrero Eggs Are Back, Just In Time For Easter
Weird but true fact — which holiday accounts for the highest proportion of seasonal candy sales? Nope, it's not Halloween, nor Valentine's Day, and not even Christmas. Believe it or not, according to Statista, the highest percentage of seasonal candy is sold at Easter time. Huh, weird, although Halloween candy sales include lots of not-specifically-seasonal treats (Reese's if you're lucky, candy corn if you're not). Valentine's day candy doesn't need to come in a heart-shaped box, and Christmas candies share the stage with cookies and other festive goodies. 
At Easter, though, it's all about candy. And eggs. And candy shaped like eggs. Also bunnies ... but mostly eggs. While chocolate bunnies may be the best-sellers, not every candy manufacturer wants to break out the bunny-shaped molds. Creating a vaguely ovoid candy and calling it an egg, though, is a much easier thing to do.
Cadbury Creme Eggs, Reese's Peanut Butter Eggs, just plain foil-wrapped milk chocolate eggs — we wouldn't kick any of these Easter candies out of our basket to make room for more jelly beans. (To tell the truth, we wouldn't kick even the worst chocolate candy out in favor of any jelly bean, ever.) They might just get the heave-ho, however, in favor of Ferrero Rocher's take on the Easter egg, which is now back on store shelves.
Ferrero Eggs come in three different flavors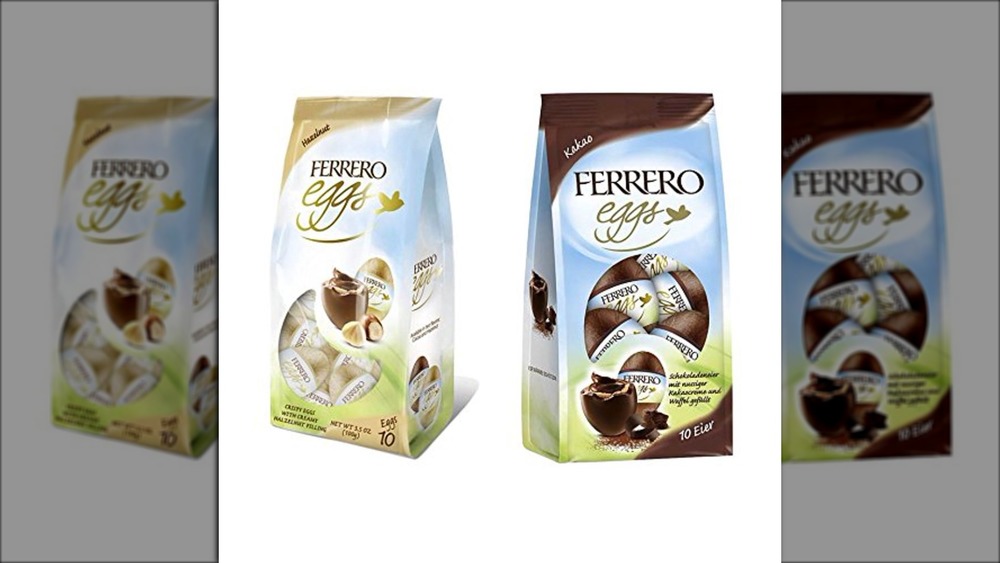 Ferrero Rocher
Ferrero Rocher candies don't often change their packaging because they really don't have to — their festive gold foil coverings lend them an elegant look at any time of year. Sure, they come out with heart-shaped boxes for Valentine's Day and tree-shaped ones for Christmas, but for the most part, the candies themselves don't change shape or size or wrapper. Except at Easter time, when they do.
According to a press release (via PR Newswire), not only will Ferrero be releasing their signature foil-wrapped candies in both egg and bunny-shaped boxes, but they are also bringing back their Ferrero Eggs. These feature crispy egg-shaped milk chocolate exteriors filled with creamy deliciousness: not only their classic hazelnut flavor, but also cocoa and caramel. They come 10 to a bag, and are available from retailers like Walmart ($3.50/bag) and Target ($4.29/bag).
Can't find them and/or just want to channel your inner Martha Stewart? Ferrero Rocher also provides instructions as to how you can decorate real eggs to look just like Ferrero Rocher chocolates. Prepare for disappointment, though, from anyone expecting a delicious chocolate/hazelnut candy and instead biting into a plain old hard-boiled egg.