Here's What's In Costco's Premade Easter Baskets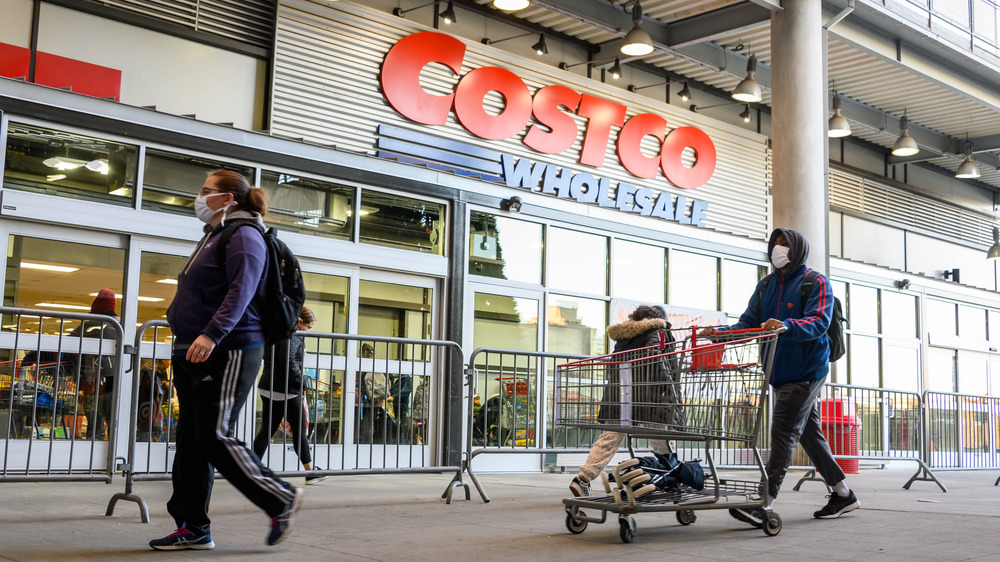 Noam Galai/Getty Images
The Easter Bunny doesn't give interviews, so we don't know if she's struggling with the same pandemic-induced supply-chain issues that have led to shortages in canned beer and soda, Spam, and even Grape-Nuts cereal. Will the Easter Bunny be able to gather all the chocolate rabbits and jelly beans she needs to make her rounds on Easter morning? If not, Costco has her covered. The wholesale chain offers an assortment of premade Easter baskets this year, so the Easter Bunny doesn't even need to assemble all those baskets herself. What a relief! Isn't that right, Easter Bunny? (In case you were wondering about our pronoun choice, research conducted by The Irish Times concluded that the Easter Bunny is female.)
Costco's go-to Easter basket option is called the "Some Bunny Loves You" basket of treats and sells for $24.99. The multi-colored basket made of woven straw comes preloaded with plenty of chocolate: a 5.5 ounce solid milk chocolate bunny, two smaller caramel-filled "wabbits," and a milk chocolate bar. Jelly beans are included, too, of course, along with some caramel-coated popcorn. No Easter basket would be complete without Peeps, and some bunny does love you enough to make sure you get a 1.5 ounce package of the marshmallow chicks with this basket.
Costco offers an Easter basket that's truly Costco-sized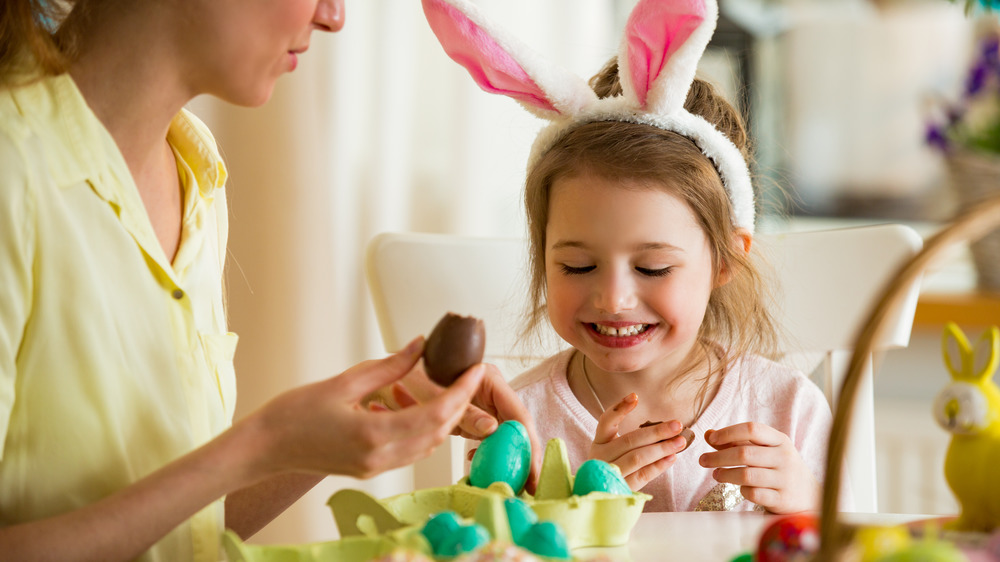 Shutterstock
Reviews of Costco's Some Bunny Loves You Easter basket were generally positive, with the basket getting an average of 4.1 out of five stars from Costco shoppers. For the sake of balance, we'll give you one positive and one critical review. The favorable review that was voted most helpful says, "It was a hit. Lots of choices and good chocolate." The most helpful critical reviewer complained the basket was smaller than they thought it would be. "I just thought coming from Costco it was going to be a much grander gift," they wrote. (Costco does list everything you'll find in the basket, including each individual item's size.)
What other Easter basket options are available at Costco? If size does matter to you, then there's Costco's Happy Easter Deluxe Easter basket, for $89.99. Happy Easter, indeed! If the Easter Bunny delivers this overflowing basket to your home in the middle of the night, you'll get a truly Costco-sized haul with more treats than we could reasonably list here. The bunny is dark chocolate and comes from Lindt, with four Lindt chocolate carrots thrown in. You'll find jelly beans, chocolate eggs, Peeps, Tootsie Rolls, and cookies, plus some savory stuff, too: breadsticks and roasted garlic onion dip. Truly, something for everyone. The basket itself is one of those white willow ones that can be used for Easters to come.
Costco's metal pail Easter baskets are good for Easter egg hunts
Costco's Happy Easter Purple Wooden Basket, $29.99, is good for people who like a variety of popular candies (and prefers wood to willow or straw). This basket has Skittles, Airheads, and M&Ms, in addition to most of the standard Easter fare.
When straw and wood weren't strong enough, the three little pigs moved into a brick house. Costco doesn't have a brick Easter basket (a bunny would have a hard time lugging those around), but the store does offer metal Easter pails, colored yellow or pink, for $29.99. The pails don't come with chocolate bunnies, so if that is a must-have, then you'll want to take a pass on these options. The metal pails do have some cool candies, though, including a Ring Pop and a Reese's Peanut Butter egg. Maybe you've already thought of this yourself, but these metal pails would be the perfect receptacle for all the eggs a child will find during the traditional Easter egg hunt.
Easter is Sunday, April 4 this year, so if you're ordering a premade Costco basket online, make sure you allow enough time for delivery before the holiday arrives.