Guy Fieri Just Revealed How He's Maintained His Signature Hair During The Pandemic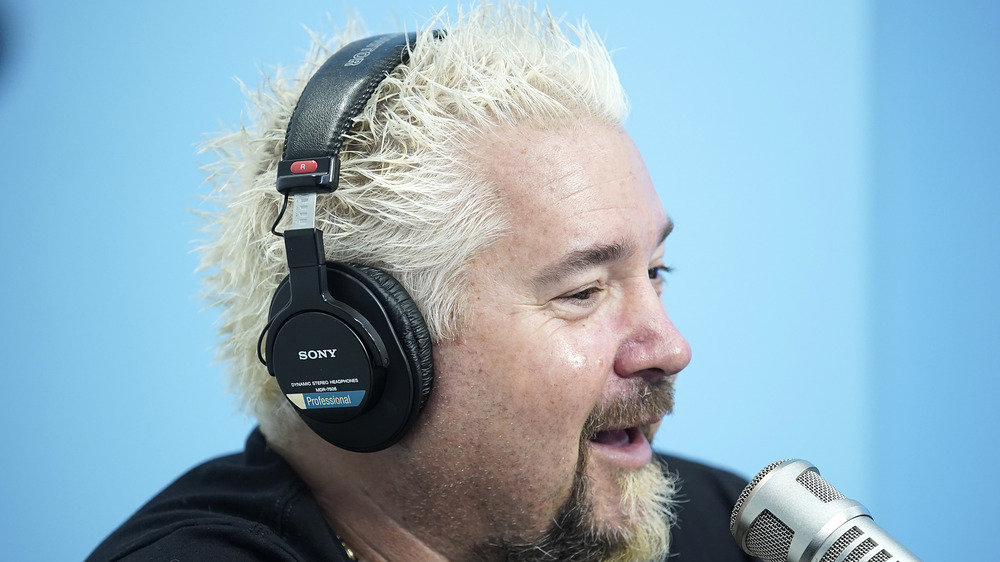 John Lamparski/Getty Images
If you buy into the quarantine cliché, then you believe that we're all cooped up in our homes, rarely getting out of our pajamas, and suffering intense boredom. Oh, and every day is a bad hair day because many barbershops and salons across the U.S. have been closed — not that anyone except our immediate family and our dog sees our hair, anyway.
If that's the norm during the COVID-19 pandemic, then TV chef Guy Fieri is an exception. He's kept remarkably busy over the past year of lockdowns, raising money for the Restaurant Employee Relief Fund, starting the Flavortown Kitchen food delivery app, and hosting season 2 of the cooking competition show Tournament of Champions for the Food Network. He even traveled this past fall to the not-so-locked-down states of North and South Dakota to film episodes of Diners, Drive-Ins and Dives (via USA Today). To top it all off, he's managed all this while keeping his signature hairstyle seemingly intact the whole time.
Fortunately for Guy Fieri, one of his best friends is a hair stylist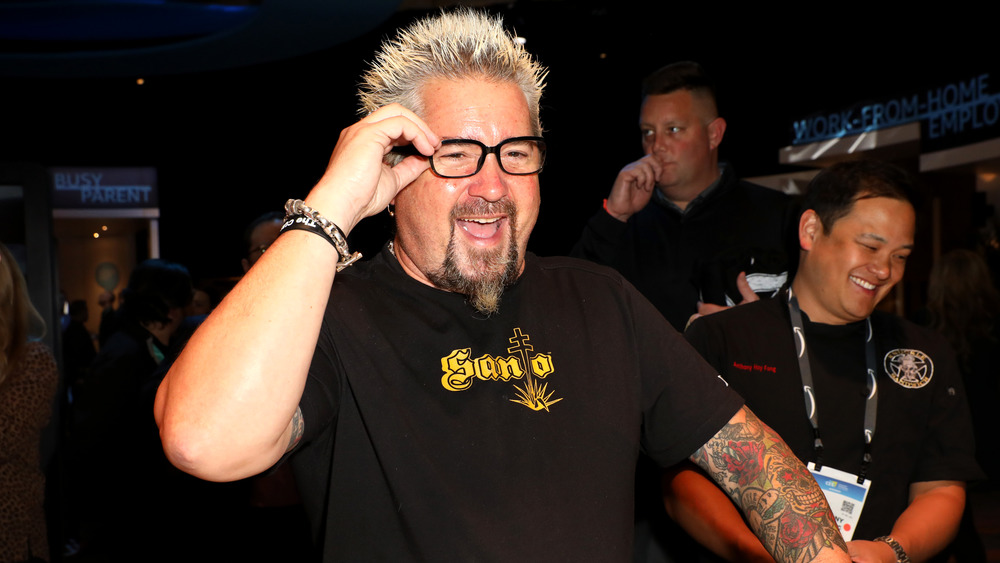 Roger Kisby/Getty Images
Obviously, Guy Fieri couldn't report to Food Network studios during the pandemic to have one of their stylists do his signature frosted tips. After all, consider the fact that the several hosts of the network's show The Kitchen had to shoot segments from their homes (via The Hollywood Reporter). Hair salons were closed in Fieri's hometown. (Flavortown was just as locked down as most of the rest of the country, apparently.) So how did the busy TV host keep his signature coiffure so spiky and bleached?
"This is my natural color -– it's always been this way," Fieri joked in an interview with USA Today. Seriously, Fieri, like the rest of us enduring COVID-19 quarantine, made the most of the resources available from the people closest to him. "My wife, Lori, had to take up her barbering skills," Fieri said, adding that one of his best friends happened to be the owner of a hair salon that was closed.
"I was able to coerce him over here," Fieri said. "We just had to get creative. Did I have some long hair days? Yeah." Maybe Fieri did have the occasional bad hair day, but we're guessing you won't find a lock out of place in the current season of Tournament of Champions. Season 2 is now in heavy rotation on the Food Network, with new episodes airing 8 p.m. Eastern Time on Sundays.