Bobby Flay Reveals The Weirdest Item In His Fridge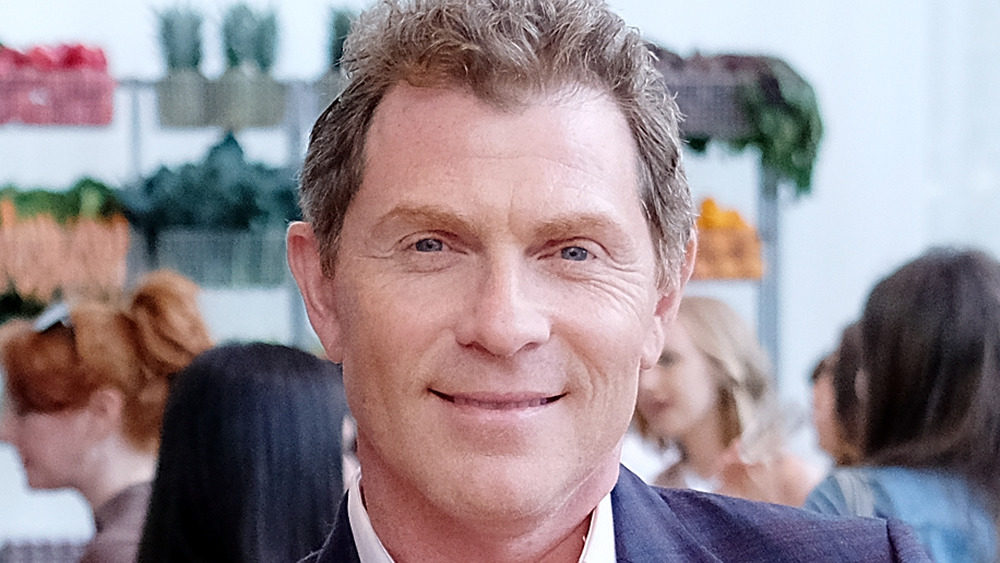 Nicholas Hunt/Getty Images
Bobby Flay has taught us a lot over the years. He has demonstrated (on YouTube) how to grill a ribeye steak to perfection. He's served up his culinary know-how to show us (also via YouTube) how to whip up a savory, yet sweet, Vidalia jam to top off that juicy, flavorful steak. Flay is not stingy with the recommendations and suggestions. He has offered up his favorite, genius technique to use up leftover vegetables to foodie followers, and when he and Giada De Laurentiis went to Rome to wander and feast upon all that is good and Italian, he took us along for their road trip with his limited series on discovery +, Bobby and Giada in Italy so we could share, albeit vicariously from afar in the comfort of our own home, in the experience.
However, Flay has also shared a little morsel of info with us through Food Network that may leave you a little flummoxed. We know we felt a little bewildered by his answer. It's not an awesome trick or hack to make cooking easier, nor is it a great epiphany he had about his life as a celebrity chef. Nope, this is about the weirdest thing he has in his refrigerator, and we are really scratching our heads about this one.
Frozen birthday cake
We would be totally fine if Flay had said condiments from years past or packets of soy sauce or ketchup from his favorite fast food joint, but his answer threw us off our game. Flay told Food Network that the weirdest thing he had in his refrigerator at the time the question was asked, "Frozen birthday cake from Momofuku." Cake never belongs any place but in your belly. And frozen? Maybe it was Lent and he gave up sweets and didn't want it to go to waste. Maybe it was a science experiment he wanted to dissect and recreate, we just don't know, and it is driving us bananas.
But, we do know that, per Bon Appétit, Momofuku's birthday cake is made by Milk Bar and is described as reminiscent of the kind of cakes you had when you were a kid. Milk Bar notes that it took them two years to get this cake right: "... three tiers of rainbow-flecked vanilla Birthday cake layered with creamy Birthday frosting, crunchy Birthday crumbs, and rainbow sprinkles." Just that thought of those moist, colorful layers of cake and all that frosting is sending our sweet tooth into overdrive. We may never know what led Flay to freeze his cake, but we do appreciate his taste when it comes to the celebratory food.