Baklava Recipe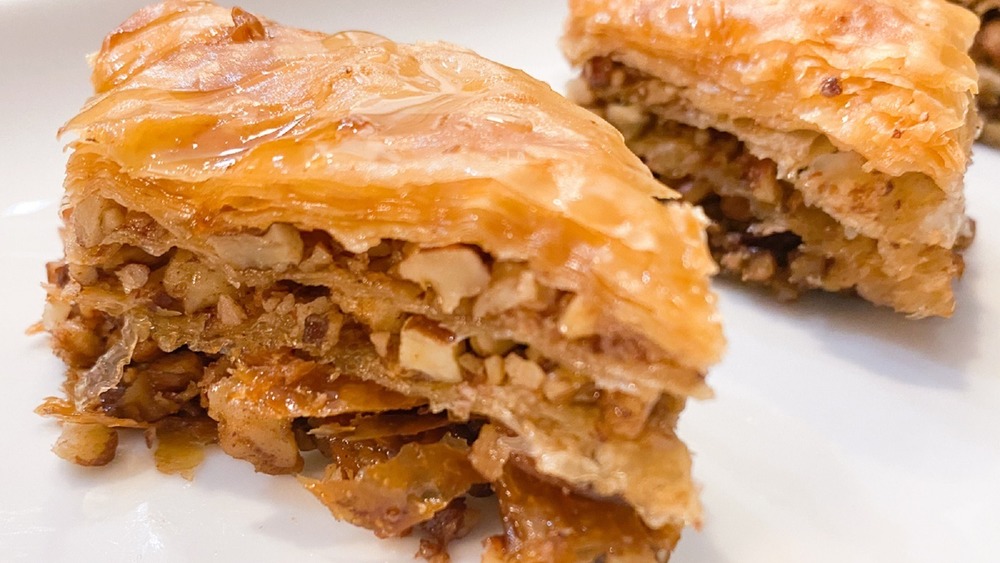 Erin Johnson/Mashed
Every country has its own iconic dessert. There's all-American apple pie, of course, while Italy has its cannoli, Great Britain its trifle, and India its gulab jamun. In Greece, of course, it's the delicious, honey-soaked pastry called baklava, although this dessert is also claimed by Turkey and numerous other countries throughout Europe, the Middle East, and Central Asia. Baklava is not only one of the most widely known dishes, but is also one of the older desserts out there, as it likely dates back nearly 3,000 years to the days of the Assyrian Empire (via Great British Chefs).
Baklava as we know and love it today is a product of the Ottoman Empire, having been perfected in the palace kitchens of 17th century Istanbul — or Constantinople, as it was known at the time (via Constantinople, City of the World's Desire excerpted in The Washington Post). While you might expect that a dish with such a noble, ancient pedigree would be nearly impossible for a home cook to recreate, recipe developer Erin Johnson, of the food blog Probably in the Kitchen, says "Baklava looks complicated but it's just layering!"
Get your baklava ingredients ready to go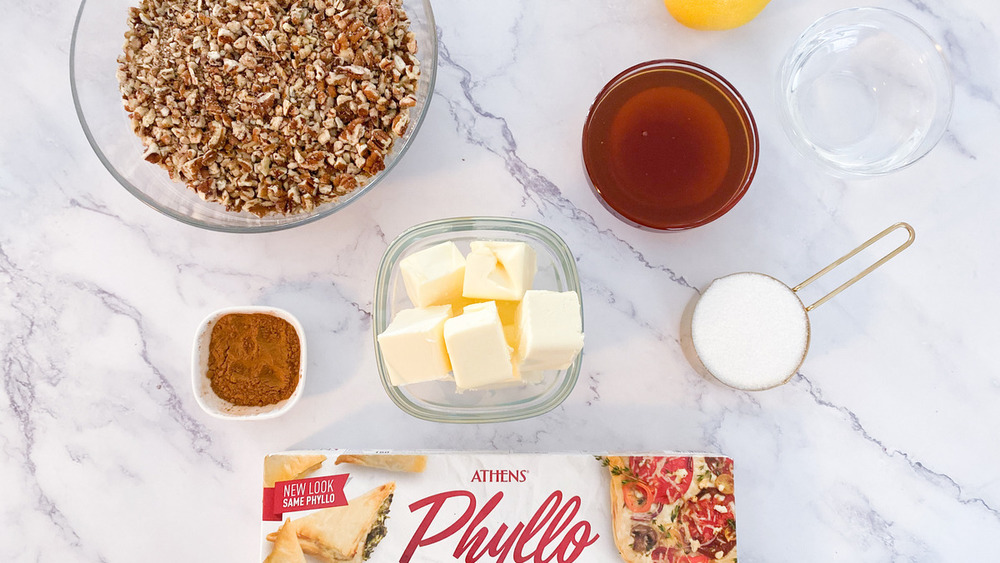 Erin Johnson/Mashed
Most of the ingredients for this baklava are things that you may well have on hand — granulated sugar, honey, a lemon (you'll just be using the peel), butter, cinnamon, and pecans — although you'll be using a whole bunch of the latter (4 cups), so you might need to make a grocery run to get those. You'll also need to pick up a package of frozen phyllo dough while you're at the store, but be sure to buy this at least a day before you plan to bake the baklava.
When you get the frozen dough home, thaw it in the fridge overnight unless you're stocking up more than a day in advance, in which case freeze it until you're going to need it. Leave the dough in its packaging until it's completely thawed. Once you start working with it, place it in a bowl and keep it covered with a clean, damp dish towel as you take out a sheet at a time.
Make the syrup for your baklava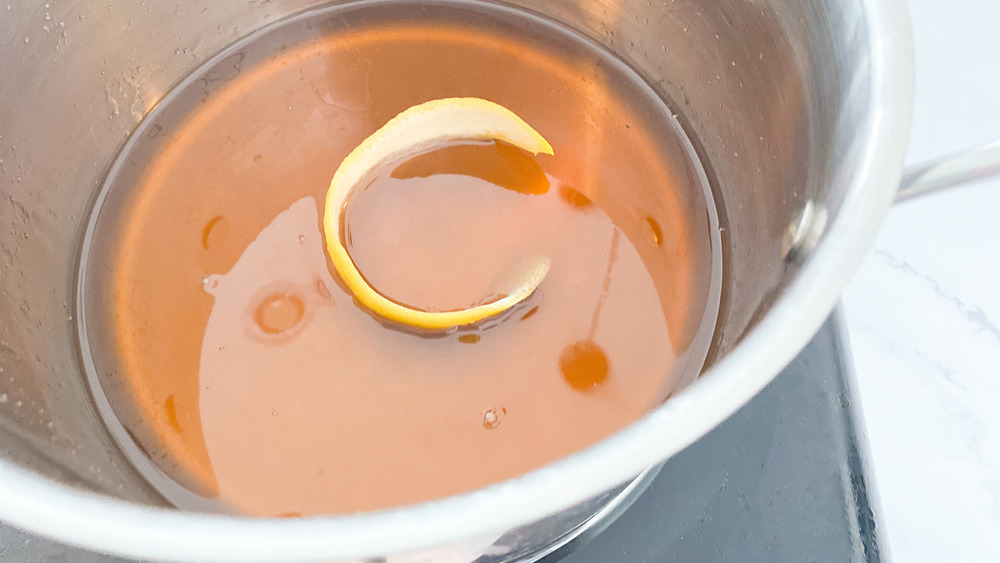 Erin Johnson/Mashed
Start out by making the syrup. Johnson says the syrup needs to be cool before it's poured over the pastry, so she always makes it first. Mix the sugar and water together in a saucepan, stirring until the sugar is dissolved. Add the honey and the lemon peel, then bring the mixture to a boil, stirring every so often. Once the liquid comes to a boil, let it boil for 5 minutes without stirring, then remove the pan from the heat and set it aside to cool.
Johnson says that if you prefer, you can use orange peel in place of the lemon peel, or you could also substitute a teaspoon of either orange or lemon juice for the peel.
Prepare the baklava filling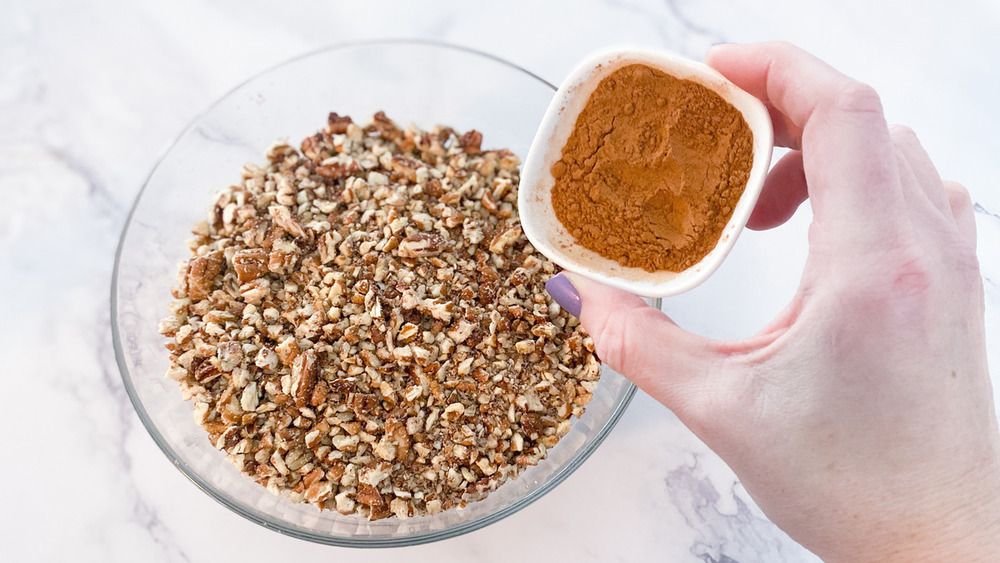 Erin Johnson/Mashed
Chop the pecans, then mix them together with the cinnamon. Johnson says "I prefer pecan baklava, but you can substitute walnuts or pistachios or a mix!" My Greek Dish says that walnuts are the kind most typically used in the Greek version of baklava, while Türkiye says fıstıklı (pistachio) baklava is the most common kind in Turkey. Other types of nuts you might think of using include almonds, cashews, pine nuts, or even peanuts or macadamias. Pecans, of course, are the all-American choice, since they're the only major tree nut native to North America, and the U.S. produces at least 80 percent of the world's pecans. They're also pretty darn healthy, having fewer carbs and more fiber than most other types of nuts (via the American Pecan Council).
Prep the baking dish for your baklava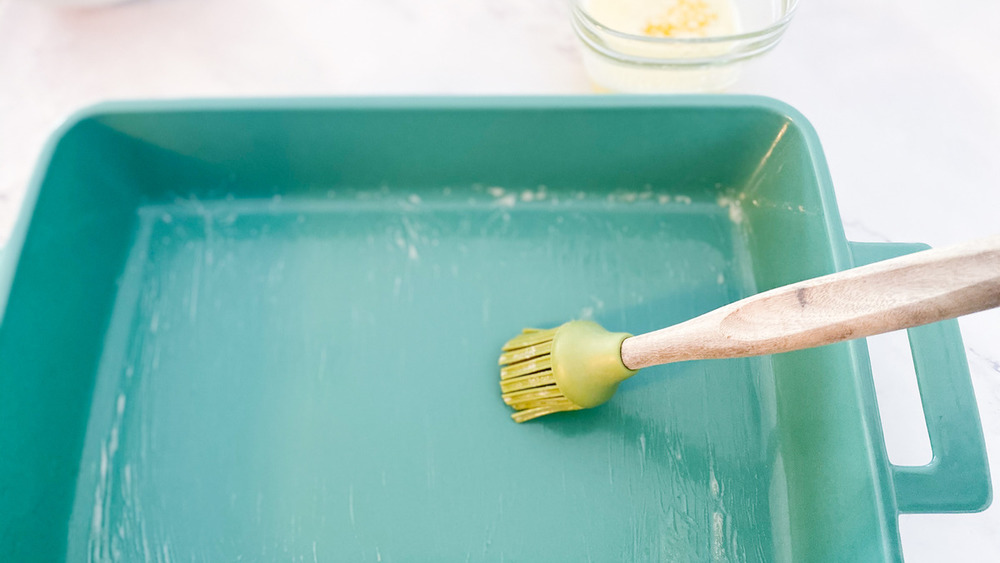 Erin Johnson/Mashed
You'll need a lot of melted butter to grease your baking dish as well as each sheet of phyllo, so start by melting a whole stick. If you need more, melt just 2 tablespoons at a time. You don't want to use too much, though — Johnson says "One of the common mistakes I have seen with baklava is using too much butter. The pastry doesn't need to be drowning in it — it just needs to have enough to get crispy and brown." She says that the brand of phyllo you use may make a difference as to how much butter you use. You may need just one stick, or you may need a stick plus a few tablespoons.
While the butter is melting, you can preheat the oven to 325 degrees and then get out the baking dish. Johnson advises using a 9" x 13" casserole dish, telling us "it's the exact size of a sheet of phyllo." If your pan is just a bit smaller, she does say you can trim the phyllo with scissors or else just fold it over to fit. Brush the bottom of the casserole dish with butter — now you're ready to start building that baklava!
Begin layering the baklava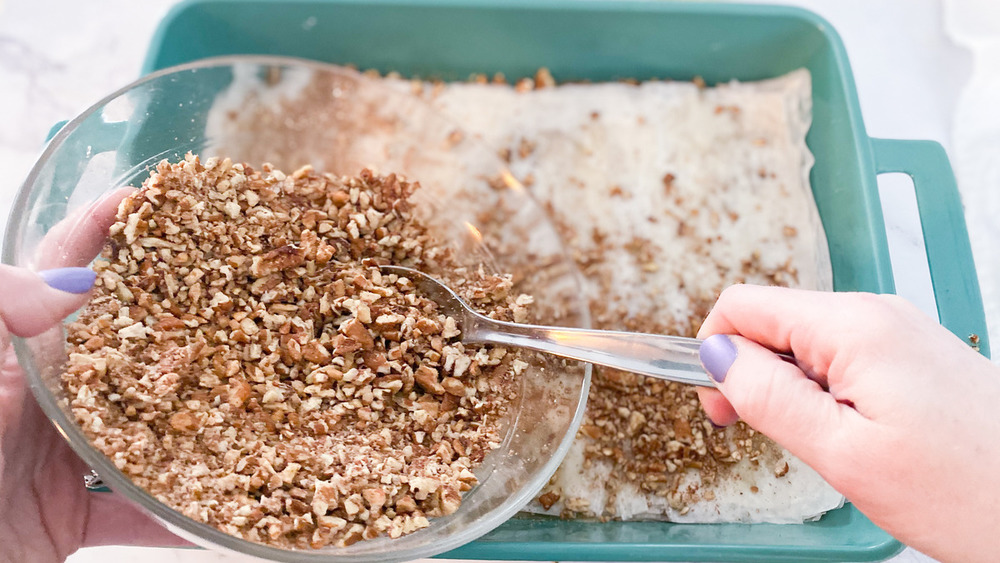 Erin Johnson/Mashed
Now comes the time-consuming (though not too difficult) part: the layering. Start by adding one piece of phyllo to the baking dish, then brushing it with butter. Lay down another piece, and butter it as well. Keep repeating the process until you have 6 buttered pieces of phyllo in the pan. Sprinkle 1/3 of the pecans in an even layer so they cover all of the dough, then add another piece of buttered phyllo, and another, and another, and another — this time, you want to make a phyllo layer 4 pieces thick. Sprinkle on another 1/3 of the pecans, then another layer of 4 pieces of buttered phyllo. Finish with the last layer of pecans (Johnson says she typically uses 3 layers), then top these nuts with a final phyllo layer consisting of 6 to 8 buttered sheets of dough. Brush the top with more melted butter.
"Don't worry if you tear a sheet of phyllo," Johnson reassures us, explaining "the layers make up for it!" She says you should just try to make sure that the phyllo layers that go directly above the torn one don't have tears in the same place. While this layering may seem slow-going, she says it gets faster with practice.
Finish up the baklava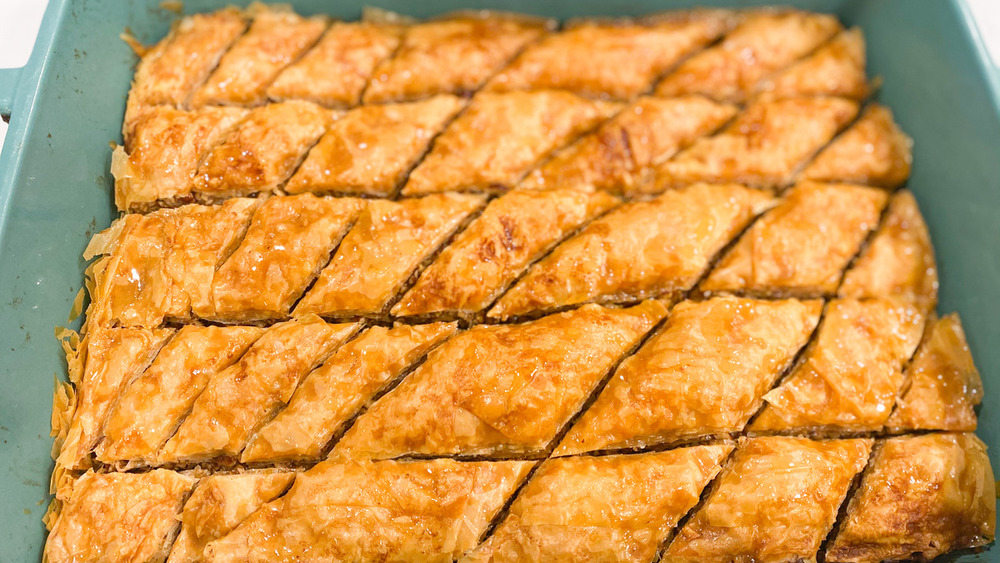 Erin Johnson/Mashed
Bake the baklava in your preheated oven for 1 hour. As soon as it's done, remove it from the oven, then pour the cooled sugar-honey syrup over the entire pan right away. Allow the baklava to sit at room temperature, uncovered, for 4 to 6 hours. This will allow the pastry to absorb all of the syrup.
Baklava is best if you don't refrigerate it. Johnson says it should keep for up to a week at room temperature – honey never expires, after all. Researchers at the University of Illinois (via Food Navigator) say it is a natural preservative, so this helps to keep the pastry fresh. Baklava can also be frozen should you have any leftovers you're unable to eat in a week, but this is something Johnson says "has never once happened in my house."
Baklava Recipe
Baklava might look like a complicated recipe, but we'll take you through making it step-by-step so you can impress your friends and family!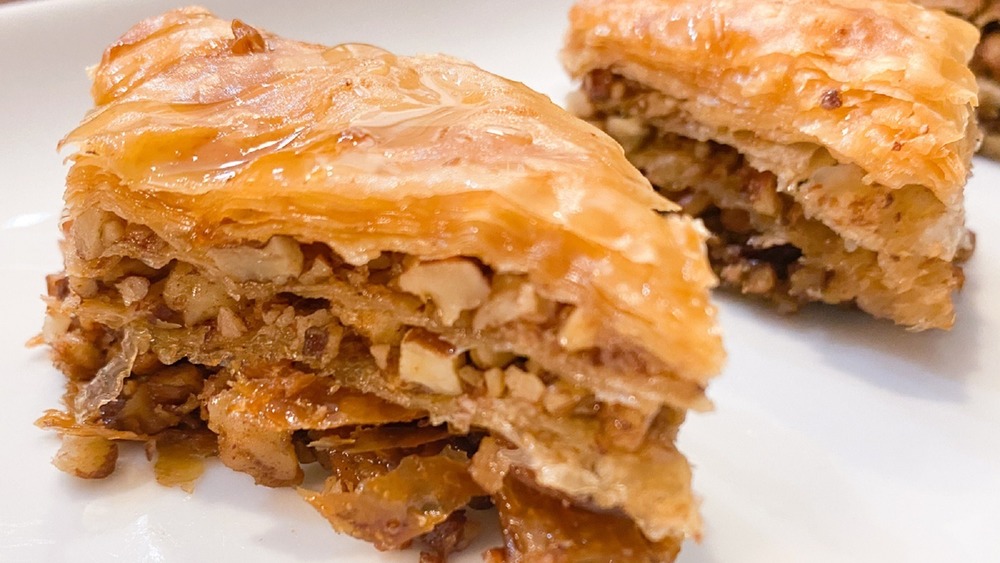 Ingredients
1 package phyllo dough, thawed
½ cup granulated sugar
½ cup water
1 cup honey
Peel of 1 lemon
4 cups pecans, chopped
1 teaspoon cinnamon
1 to 2 sticks of butter, melted
Directions
Thaw your phyllo in the fridge overnight. Do not remove it from the package until you are ready to work with it, and keep it covered in a damp, clean dish cloth while you are using it.
In a saucepan, add together the sugar and water and stir to dissolve the sugar.
Add the honey and lemon peel and allow to come to a boil, stirring occasionally.
Once the liquid is boiling, allow to boil for 5 minutes without stirring and then remove from the heat. Set aside.
Mix together the chopped pecans and cinnamon. Set aside.
Melt the butter -- start with 1 stick and melt more as needed in 2-tablespoon increments.
Preheat the oven to 325 degrees.
Brush the bottom of a large baking dish with the butter.
Add one piece of phyllo carefully, then brush with butter. Repeat until you have a base of 6 layers of dough.
Sprinkle on a layer of pecans so that it covers the dough.
Add another layer of phyllo and brush with butter. Repeat layering phyllo and butter until you have 4 pieces of dough stacked on top of each other.
Add another layer of pecans.
Add another layer of phyllo and brush with butter. Repeat layering phyllo and butter until you have 4 pieces of dough stacked on top of each other.
Add another layer of pecans.
Repeat this process until you have used all the pecans. This recipe typically makes 3 layers of pecans.
The final layer should be between 6-8 layers of phyllo. Brush the top with butter.
Bake for 1 hour.
Remove from the oven and pour the syrup over the baklava immediately.
Allow to sit uncovered at room temperature for 4 to 6 hours so that the baklava absorbs all of the syrup.
Nutrition
| | |
| --- | --- |
| Calories per Serving | 196 |
| Total Fat | 13.6 g |
| Saturated Fat | 3.4 g |
| Trans Fat | 0.2 g |
| Cholesterol | 10.4 mg |
| | |
| --- | --- |
| Total Carbohydrates | 18.6 g |
| Dietary Fiber | 1.5 g |
| Total Sugars | 11.3 g |
| Sodium | 56.3 mg |
| Protein | 2.0 g |