These Chefs Just Set A Tournament Of Champions Record
Scrolling through Twitter on the night of the Food Network Tournament of Champions battle between celebrity chefs Cat Cora and Michael Voltaggio, you would have thought it was the Olympics. Based on social media chatter, it was indeed one of the bracket-style culinary tournament's most anticipated showdowns. It was Iron Chef Cora's first time competing on television in 10 years (via Twitter), and she was doing it against a worthy adversary — Top Chef winner Voltaggio.
And both chefs brought the heat. They earned the highest scores of the tournament so far, with Voltaggio receiving the winning score of 95, Food Network tweeted. Fans buzzed on Twitter while the showdown aired, expressing their support for both competitors. "Watching Cat Cora vs. Michael Voltaggio like I watch sports," tweeted one user, calling Cora a "legend" who "rips in the kitchen." Another fan wrote, "Prime. Time. TV. Both master cooks, both expert competitors."
What fans said about Michael Voltaggio's Tournament of Champions win against Cat Cora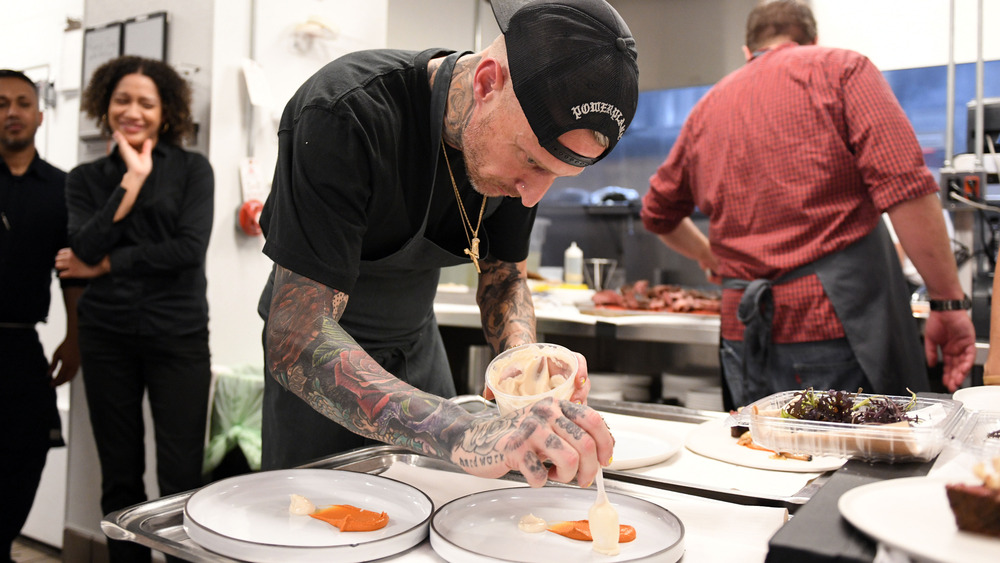 Bryan Bedder/Getty Images
Fans on Twitter were divided about Voltaggio's win versus Cora, who earned 90 points, but they seemed to agree on one thing — it was a tough competition. "This is the hardest face off we've seen so far," one social media user wrote. Voltaggio and Cora were challenged by the shows's randomizer to cook halibut and eggplant in 35 minutes, incorporating a deli slicer and a blackened element in their dishes (via Twitter). Photos from the battle show both chefs highly focused, Cora holding a skillet with flames as tall as her torso and Voltaggio tasting a puree in a violet tie-dye apron (via Twitter).
Despite the chefs' five-point score difference, their fellow Food Network stars seemed to think they both performed well. "I have to say Cat Cora is the consummate pro. Such a beautiful dish in concept and execution," judge Simon Majumdar wrote. Competitor Amanda Freitag agreed, saying, "Chef, you always raise the bar! So well done!" Though Cora was eliminated from the bracket, she showed support for winner Voltaggio on Twitter, calling her co-competitor "incredible."