Good News For Fans Of Arby's Spicy Greek Gyro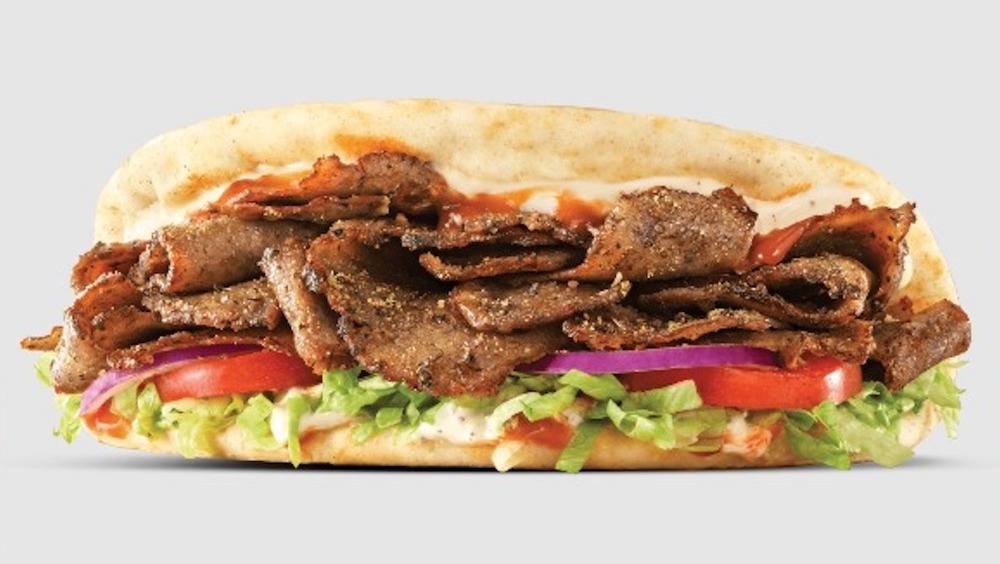 Arby's
We know what main you're ordering with Arby's new crinkle-cut fries: the resurrected spicy Greek gyro, which the chain has described as "the traditional Greek gyro you know and love, except with 100 percent more spicy sauce" (via Trend Hunter). The warm flatbread, Chew Boom reports, contains Greek-seasoned gyro meat, tzatziki sauce, shredded lettuce, tomatoes, and red onion, slathered in a tongue-tingling spicy sauce.
After launching their first turkey and roast-beef gyros, Business Wire reported in 2017, Arby's began selling "27 million gyros per year, more than any restaurant in America." Those numbers inspired the chain to launch a more "authentic" gyro, wrapping "a blend of beef, lamb, and Mediterranean spices sliced from a split rotisserie" in soft flatbread. It wasn't long before Arby's decided to cater to spice lovers by drizzling this classic gyro with a bright red chili sauce. Fast-food YouTuber Peep This Out called the original spicy gyro, launched in 2020, "a nice blend of cool and hot — but mostly hot." Expect yet more spiciness from the saucier 2021 version.
Arby's new crinkle-cut fries are $1 for a limited time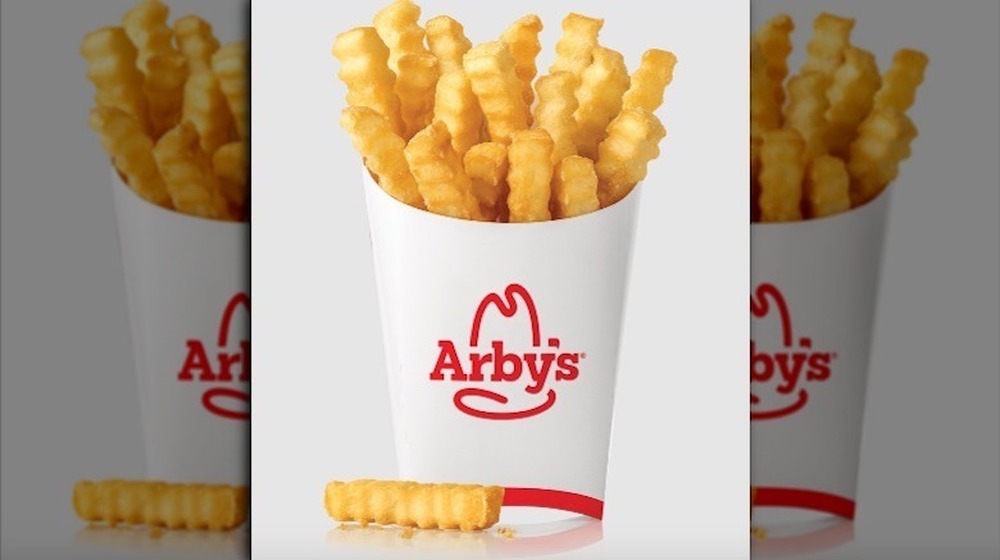 Arby's
Oh, sorry, did we gloss over some crucial crinkly info? Arby's now has crinkle-cut fries in addition to their signature curly fries. After testing the alternative cut in select markets last year (via Thrillist), Arby's has added the crinkly fries "sporting accordion-style grooves for maximum crispiness" to the permanent national menu (via Chew Boom). You can try them for $1 for a limited time through April 2021 or efficiently order them as a combo meal with the new spicy gyro and a fountain drink (via Arby's website).
Since Arby's just dropped the news about its updated side selection, it's too soon to know how meat fans are enjoying the crinkle fries. While their curly cousins, Arby's signature curly fries, are tossed with a slightly spicy, orange-hued seasoning, the crinkle fries are finished simply with fine kosher salt. Time — and Twitter — will tell if they become as beloved as their curled counterpart.