Burger King Japan Just Got A New Type Of 'Ugly' Burger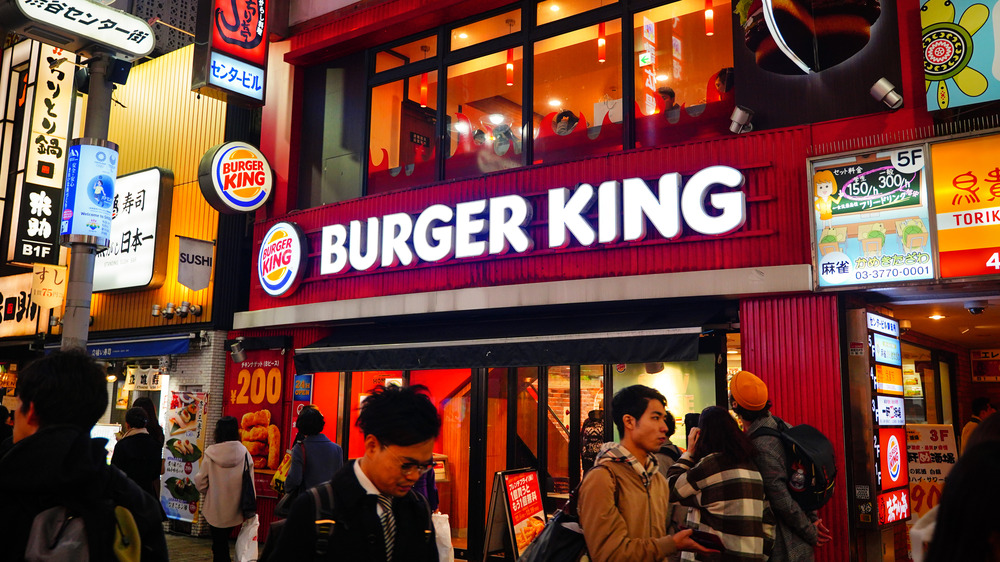 Shutterstock
It's easy to forget that on the other side of the world, there are people living vastly different lives, with different traditions, cultures, and values. Also, they eat at Burger King. Along with Japanese burger chains MOS Burgers, Freshness Burger, Dom Dom Burger, and Lotteria, the Japanese also enjoy Burger King, and for that matter McDonald's and Wendy's as well (via All About Japan).
All About Japan says that there are about 90 Burger Kings in this Pacific Island nation, and sometimes, they do interesting things like serve burgers on black buns to drum up publicity. Additionally, the menus are somewhat different than Burger King menus here in the U.S. (via Burger King Japan). For instance, they offer a Deluxe Chicken Whopper with a fried chicken breast plus the beef patty. This, by the way, sounds like something that would sell well in the U.S., doesn't it? Could it be just a matter of time before we see it on BK's American menus? They also offer a Hashbrown Whopper with, you guessed it, a square of hashbrown potatoes atop a beef patty and layered with cheese.
The Teriyaki Ugly Burger delivers on flavor
Burger King Japan's latest offering is also something not on the menus of U.S. Burger Kings. According to the website Hypebeast, the new "Teriyaki Ugly Beef Burger" is a takeoff of Burger King Japan's "Cheese Ugly Beef Burger." BK Japan has a history of "ugly-shaming" some of its own menu items as a way, presumably, of grabbing customers' attention. In reality, this line of burgers could more accurately be described as messy. The burgers actually look pretty tasty, and definitely full of flavor.
Here's what's in the Teriyaki Ugly Beef Burger: it features BK Japan's delicious-sounding signature four-cheese bun, which is topped with gouda, Egmont, mozzarella and cheddar. A rich teriyaki sauce tops the patty, as does red miso paste, charred onions, pickles, and lettuce. That's a lot going on and flavor-lovers, we expect, will embrace this newest offering. Burger King Japan describes it as a "sweet and sour" burger, says Hypebeast.
Burger Kings across Japan are offering the new burger for 690 yen (approximately $6.90 USD).