The Ridiculous Price Scalpers Are Charging For Dolly Parton's New Ice Cream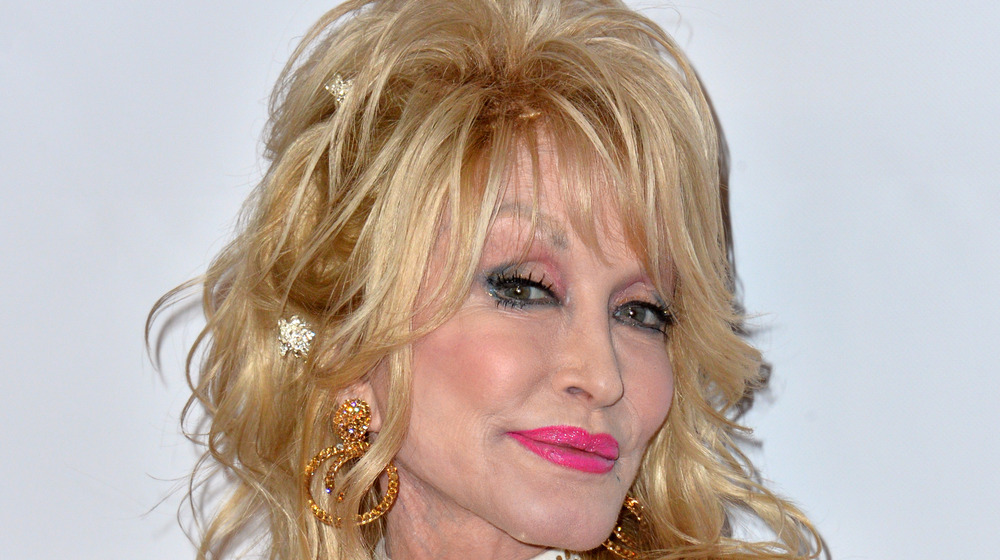 Shutterstock
Dolly Parton's popularity seems to be reaching new heights, if that's even possible. The country singer's music has always attracted fans on both sides of America's political divide (via Reuters). Over the past year, Parton has become something of a pandemic hero, too, actively encouraging people to get the COVID-19 vaccine after donating $1 million to the medical center in Tennessee that helped develop Moderna's version of the shot (via The New York Times).
So, when Parton decided to put her name on a new ice cream to raise money for one of her charities, no one was surprised to learn that her Strawberry Pretzel Pie flavor had crashed the Jeni's Ice Cream website (via Eater). For one thing, Parton's ice cream benefits a good cause, her Imagination Library, which donates books to preschool-age children. For another thing, her Strawberry Pretzel Pie flavor, whipped up by Jeni's Ice Cream, sounds delicious. It features salty pretzel streusel, cream cheese ice cream, and "lipstick red" strawberry sauce.
Jeni's is not sold out of Dolly Parton's ice cream, so stay tuned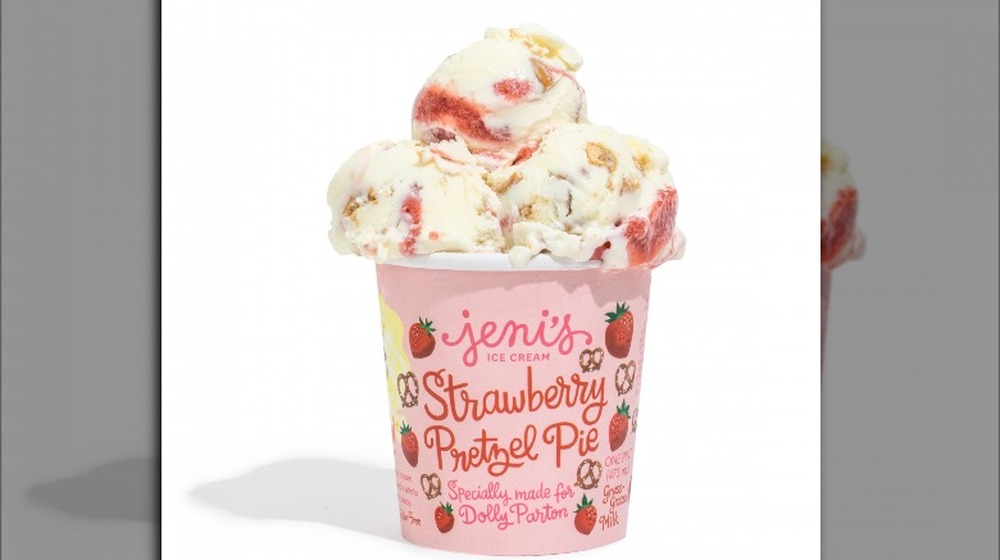 Jeni's Ice Cream
While Imagination Library should benefit nicely from sales of Parton's new ice cream flavor, scalpers are hoping to cash in, too. At least two resellers have posted the Parton pint on eBay, each asking for $1,000. Desserts for $1,000 aren't unheard of. You could find a cupcake in Dubai or a sundae in New York for that price, but those came with rare ingredients and real gold (via Showbiz Cheat Sheet). Opportunistic eBay sellers are simply trying to take advantage of the temporary Dolly Parton ice cream shortage — and trade off her immense popularity. The same thing happened when famous rapper Travis Scott put his name on McDonald's merchandise — sellers on eBay put huge markups on Scott's Chicken McNugget body pillow and other items.
People who love Parton and also love cream cheese ice cream layered with pretzels and strawberry sauce would do well to exercise some patience and stay away from eBay. Jeni's says Parton's ice cream is not sold out, and it will be available again on the company's website after they fix their technical issues. They promise to give everyone a 48-hour notice before offering the ice cream again, reasonably priced somewhere under $1,000 a pint.