Chocolate Chip Cookie In A Mug Recipe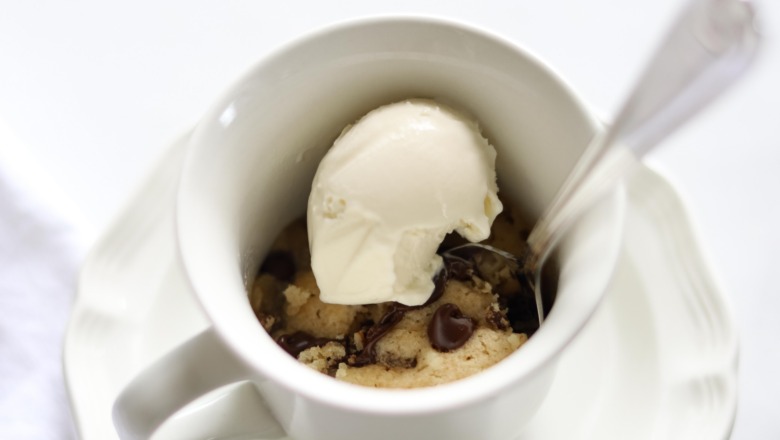 Kit Hondrum/Mashed
There's nothing quite like a classic chocolate chip cookie. Invented by Toll House restaurant owner Ruth Wakefield in the 1930s, the chocolate chip cookie quickly became a mainstay of American snack foods and desserts. Today there are a plethora of recipes for chocolate chip cookies, from the best you've ever had to ones that mimic a certain hotel chain. While the internet certainly leaves nothing to be desired in terms of chocolate chip cookie options, baking a whole sheet of cookies can start to sound like quite the endeavor when your craving is in full swing. Sometimes you just want something quick and easy, a tasty snack that won't take a whole afternoon to assemble.
If you're looking for a simple, no fuss, single-serving cookie recipe, then look no further! Recipe developer Kit Hondrum of Kit's Kitchen specializes in approachable but delicious recipes, and she's here to help you achieve your cookie dreams. This recipe for her microwavable cookie in a mug doesn't require fiddling with the oven or doing a mountain of dishes afterward. And don't like the prospect of microwave mush scare you. According to Hondrum, "The end result here is a nice soft cookie with slightly crunchy/chewy edges and top, just like a classic cookie should be." Yum! Make this your new go-to midnight snack or a simple mid-day treat.
Gather ingredients for your microwave cookie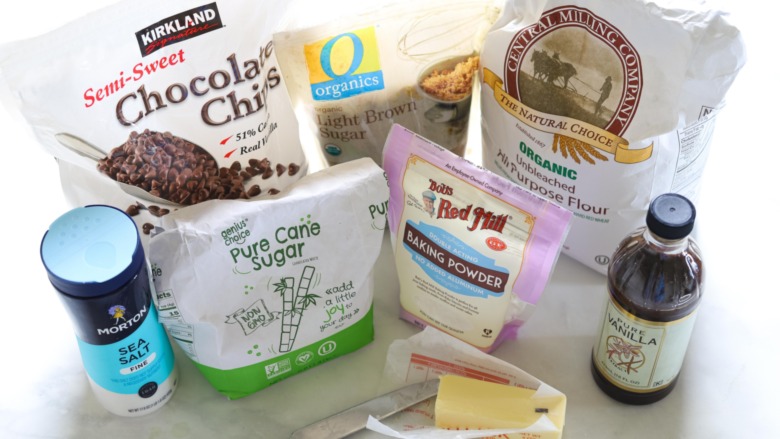 Kit Hondrum/Mashed
The first step to making your cookie is gathering your ingredients. All you'll need is salted butter, sugar (both white and light brown), vanilla extract, fine sea salt, all-purpose flour, baking powder, and of course chocolate chips. You'll use the butter to grease the mug and prevent sticking, so no need to reach for muffin cups or cooking spray. As far as kitchenware, you can either mix the ingredients in a mixing bowl, or opt for fewer dishes and make the whole thing right in the mug (just make sure whichever mug you grab is microwave safe). A simple spoon will do for mixing.
Melt the butter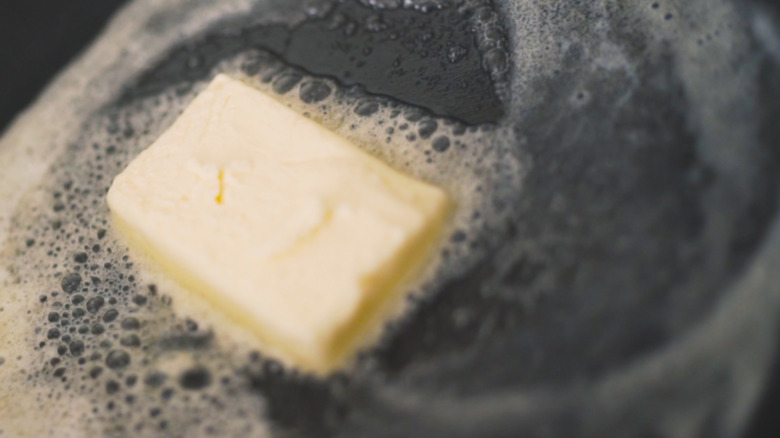 Shutterstock
Take 1 and 1/5 tablespoons salted butter (a little more than 1/8 of a stick), place it in the mug, and pop it in the microwave for 10 to 15 seconds. Once it is melted, take it out of the microwave and swirl the mug, coating the sides with butter. It doesn't need to go all the way up to the top of the mug, as the cookie only puffs about half an inch or so. The goal is to make sure you have some on the sides and bottom to prevent any serious sticking.
Get to mixing the cookie dough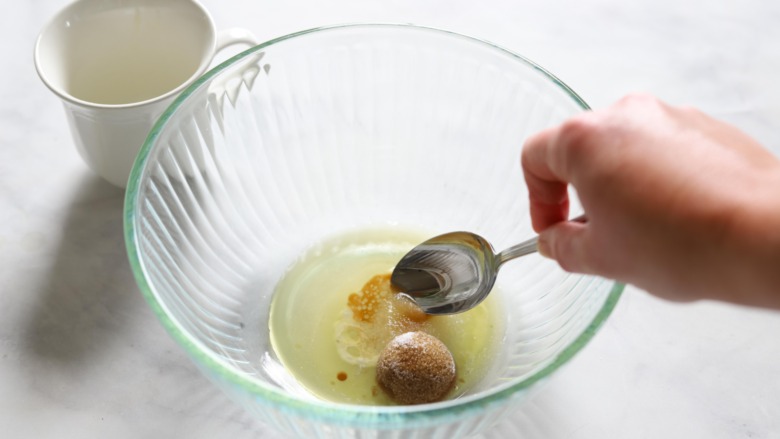 Kit Hondrum/Mashed
This is the step where your mixing bowl will come out, should you choose to use one. Hondrum says it is totally fine if you would rather mix the ingredients in the same mug you'll be cooking in, which will give you one less thing to wash. In this step, mix half a tablespoon granulated sugar, 1 tablespoon packed brown sugar, 1/4 teaspoon pure vanilla extract, and 1/8 teaspoon fine sea salt in your mixing bowl or mug. 
Add flour and baking powder -- and don't overmix!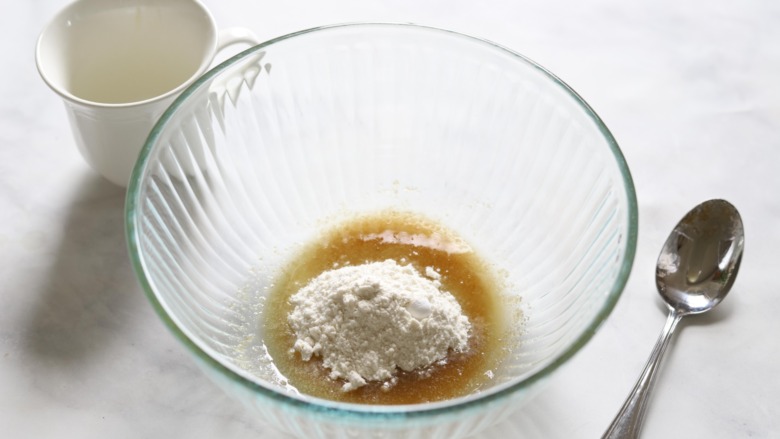 Kit Hondrum/Mashed
This step isn't tricky, but it does take some paying attention. You'll need to add 3 tablespoons all-purpose flour to your previously mixed ingredients, for which Hondrum provides a handy trick that will ensure the cookie stays soft and chewy. 
Don't use the tablespoon measure to scoop straight from the bag, she warns: "If it's compacted at all you could have too much flour and get a crumbly cookie." Instead, you'll want to take a separate spoon and mix it around in the flour bag to fluff it up as much as possible. After you've fluffed, use the second spoon to gently pour the flour into the tablespoon measure. Lastly, level off the top of each tablespoon with the back of a knife to ensure the perfect amount. The flour in the measuring spoon should not be compacted at all, and instead, should look light and fluffy. 
You'll also want to add 1/8 teaspoon baking powder in this step, and mix until just combined. Be sure not to overmix, as this also leads to a crumbly cookie.
Don't forget the chocolate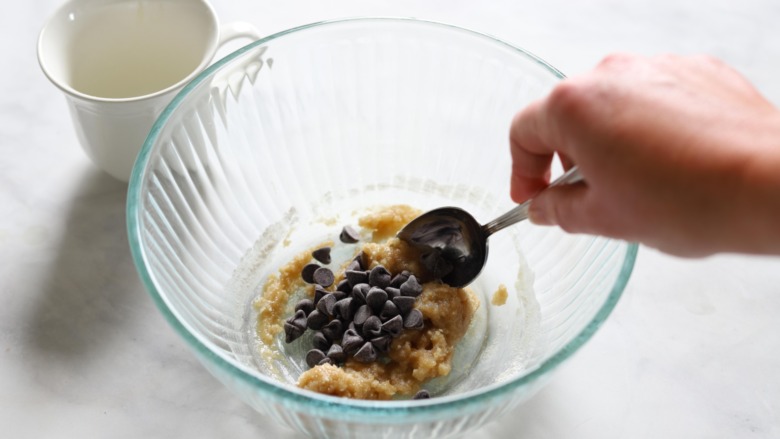 Kit Hondrum/Mashed
Now for the star of the show — chocolate chips! Don't forget to fold in 2 tablespoons of these delicious beauties. Just like in the previous step, make sure to fold in gently, or else you could end up with a crumbly cookie. (Can you tell we don't tolerate crumbly cookies around here?) Once you've folded in your chocolate, transfer the mixture to the mug — if you used a mixing bowl. If you started in the mug itself, this is one less step for you to follow!
Pack down and top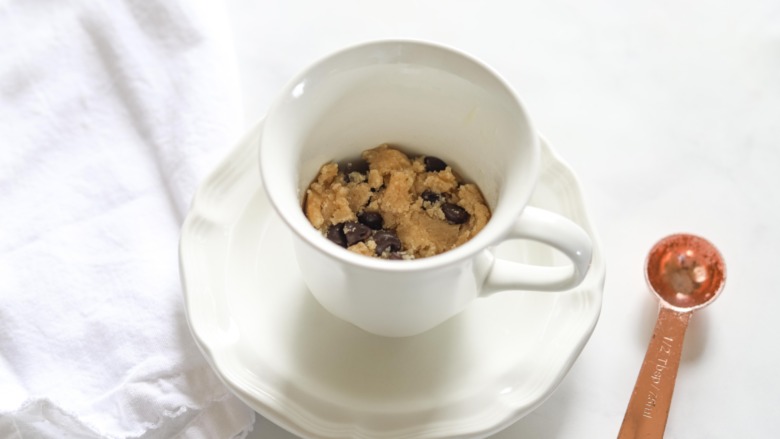 Kit Hondrum/Mashed
Before you put your creation in the microwave, make sure to gently pat the cookie down into the mug. This will help your cookie look like, well, a cookie. "If you don't pack it down," says Hondrum, "it will look a little crumbly in top." Once you've gently packed your cookie, top with a few more chocolate chips, and into the microwave it goes.
Microwave your mug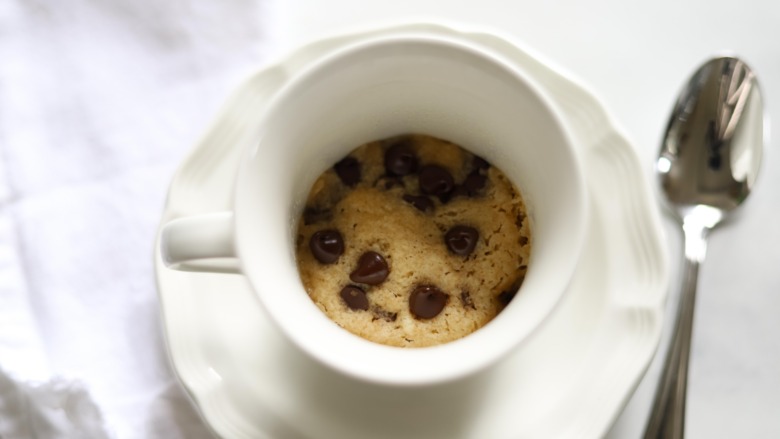 Kit Hondrum/Mashed
Finally, it's time to turn the dough into a cookie! Simply pop your mug into the microwave for 50 seconds on high, or until the top is just set. Hondrum says the cookie may look slightly underdone, but rest assured, it should be cooked through. Make sure to wait (agony, we know) until it cools a bit, as it will be very hot when you take it out. Once you've waited as long as you can bear, dig in! Feel free to top the cookie with ice cream, more chocolate chips, whipped cream, or even peanut butter. This is your snack break, so go crazy! 
Chocolate Chip Cookie In A Mug Recipe
Sometimes you want a fresh chocolate chip cookie without having to make a dozen. That's where a mug and microwave come in handy and deliver a quick cookie fix.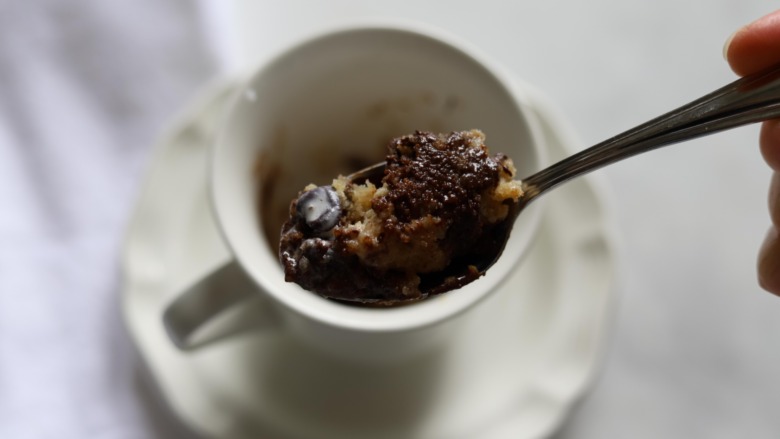 Ingredients
1 ⅕ tablespoons salted butter
½ tablespoon granulated sugar
1 tablespoon packed light brown sugar
¼ teaspoon pure vanilla extract
⅛ teaspoon fine sea salt
3 tablespoons all-purpose flour
⅛ teaspoon baking powder
2 tablespoons chocolate chips, plus more for topping
Directions
Melt butter in a microwave-safe mug and swirl to coat up the sides some.
Mix butter, sugar, brown sugar, vanilla, and salt together in a small mixing bowl.
Add flour and baking powder and stir until just combined (don't overmix). Fold in chocolate chips, again making sure not to overmix.
Transfer to mug, pack it down just a bit, and sprinkle a few extra chocolate chips on top.
Microwave on high for 50 seconds or until the top is set. It may look a little underdone, but it will be cooked through. Allow to cool some because it will be very hot!
Nutrition
| | |
| --- | --- |
| Calories per Serving | 427 |
| Total Fat | 20.6 g |
| Saturated Fat | 12.8 g |
| Trans Fat | 0.6 g |
| Cholesterol | 40.8 mg |
| | |
| --- | --- |
| Total Carbohydrates | 57.1 g |
| Dietary Fiber | 1.4 g |
| Total Sugars | 37.3 g |
| Sodium | 209.5 mg |
| Protein | 3.9 g |