Copycat Panera Chipotle Chicken Avocado Melt Recipe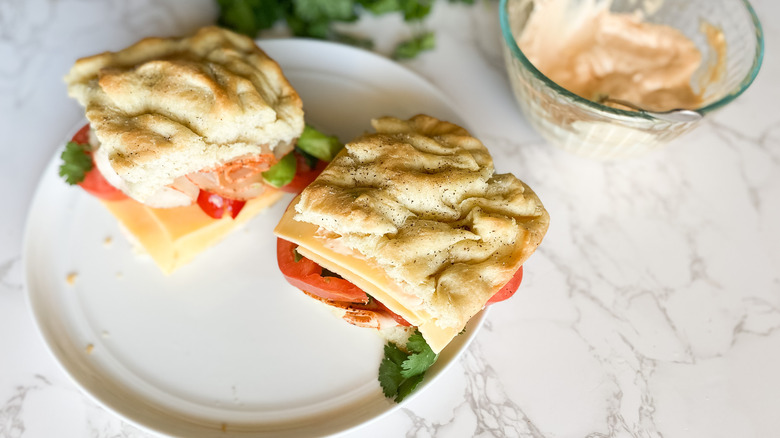 Kristen Carli/ Mashed
Did you know that Americans eat more than 300 million sandwiches a day? According to History, we the people consume as many sandwiches as there are people to eat them, which is pretty impressive in and of itself. While there are plenty of go-to sandwich spots for a quick bite, Panera is undoubtedly one of the most popular. And what's better than getting one of Panera's signature menu items from the restaurant itself? Making a copycat recipe that is just as good but saves you time and avoids you having to leave the comfort of your own home!
This recipe, curated by private practice registered dietitian recipe developer Kristen Carli, is perfect for a quick lunch or a light meal with the family. The tasty sandwich is packed with a punch of chipotle that is just enough for a kick of heat to delight your tastebuds without being overwhelmingly hot. The copycat recipe covers almost every different food group, and includes bread, cheese, avocado, and tomato. If meat isn't your thing, Carli recommends subbing a fried egg for sliced chicken.
From start to finish, this dish will take you about 15 minutes. Keep reading to find out how to bring the delightful taste of Panera to your own kitchen.
Gather the ingredients for the chipotle chicken avocado melt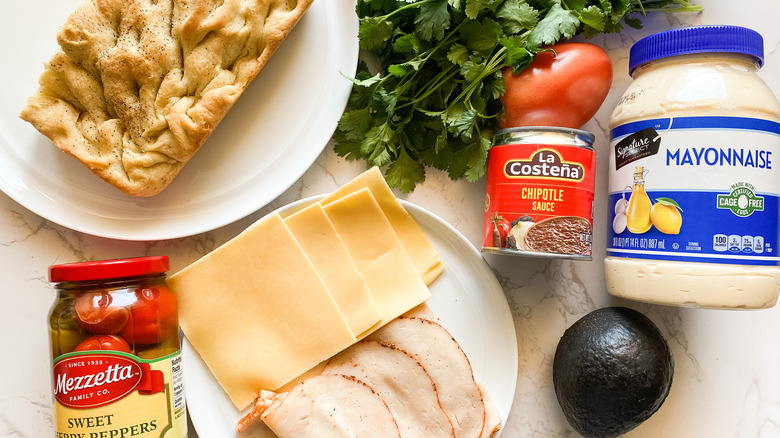 Kristen Carli/ Mashed
Grab a half cup of mayo and a teaspoon of chipotle pepper for your spread. You can buy the bread or make your own focaccia bread, but you'll need a third of a loaf for the sandwich ends. For the most important part — the one between the bread — you'll need six slices of deli sliced chicken, four slices of gouda cheese, one avocado, four peppadew peppers with the stems removed, and seeds taken out. To top it off, you'll need a tablespoon of cilantro for garnish. The recipe will make two sandwiches for you and one lucky guest.
Make the the chipotle chicken melt's sauce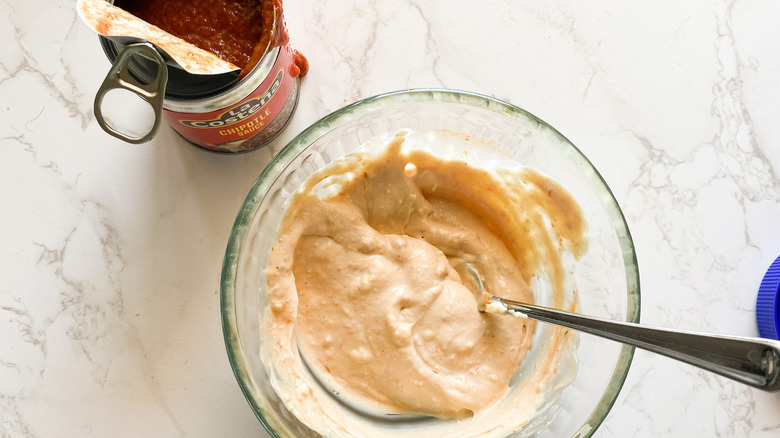 Kristen Carli/ Mashed
First things first, you'll need to make the delightful spread which will give your sandwich a kick of heat ... because no sandwich is complete without a sauce. Grab a small bowl and combine one-half cup of mayo and a teaspoon of chipotle sauce. Carli says that if you want even more spice, you can add another teaspoon of chipotle to the mixture. Stir well to combine the ingredients.
If you must, try a tiny dab with your finger but be sure to keep enough for your sandwich. Set the sauce aside and get ready to assemble the sandwich.
Assemble the sandwich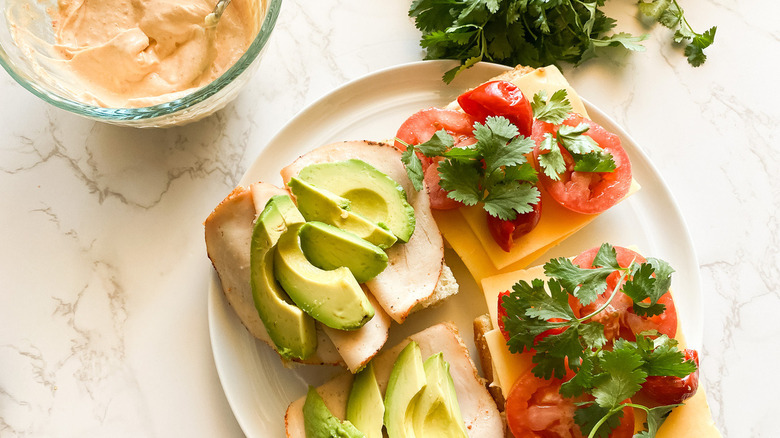 Kristen Carli/ Mashed
Now you get to show off your assembly skills. First, slice the focaccia bread, so you have four pieces for two sandwiches. As a helpful hint, you'll want to cut the bread lengthwise. Take the bottom half of each sandwich and lather it with as much chipotle sauce as your heart desires.
Next, it with all of the good stuff. Each sandwich will get cheese, chicken, avocado, tomato, peppers, and cilantro. If cilantro isn't your thing, Carli says it's fine to leave it out. Place the top slice of bread on top of the last ingredient, and voila, you have yourself one delicious sandwich.
Heat it up the copycat Panera chipotle chicken avocado melt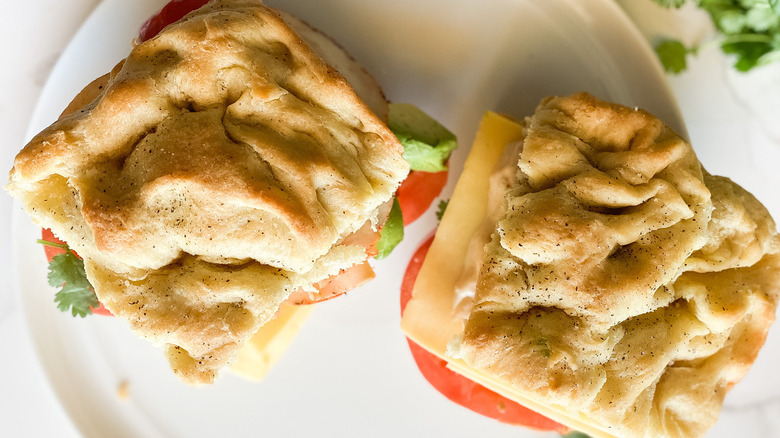 Kristen Carli/ Mashed
Okay, you're just a few moments away from being able to enjoy your meal. Place the sandwiches in your oven for about five minutes or until the cheese is melted. Once you take them out, plate them however you may choose. If you are more of a panini connoisseur, Carli says that this sandwich "would be incredible pressed like a panini."
You can either slice the sandwich down the middle or skip the step and eat it whole like a burger. If you're looking for a side pairing, look no further than a crispy chip. "I'm a big fan of kettle-cooked potato chips!" Carli says. A match made in heaven!
Copycat Panera Chipotle Chicken Avocado Melt Recipe
There's no need to rush out to Panera Bread when you can make this popular sandwich in mere minutes at home. Lunch just got an upgrade!
Ingredients
½ cup mayo
1 teaspoon chipotle sauce
⅓ loaf black pepper focaccia bread
6 slices deli-sliced chicken
4 slices gouda cheese
1 avocado, sliced
4 peppadew peppers, stems, and seeds removed
1 tablespoon cilantro leaves
Directions
In a small bowl, add mayo and chipotle sauce. Stir to combine and set aside.
Slice the focaccia lengthwise. On the bottom half, add chipotle mayo sauce. Then add cheese, chicken, avocado, tomato, peppers, and cilantro.
Bake in the oven at 350F for 5 minutes, until cheese is melted.
Nutrition
| | |
| --- | --- |
| Calories per Serving | 228 |
| Total Fat | 18.5 g |
| Saturated Fat | 4.6 g |
| Trans Fat | 0.0 g |
| Cholesterol | 30.2 mg |
| | |
| --- | --- |
| Total Carbohydrates | 8.4 g |
| Dietary Fiber | 2.4 g |
| Total Sugars | 1.7 g |
| Sodium | 244.9 mg |
| Protein | 7.8 g |