The Truth About Ina Garten And Katie Couric's Friendship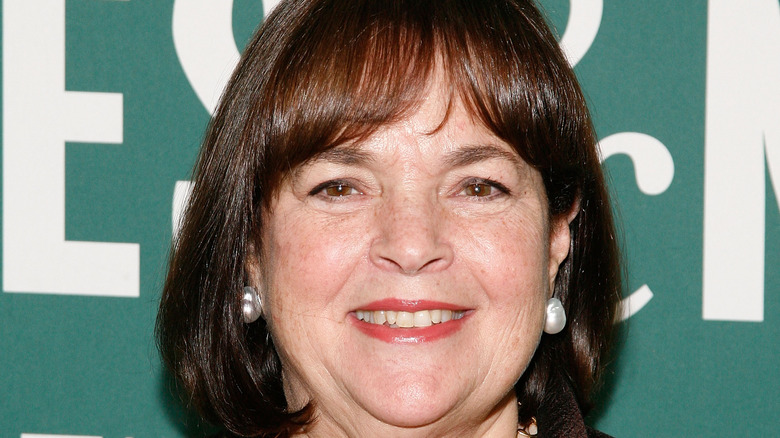 Andy Kropa/Getty Images
Ina Garten has won the hearts of foodies around the world through her many cookbooks and hit Food Network program, "The Barefoot Contessa," but that's not all! Her lovable personality has also landed her a few high-profile friendships, per The Travel, including one with journalist Katie Couric, who has quickly become one of the chef's closest pals.
The former "TODAY" host has spent time in the kitchen with a number of famous Food Network stars like Bobby Flay, who happened to be the person that introduced her to Maldon sea salt, per Bon Appétit. However, despite both ladies living in the Hamptons, it was only recently that Couric was able to accompany Garten in the kitchen. The news anchor explained to Bon Appétit back in 2017 that her daughters were always asking to go visit their neighboring celebrity chef "because they're obsessed with her," though, at the time, Couric admitted that she wasn't "on the level of, 'Hey, Ina, can I come over?'" Luckily, it wasn't long before she would be.
Ina Garten and Katie Couric have become great friends over the years
Just weeks after journalist Katie Couric told Bon Appétit about her dream to cook with Ina Garten, she headed over to her house in the Hamptons for a special Easter episode of her podcast "Next Question with Katie Couric." According to the chef's website, the pair had a lot of fun whipping up "scrambled eggs with truffle butter and talking about lots of things — life, business, cooking and entertaining, and of course, Jeffrey!"
Couric and Garten seemed to have developed a real friendship during the hangout as well, as the ladies have since spent many times together in the kitchen, on stage, and, more recently, in a virtual environment. As People noted, the Barefoot Contessa was a special guest on her pal's new Instagram series "Happy-Ish Hour" last December, during which they made pomegranate cosmos in their respective kitchens and discussed how they are both Taylor Swift mega fans. The chef even got candid and shared a slightly embarrassing story about how a flirty text from her husband Jeffrey accidentally ended up in the inbox of another woman. Oof!
Couric's Instagram page features another display of her now-years-long friendship with the famous chef, as she gave her a special shoutout in February for her birthday. "Cheers to you @inagarten," she captioned a short video post from their "Happy-Ish Hour" episode. "Happy belated birthday, sending you lots of love! Xoxoxo." So sweet!