Why Fans Found This Episode Of Restaurant: Impossible So Emotional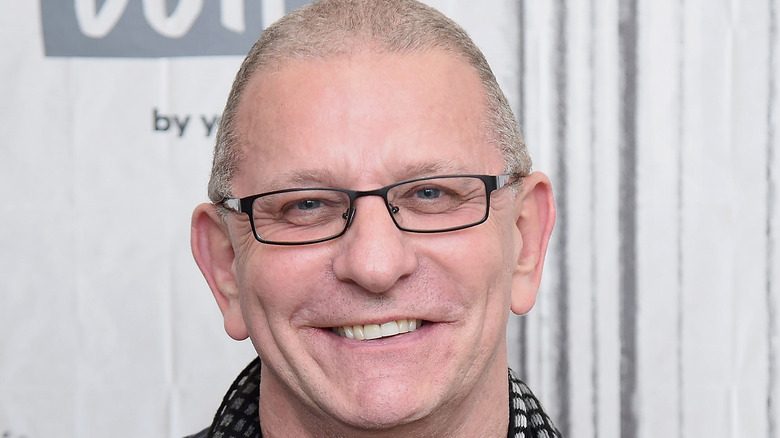 Gary Gershoff/Getty Images
Dramatic and emotional moments are not unusual on "Restaurant: Impossible," where Robert Irvine dishes out tough love and much-needed guidance to struggling restaurant owners at risk of losing it all if their businesses cannot be turned around.
The Food Network ran the show from 2011 to 2016, and brought it back in 2019 (via IMDb). Restaurant: Impossible is now in its 17th season. It's often a cathartic moment when Irvine helps the owner get to the root of what's standing in between them and success. The episode that aired on May 6 (Season 17, episode 11) was exceptionally moving. If you follow Robert Irvine on Twitter, you saw a sneak peek into the story of Julissa Legasppy, a widow struggling to keep her late husband Jesse's dream of a successful restaurant alive, the host tweeted: "Anyone else grabbing the tissues yet?" And yes, it turns out others were similarly moved by the story of the Polaris Street Cafe in Las Vegas and its owners.
The couple purchased the restaurant as-is in 2017 and had little time to put their own mark on the space or the menu before tragedy struck. Just months after Julissa and Jesse took ownership of the Polaris Street Cafe, Jesse suddenly became very ill and died (via Chew Boom).
Did Irvine help Julissa keep the dream alive?
On the outside, Polaris Street Cafe seems to have old-fashioned diner aspirations. Prior to Robert Irvine showing up, the interior is as bland, dated, and depressing as can be, especially given its location off the Las Vegas strip, where you really have to stand out to get noticed. The uninspired menu of boring eggs, basic pancakes, and generic frozen burgers wasn't much better (per Food Network).
Worse, Julissa reveals she is in over her head. Struggling to keep the restaurant afloat, she drained her savings of more than $200,000 and was behind on her bills. The situation was unsustainable, but, Julissa said the business was too special to give up. The still-grieving Julissa tearfully confided to Irvine, that when she lost Jesse, she lost not only her husband and soulmate, but her guide and support as well.
Irvine wasn't alone in his response to Julissa's story. His followers were similarly moved. User @mmax1027 replied: "My heart is breaking on this story." And there were the "I'm not crying, you're crying" GIFs as well as emotional replies from followers like @pubhlthgirl who wrote, "My husband and I just started working on our long term dream now...can't imagine doing it alone!" @MTumarkin said the episode "strikes too close to home."
Was Julissa able to move forward and turn her late husband's dream into her own? You won't find spoilers here. You'll have to watch this tear-jerker for yourself. You can catch the episode with a discovery+ subscription or see it on Hulu. And don't forget the tissues.