This Applebee's Dish Changed Maneet Chauhan's Cooking Forever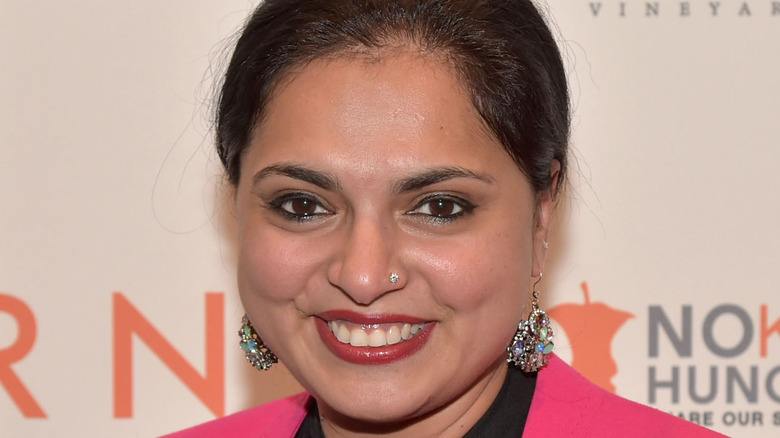 Theo Wargo/Getty Images
Maneet Chauhan is arguably best known for being a judge on "Chopped," but according to Food Network, she boasts many accolades like her featured role in Season 3 of "The Next Iron Chef," as well as her off-camera accomplishments, including eight years leading the famed Vermillion restaurant, starting her own culinary and hospitality company, and even writing several cookbooks. 
All that being said, Chauhan's tastes seem to cater to a higher taste palate. She trained at the Culinary Institute of America after all, says Worth, and her incredible dishes (like those highlighted on Showbiz Cheat Sheet) include exotic fare like rice croquettes with mango chutney and apple slaw. So, it's fair to say that given her expertise running a variety of higher-end restaurants as well as creating dishes worthy of her win on Food Network's "Tournament Of Champions," one would not expect Chauan to be easily influenced by the likes of a fast food restaurant. But somehow, even Applebee's managed to get under her skin and change her life.
Maneet Chauhan is just like us, she loves Applebee's ribs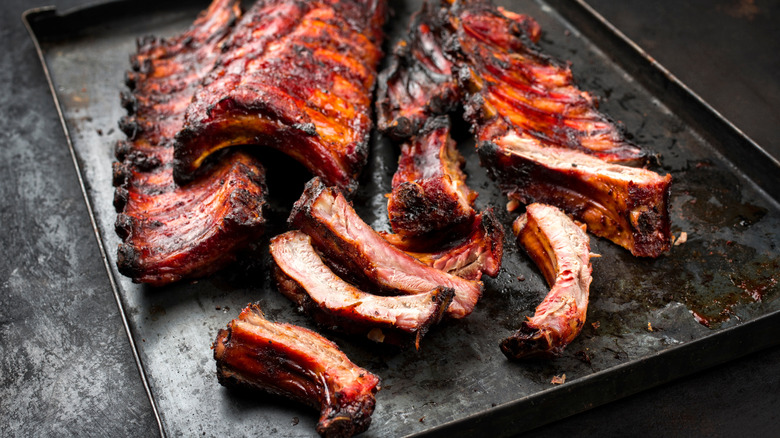 Shutterstock
While there may be some foods you'll never catch Chauhan eating, there is one surprising place that has admittedly influenced her cooking forever — good ol' Applebee's. Best known for a range of drink specials and affordable comfort food platters served up in a "casual atmosphere" (via the official website), it's kind of an unassuming choice for a renowned chef. 
The chain's best dishes, according to Delish, are the Brew Pub Pretzels with Beer Cheese Dip, Shrimp 'N Parmesan Sirloin, Quesadilla Burger, and Triple Chocolate Meltdown brownie. 
But it was something else that caught Maneet Chauhan's eye — or rather, her taste buds. According to Parade, the TV personality noted that when she tried the baby back ribs at Applebee's, she was "blown away." So much so that she's mimicked the dish with her own twist at her restaurants in Nashville, Chicago, and New York. In fact, Chauhan seems to like ribs so much that she even joined the Tennessean for a rib crawl back in 2019. If we didn't think so before, we now have proof Maneet Chauhan has impeccable taste.