Trader Joe's Philly Cheesesteak Recipe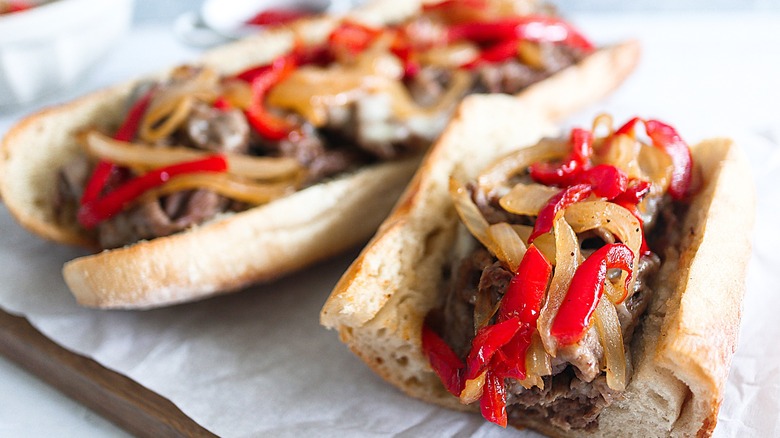 Cecilia Ryu/ Mashed
You don't need to be from the Philadelphia area to appreciate the classic Philly cheesesteak. According to the Visit Philadelphia website, this signature dish has a long history that dates back to the 1930s. Believe it or not, hot dog vendor Pat Olivieri was the mastermind behind this delectable eat. One day, he grilled meat for a sandwich, shared one with a cab driver who happened go by his stand, and he gained a massive fan base. The rest, as they say, is history!
Traditional Philly cheesesteak sandwiches are topped with cheese but they are equally as good with other toppings, like fried onions. "Cheesesteaks are truly an American staple — it's comfort food. You can definitely add extra meat and extra cheese depending on your preference," Chef Cecilia Ryu says. "I like extra cheese on my cheesesteaks so I always double the cheese. I used Provolone here but you can use cheddar or American as well." 
Ryu also suggests adding hot peppers or sautéed mushrooms on top. However, plain is also fine. "If you like your cheesesteak plain, you can omit the sautéed vegetables too. French fries would be perfect to eat on the side," Ryu advises.
The best part of this dish is the simple fact that you can get all of your ingredients at your local Trader Joe's store. Keep scrolling to see more on the perfect recipe for anyone who is craving a Philly cheesesteak, and let us tell you ... this sandwich is absolutely drool-worthy.
Gather all your ingredients from your local Trader Joe's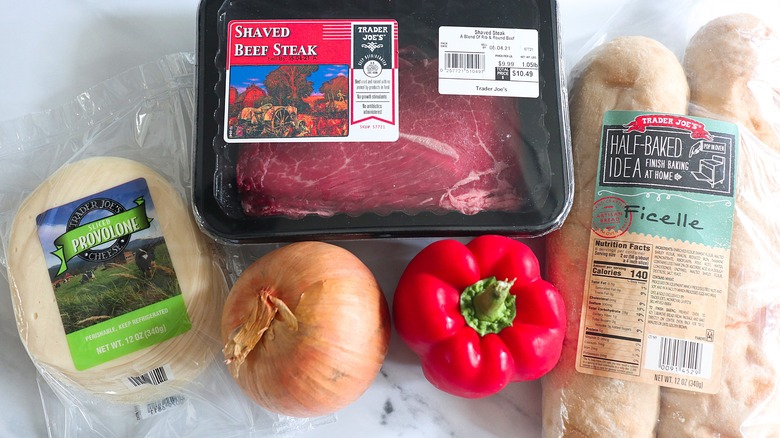 Cecilia Ryu/ Mashed
You won't need a lot for this delicious dish, and as we mentioned before, everything can be found at your local Trader Joe's. Go ahead and hit the produce section and grab 1 red bell pepper and a medium onion. Generally, the refrigerated section of the store is found on the same side as produce, so you won't need to go far to grab a package of Trader Joe's shaved beef steak. 
You can choose which cheese you want, but this particular recipe calls for either provolone or cheddar. One package of cheese should be plenty for the two sandwiches the recipe calls for. Last but certainly not least, get a package of Trader Joe's Half-Baked Ficelle Artisan Bread. There are a few other ingredients that you probably have at home, including salt, pepper, and oil. 
Bake the bread for your sandwich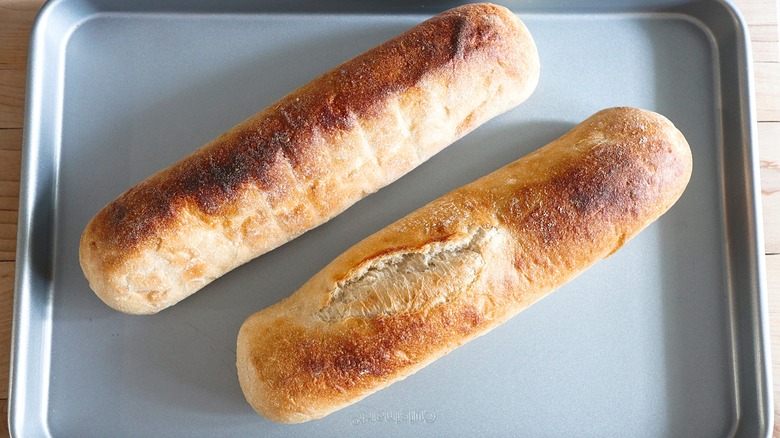 Cecilia Ryu/ Mashed
The first step is by far the easiest. Remove your bread from the package and grab your favorite cookie sheet. Bake the break according to the directions on the package. "What I especially love about this recipe is the bread," recipe developer Cecilia Ryu says. "The bread is half baked. It's literally fresh baked bread since you finish baking it at home. It's soft on the inside and crispy on the outside — perfect for cheesesteaks."
While you're waiting patiently for your bread to turn the perfect golden brown color (about 10-12 minutes), go ahead and start on the next step. 
Slicing and dicing the veggies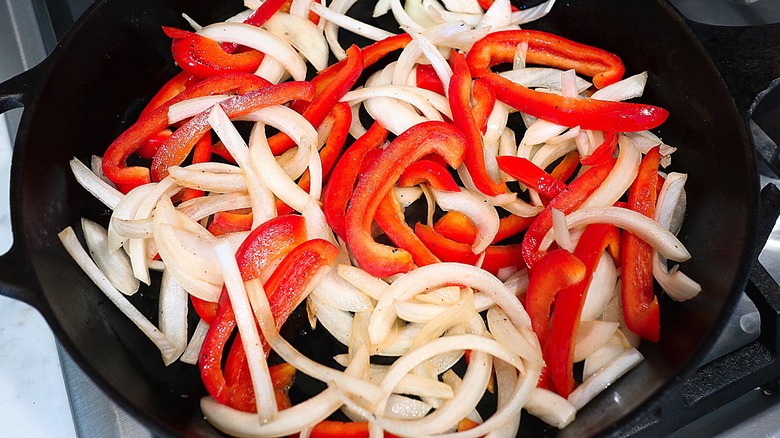 Cecilia Ryu/ Mashed
For the next step, grab a cutting board and a sharp knife. Then, you're going to thinly slice your red pepper and your onions. Set them aside because you'll need them in just a second.
Select your favorite cooking skillet and coat it with oil. Turn up the heat to medium-high, allowing the oil to get hot before you toss in the onions and peppers. Make sure to stir the veggies occasionally to keep them from sticking to the bottom of the pan. The peppers will turn brown when they're finished, and the onions will get translucent. Remove the onions and peppers from the pan and place to the side.
Keep the skillet out for preparing your steak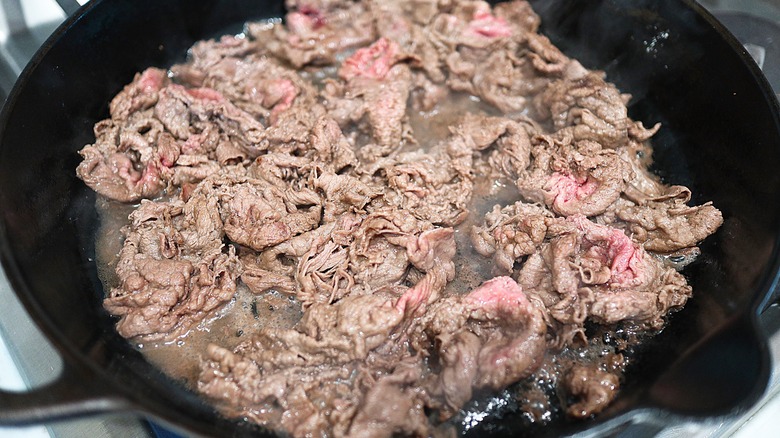 Cecilia Ryu/ Mashed
Don't wash that skillet just yet because you'll need it for this step. Put the skillet back over high heat and add an even layer of the shaved beef. Try your best not to overlap the meat so it cooks evenly. Give it a flip when one side has browned. Once you flip to the other side, season with salt and pepper, to taste. As soon as you know the meat is thoroughly cooked, you're ready for the next part. 
Melt the Cheese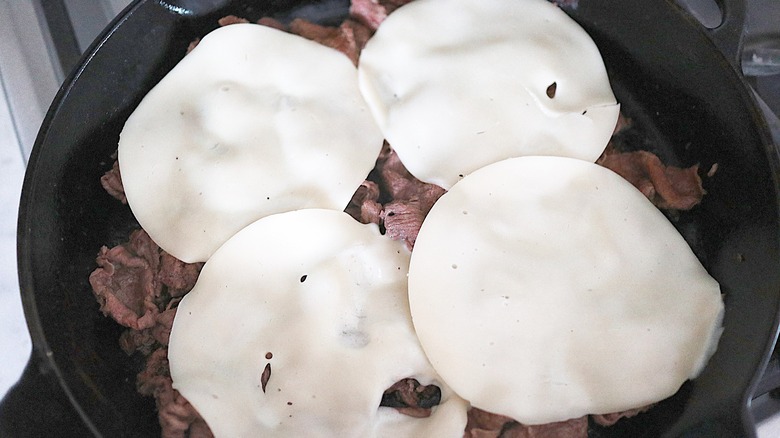 Cecilia Ryu/ Mashed
Here's the fun part, cheese lovers: Place the cheese slices over the meat and cover it with a lid. Be patient while the cheese melts. Luckily, it only takes about 30 seconds to melt and it's pretty fun to watch the transformation.
After the cheese gets to the stage of ooey, gooey perfection, turn off the heat to make sure that your meat won't overcook and your cheese won't burn. 
Sandwiches, assemble!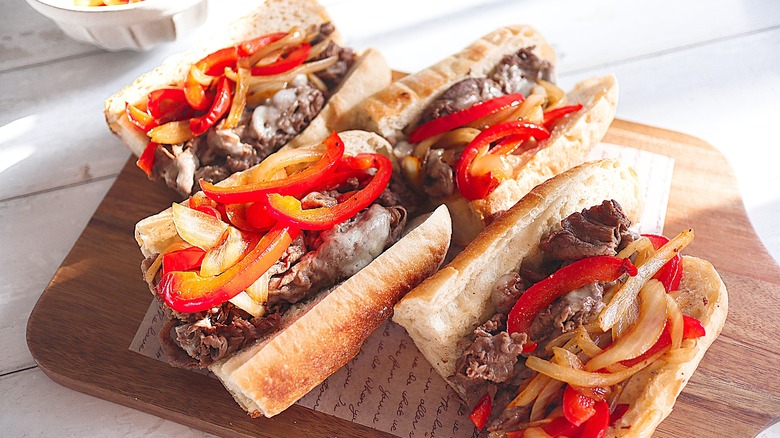 Cecilia Ryu/ Mashed
Grab your bread from the oven or tray and cut it lengthwise. Make sure you don't cut it all the way through, because you want to fill your sandwich without the whole thing falling apart. Divide the meat topped with cheese evenly and put half on one sandwich and the rest on the other.
Now, grab those peppers and onions that have been sitting to the side and put them on top. Don't worry about cleaning everything just yet because this dish is best when served hot. Enjoy with fries as a side.
Trader Joe's Philly Cheesesteak Recipe
Head to your local Trader Joe's for ingredients to make homemade Philly cheese steak with Ficelle bread, shaved steak, onions and peppers.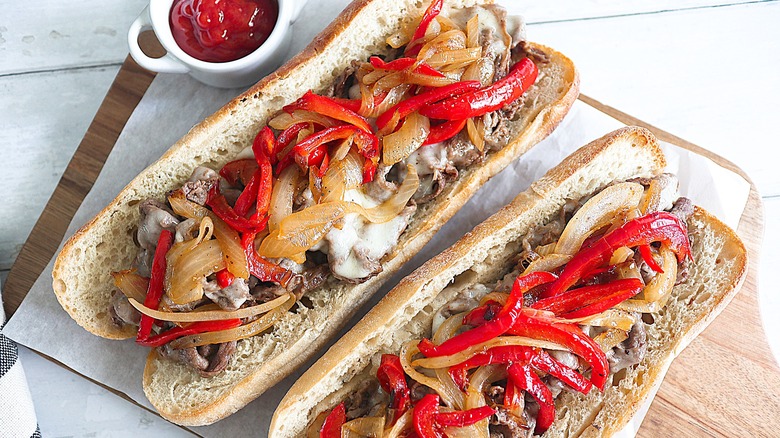 Ingredients
1 package Trader Joe's Half-Baked Ficelle Artisan Bread
1 red bell pepper
1 medium onion
1 package Trader Joe's shaved beef steak
4 slices Trader Joe's sliced Provolone cheese
Optional Ingredients
salt and pepper to taste
oil for greasing the pan
Directions
Thinly slice the peppers and onions.
Bake bread according to package directions.
Add oil to coat a large skillet and heat over medium-high. Sauté the peppers and onions, stirring occasionally until lightly browned and onions are translucent. Remove from pan and set aside.
In the same skillet over high heat, add the shaved beef in an even layer. When one side has browned, flip over and season with salt and pepper to taste.
Once steak is just cooked through, top with cheese slices and cover with a lid to melt the cheese, about 30 seconds.
Immediately turn off heat once cheese is melted to avoid over cooking the meat.
Cut bread lengthwise but not all the way through. Divide the meat and cheese evenly in half and carefully place inside each bread loaf.
Top with the sautéed peppers and onions.
Serve immediately while warm.
Nutrition
| | |
| --- | --- |
| Calories per Serving | 251 |
| Total Fat | 11.5 g |
| Saturated Fat | 5.3 g |
| Trans Fat | 0.4 g |
| Cholesterol | 36.3 mg |
| | |
| --- | --- |
| Total Carbohydrates | 19.9 g |
| Dietary Fiber | 1.9 g |
| Total Sugars | 3.2 g |
| Sodium | 302.4 mg |
| Protein | 16.3 g |