The Grapefruit-Flavored Topo Chico At Costco Is Turning Heads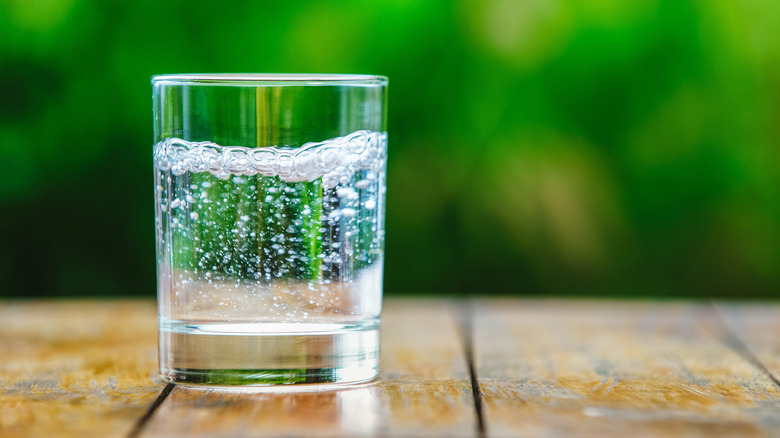 Shutterstock
As if weekends weren't good enough, the Instagram Costco fan account @costco_doesitagain posted a happy discovery on Friday, May 21: Topo Chico's "Twist of Grapefruit" sparkling water, offered at the Instagrammer's local Costco in a case of 18 big, half-liter bottles. 
The account's followers started planning their weekend around this particular find. "Guess where I'm going this weekend," @jenperez79 commented on the post after being tagged by @mellyy.perez. Another Instagram user, @briii_07, also got a heads-up about Topo Chico's newest addition at Costco through a tag from a friend. "That and some tequila!" they wrote. Instagram user @yaya.arangure had a similar thought involving tequila, commenting, "Going to make my own margaritas." A couple commenters tagged their friends to suggest grapefruit Topo Chico for making a version of ranch water. The standard version of this cocktail is tequila, lime juice, and soda water (via Punch).
What can be annoying about people's Costco finds is that Costco does not have the same inventory in all of its stores across the U.S. Many commenters wondered if their local Costco carried grapefruit Topo Chico, or posted crying-face emojis over the fact that they couldn't find it. "Every time I go to Costco I am looking for this," @shereej22 commented. "Hard to find the big packs but when I do, I buy a lot."
Topo Chico tops 'best sparkling water' lists
Admittedly, Topo Chico sparkling water doesn't have the same market share as La Croix (via Zippia). But taste mavens love it. Los Angeles magazine compared 11 sparkling waters and ranked Topo Chico No. 1. (La Croix came in seventh.) Epicurious also declared Top Chico to be the best sparkling water. Epicurious said Topo Chico's grapefruit version is done well, with just the right amount of grapefruit flavor.
People leaving reviews of Topo Chico's "Twist of Grapefruit" on influenster were universal in their praise, too. The 27 reviews on that site included an incredible 24 five-star reviews. (The other three reviews awarded them four stars.) "The grapefruit flavor is so well done, it's not too faint or too sour. These are really addictive, and I buy them whenever I see them," Andrea Z. wrote.
Mic went so far as to ask scientists to speculate on why Topo Chico tastes so good. Their process is likely a trade secret, so no one can say for sure, but these scientists suggested that with Topo Chico, less is more. Less carbon dioxide may contribute to a softer mouthfeel, while relatively low levels of sodium and calcium may contribute to a better taste experience.