The Celebrity Chef Behind Matthew McConaughey's Wedding Food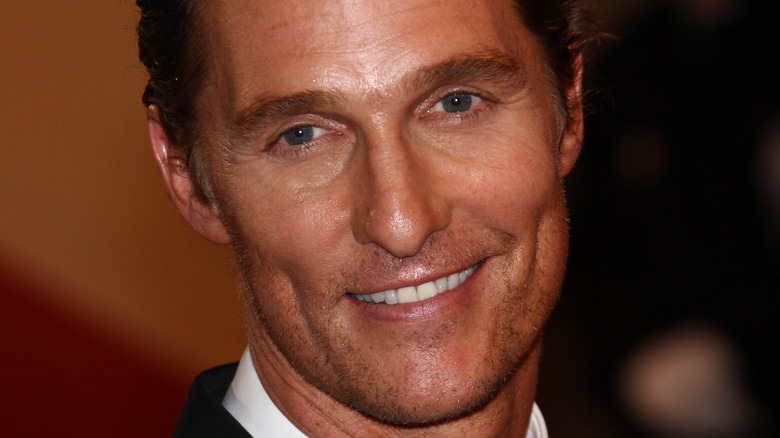 Shutterstock
Who wouldn't love to attend an A-list celebrity wedding? The beautiful setting, the extravagant flowers, the exquisite dresses, the people-watching, and the food, of course, always look amazing.
When Matthew McConaughey married model and mother of his two (now three) children Camila Alves in 2012, the always cool "Magic Mike" and "Dallas Buyers Club" star threw quite a party. The event spanned three days, according to The Recipe, and, per Texas Monthly, guests "glamped" in luxuriously furnished air-conditioned tents set up at McConaughey's large Austin compound. The celebratory weekend was said to be a mix of McConaughey's Texas roots and Alves' Brazilian heritage with both American and Brazilian music, entertainment, and food.
At the post-ceremony reception, wedding guests were served traditional rotisserie-style Brazilian meats catered by Austin restaurant Estância Churrascaria as well as pork sausages, bacon-wrapped chicken, and cheese breads, according to The Recipe. But the feast didn't end there.
Matthew McConaughey's pal Guy Fieri made a southern feast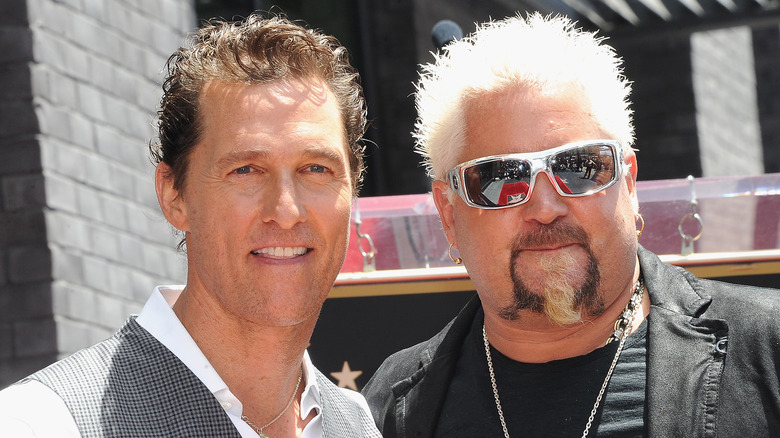 Albert L. Ortega/Getty Images
Matthew McConaughey and Camila Alves' three-day wedding weekend at their Austin estate sounds glamorous and delicious. On the final day, as guests enjoyed more music, dancing, lounging, and lawn games, a special guest chef prepared a feast with southern and Texan flair. That chef was none other than "Diners, Drive-Ins and Dives" star Guy Fieri, who cooked and served up a meal of brisket, fried okra, and crawfish.
McConaughey and Alves didn't simply hire Fieri for the gig, however. According to Southern Living, the actor and the chef have been very close friends for more than 20 years. The relationship began when "DDD" fan McConaughey, while road-tripping across the U.S. in an "Airstream" trailer, got Fieri's number, and started calling the Food Network star for advice about where to eat on the road. The two became fast friends, and McConnaghey even spoke at Fieri's Hollywood of Walk of Fame star ceremony in 2019. Esquire once described the bromance as "the last pure thing in the world," having bonded over "food, faith, and authenticity."
An unlikely duo? Maybe. But a genuine friendship is a delicious thing.