Iron Chef Masaharu Morimoto Says We've Been Eating Sushi Wrong - Exclusive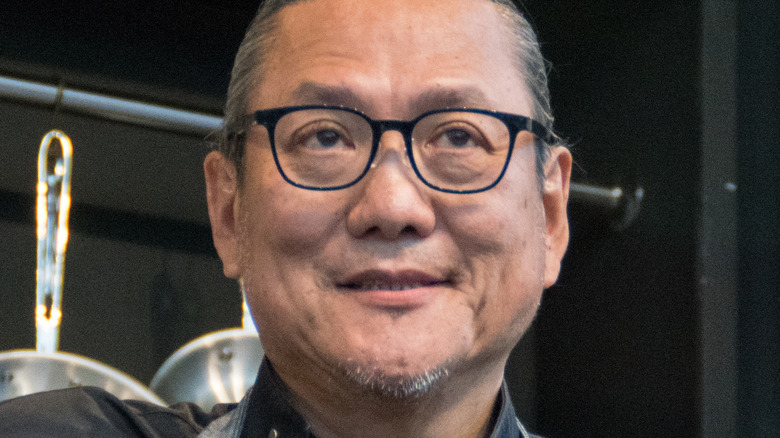 Shutterstock
Chef Masaharu Morimoto knows his fish. He opened his first restaurant in Japan at the age of 24 after apprenticing at a sushi restaurant in Hiroshima, and then worked up to executive chef at the original Nobu restaurant. By 2001, Morimoto opened his first Morimoto restaurant in Philadelphia, which has since expanded to include locations around the world. The chef has authored multiple cookbooks, released a line of knives, and partnered with brands to create a variety of products like beer, sake, and grapeseed oil (via Iron Chef Morimoto).
Many are familiar with the celebrated chef from his television appearances as a host, celebrity guest, and (perhaps most famously) as a regular on the Food Network's "Iron Chef America." In an exclusive interview, this Iron Chef explained to Mashed how to eat sushi the correct way.
The best way to eat sushi, according to chef Masaharu Morimoto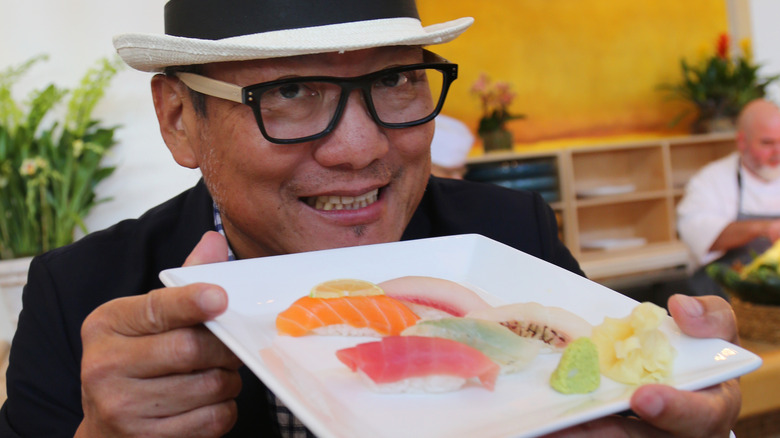 Shutterstock
Chef Morimoto says to try your best to eat each piece of sushi in one bite. It might sound deceptively simple — or impossible depending on the size — but Morimoto says "each piece of sushi is designed to encapsulate the perfect balance of flavors and textures." He explains that taking more than one bite would be like "deconstructing the meal into individual ingredients." In other words, it's similar to taking the lettuce, tomato, and cheese off of a burger and eating each on their own. As Morimoto, one of the world's most famous sushi chefs, puts it, "don't do that."
So, what is the trick to keeping all the delicious sushi intact in one bite? Morimoto explains you want to avoid dipping the sushi into your soy sauce "rice side down." To dunk like the experts, he says place the fish side of the sushi into the sauce, explaining that, while the sticky sushi rice is designed to hold its shape, it won't "hold up to a soy sauce dunk."
Morimoto says you should let the chef choose your sushi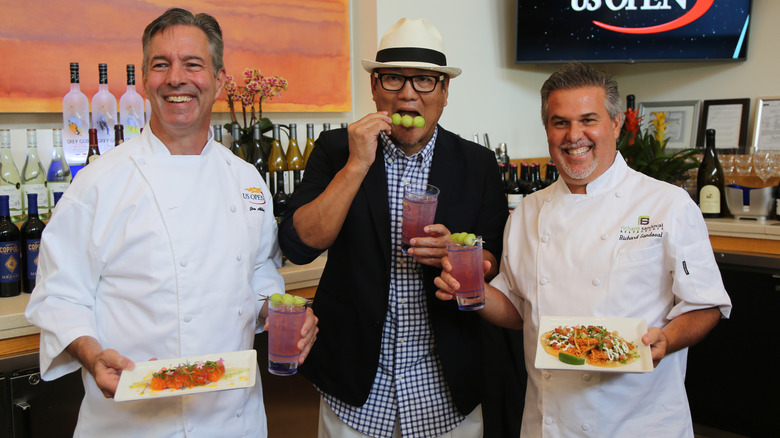 Shutterstock
Knowing what to order or trying new sushi can be intimidating, especially if you've only dabbled at all-you-eat buffets (no judgment). Omakase takes the pressure off. Chef Morimoto told Mashed that omakase means "to entrust" in Japanese, and is a style of dining where the chef selects all of the fish and the way each is prepared. Morimoto says omakase invites "you put your dining experience into the hands of the expert sushi chefs who create an unforgettable, multi-course dining experience." He explains a good sushi chef "features the freshest fish and various other specialty ingredients that are reserved for this truly unique meal." We take this to mean you should choose your chef wisely.
Michelin Guide says omakase relies on the "philosophy of the chef," what ingredients are available, and in-the-moment decisions; sharing that many sushi bars in Japan don't provide menus at all. It's not for everyone, but the chef really does know sushi best. Michelin Guide explains the chef will "gauge your reaction" and lead each dinner through a different experience. Just be warned omakase is also notorious for being expensive — sometimes very expensive (via Vice). Don't want to break the bank? Many sushi restaurants also offer a pre-fix menu to avoid any surprises.
If you want to get the authentic chef Morimoto experience, be sure to check out his restaurants (the newest Momosan Ramen location is in Miami) or his single-malt whiskey made in collaboration with Rogue Spirits.