Slow Cooker Spaghetti Casserole Recipe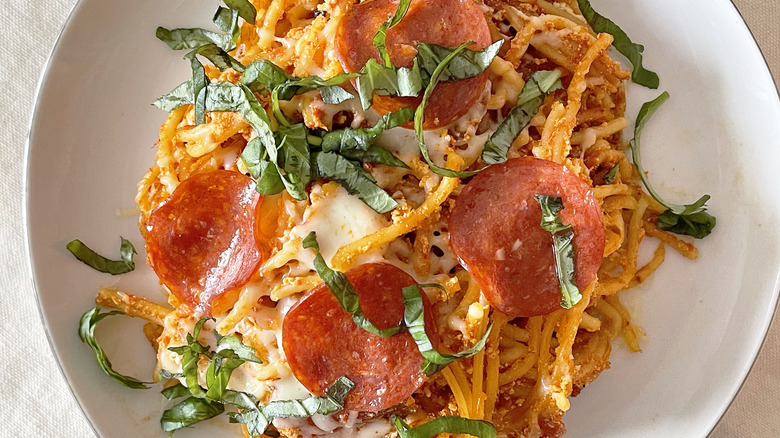 Jason Goldstein/Mashed
Italian food can be some of the best comfort food out there, especially when you're on a budget. It's the kind of cuisine that makes use of a lot of common ingredients, so it's easy to prepare. There might not be a lot of variety in the ingredients, but with a handful of quality ingredients, there are a lot of incredibly flavorful dishes that you can learn to master with ease.
If you're looking for a great weeknight dinner that will satisfy your cravings for spaghetti or pizza, look no further than this slow cooker spaghetti casserole recipe. Developed by chef Jason Goldstein of Chop Happy, this recipe is great for throwing together something simple that will end up being totally delicious. The trick is using the slow cooker, which is ideal for anyone getting back to a bustling schedule, but who's still looking to eat a tasty, well-rounded meal.
These simple ingredients may already be in your pantry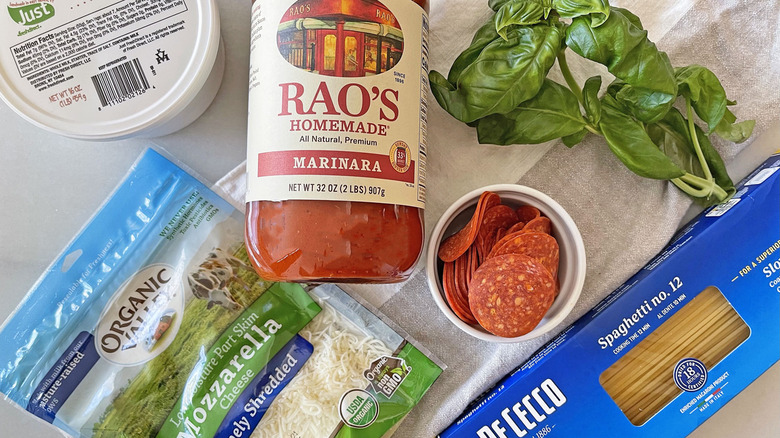 Jason Goldstein/Mashed
For this recipe, you'll need 1 pound of the spaghetti brand of your choice, a 32-ounce jar of store-bought marinara, 1 cup of water, 10 basil leaves, 15 to 20 slices of pepperoni, 2 cups of ricotta cheese, and 1 cup of mozzarella. If you've got some frozen homemade marinara sauce or feel like making your own, it's a good chance to use it.
Place the dry pasta in the marinara sauce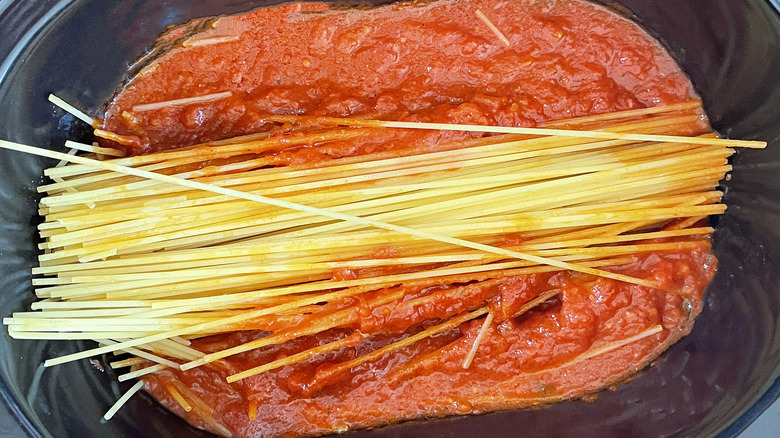 Jason Goldstein/Mashed
The fun part of this recipe is that you don't need to cook the pasta separately. It cooks directly in the marinara sauce in the slow cooker. So add the marinara and water to the slow cooker, then add the pasta.
Add the pepperoni and basil to your slow cooker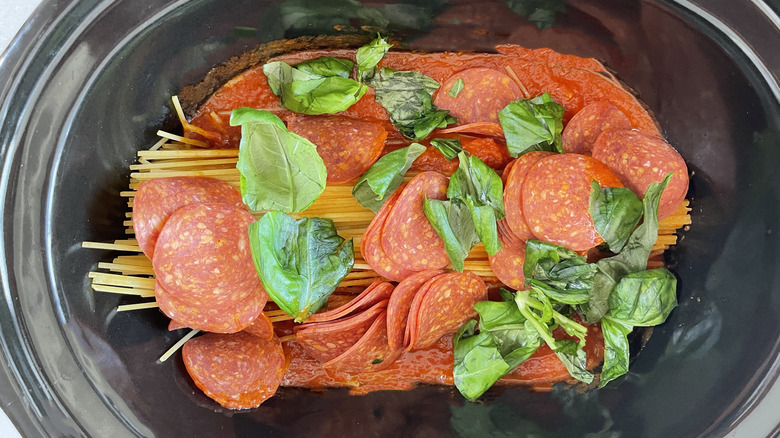 Jason Goldstein/Mashed
Now add the water, basil, and 10 of the pepperoni slices to the slow cooker. Even though the ingredients are pretty standard, you have some options for substitutions. "You can use dried basil, but fresh give a fresh sweet herbaceous flavor," Goldstein notes. When it comes to pepperoni, it's up to you which cut is best. "Thinner pepperoni might be easier to eat, but otherwise it does not matter," Jason Goldstein says.
Allow it to cook for two and a half hours on high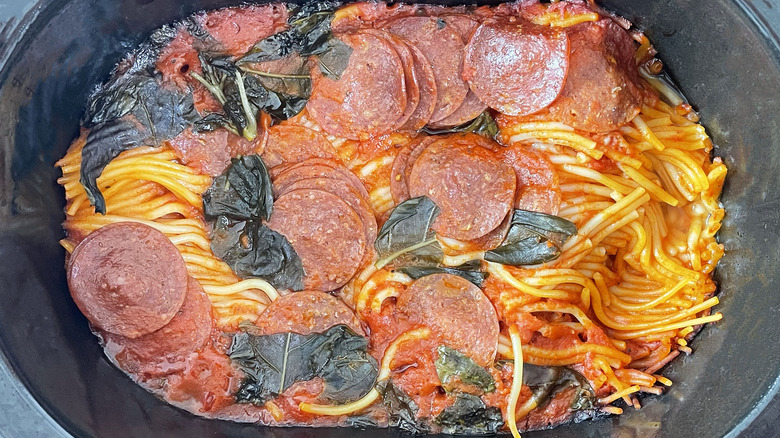 Jason Goldstein/Mashed
Now add the lid and cook the casserole on high for two-and-a-half hours. At that point, you'll have cooked spaghetti in tomato sauce. And you can stop right there and eat dinner, but you should definitely add the ricotta and mozzarella. "It's already awesome, but cheese makes it better," Jason Goldstein explains. Just mix the ricotta into the spaghetti and then sprinkle the mozzarella on top. Ricotta and mozzarella cheese aren't your only options, Goldstein notes. "You could use cheddar, or even manchego," he suggests. 
Add more pepperoni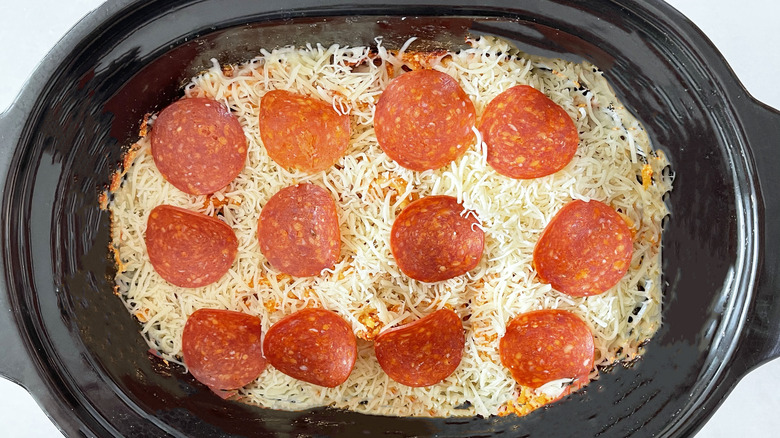 Jason Goldstein/Mashed
Before you leave this to cook again, don't forget the rest of the pepperoni. Goldstein calls for five to 10 more slices, so feel free to go with the higher end of what's called for if you're in the mood for an extra meaty casserole. Then all that's left is to replace the cover on your slow cooker and cook on high for 30 minutes more, to let all the cheese melt.
Half an hour will pass in a flash as you get ready to enjoy this dish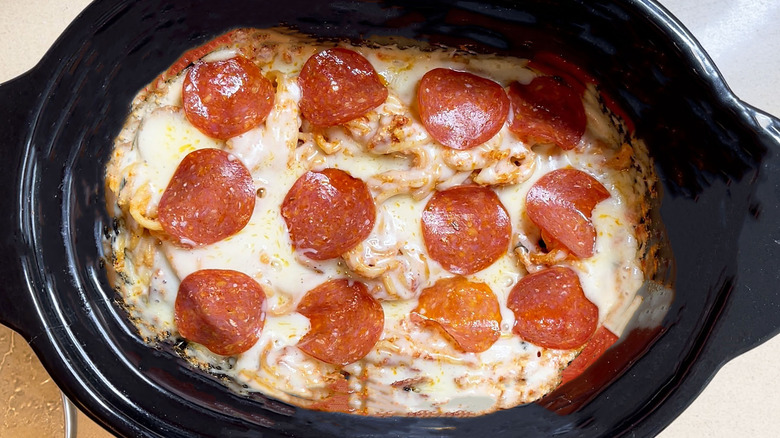 Jason Goldstein/Mashed
When the 30 minutes are up, your casserole should have a "creamy, baked ziti-like consistency," according to Jason Goldstein. You're officially ready to eat, so get to it while it's piping hot. And don't miss those crispy bits of cheese against the outer edges of the dish.
If you're looking to add a little something else to the meal? "A simple arugula salad with Italian dressing and glass of red wine," Jason suggests. 
Slow Cooker Spaghetti Casserole Recipe
With a handful of quality ingredients, this slow cooker spaghetti casserole recipe delivers a new twist on Italian and takes just 5 minutes to prep.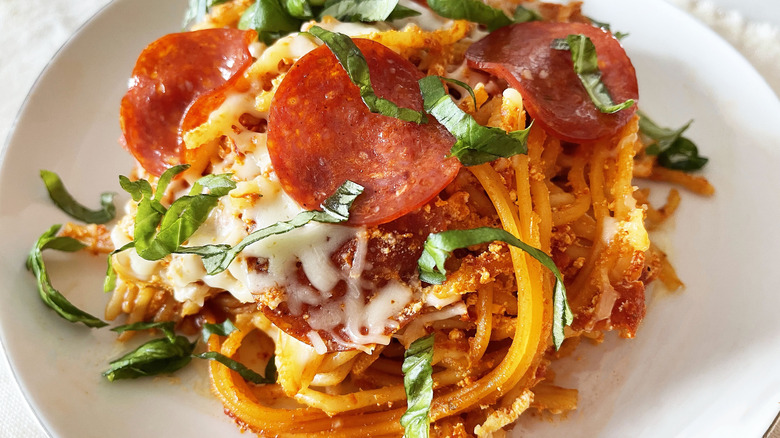 Ingredients
1 pound of spaghetti
1 (32-ounce) jar of store-bought marinara sauce
1 cup water
10 basil leaves, torn into pieces
15 to 20 pepperoni slices
2 cups ricotta cheese
1 cup mozzarella
Directions
Place the spaghetti, marinara sauce, and water in the slow cooker, submerging the pasta in the liquid. Top with the basil and 10 pepperoni slices.
Cover and cook on high for 2 ½ hours. Remove the cover and stir in the ricotta cheese. Sprinkle the top with mozzarella cheese.
Top with more pepperoni slices and replace the cover. Cook the dish for 30 minutes more, to melt the cheese.
Enjoy!
Nutrition
| | |
| --- | --- |
| Calories per Serving | 583 |
| Total Fat | 20.8 g |
| Saturated Fat | 10.6 g |
| Trans Fat | 0.1 g |
| Cholesterol | 66.1 mg |
| | |
| --- | --- |
| Total Carbohydrates | 70.8 g |
| Dietary Fiber | 5.2 g |
| Total Sugars | 10.8 g |
| Sodium | 928.9 mg |
| Protein | 26.8 g |