This Cake Was Served At Chrissy Teigen And John Legend's Wedding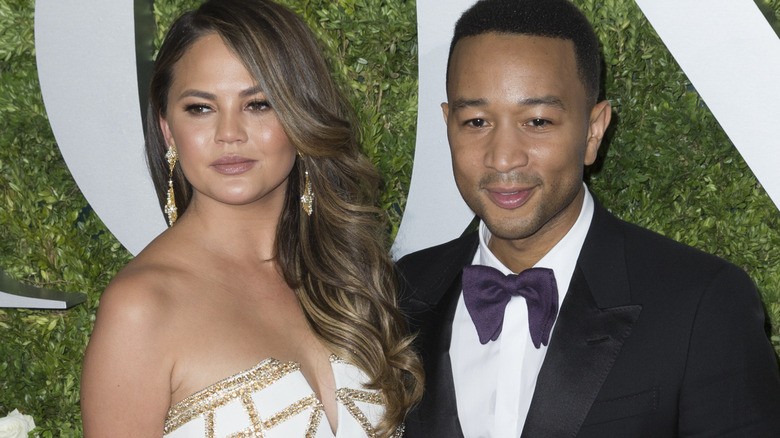 Shutterstock
It's no secret that model-turned-entrepreneur Chrissy Teigen absolutely loves food — the culinary queen is slowly building an empire. She's penned several cookbooks, come out with her own cookware line, and might even be opening a restaurant (via Cravings by Chrissy Teigen). It only makes sense that when it came to her wedding to singer John Legend, food was one of the most important things on her mind. As the two tied the knot in Lake Como, Teigen made sure to work with local vendors to incorporate plenty of Italian flair in her special day, but she went a lot more old-school American when it came to her choice of wedding cake (via The Knot).
Teigen opted for a carrot cake with cream cheese frosting, which may seem like a relatively basic flavor combination, but the cake itself was anything but basic. Back in 2018, Teigen shared a breathtaking shot of the cake on her Instagram, and it was a multi-tiered masterpiece. The cake was four circular tiers, decreasing in size towards the top, and was a simple naked-style exterior that highlighted the contrast between the creamy white frosting and the pale orange cake layers. Rather than covering it in all sorts of edible decorations, she opted to embrace the natural beauty of eucalyptus leaves and delicate pink and white blossoms, with the greenery and flowers wrapped around the top of nearly every tier.
A Chrissy-approved recipe to replicate her wedding cake
Prior to her wedding, Teigen confessed to People magazine that she isn't really a big fan of sweets, which means finding a cake she liked was important to her, so she worked with a pastry chef and design team to create the naked cake accentuated with gorgeous greenery (via The Knot).
If you're inspired by Teigen's wedding cake choice and itching to whip up your own carrot cake, she has you covered there too — it's not a recipe of her own, or even the recipe her pastry chef used for her wedding cake. Instead, Teigen gives credit to Southern Living magazine for the ultimate carrot cake recipe. She took to Twitter back in April 2020, following up on her viral banana bread recipe, and shared the publication's recipe, stating that the end product was "10000 times better than my wedding cake." 
Southern Living's recipe for carrot cake makes a three-tier, nine-inch cake — not quite the towering four-tiered masterpiece that Teigen's wedding cake was, but pretty impressive nonetheless! The incorporation of vegetable oil, buttermilk, and crushed pineapple add some major moistness to the cake itself, and as if that isn't enough, it also receives a buttermilk glaze to lock in that moist crumb. The recipe also packs some serious flavor thanks to the additions of flaked coconut, chopped pecans or walnuts, grated carrot, vanilla extract and cinnamon. And hey: if you make this cake, you can technically say you're eating like a supermodel.