The Only Type Of Onion Aarón Sánchez Uses For Tacos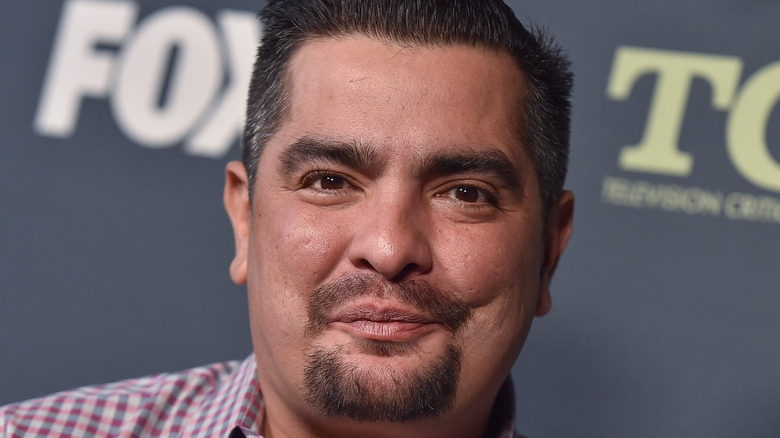 Shutterstock
Chef Aarón Sánchez knows a lot about tacos. Per the Denver Post, you can chalk up that knowledge to his heritage and the recipes that he cooked with his mother or, perhaps, it can just be attributed to his mastery as a chef. Whichever explanation you chose, we suggest you do it while you enjoy one of his masterpieces at his Johnny Sánchez taco joint because they are just that good. However, if you are not lucky enough to have Sánchez's taqueria in your neck of the woods, don't despair. Sánchez is not stingy when it comes to sharing his knowledge or love of this iconic handheld food.
Adding to his impressive creds, the celebrity chef served as the host of the Cooking Channel's "Taco Trip."  For this television special, Sánchez traveled across the country, where he got to eat tacos from the best taco stands, trucks, and eateries the US has to offer. (We are definitely feeling a little jelly.) Sánchez is without a doubt a titan when it comes to tacos. But what's his taco philosophy that makes the Chopped judge's creations so delish? Sánchez shared with Food & Wine Magazine he prefers a two-bite taco and achieves this by using a four-inch tortilla to create it. But that's not all he revealed. He also explained that when comes to onions and tacos, there is really only one type of onion you should use.
Only use white onions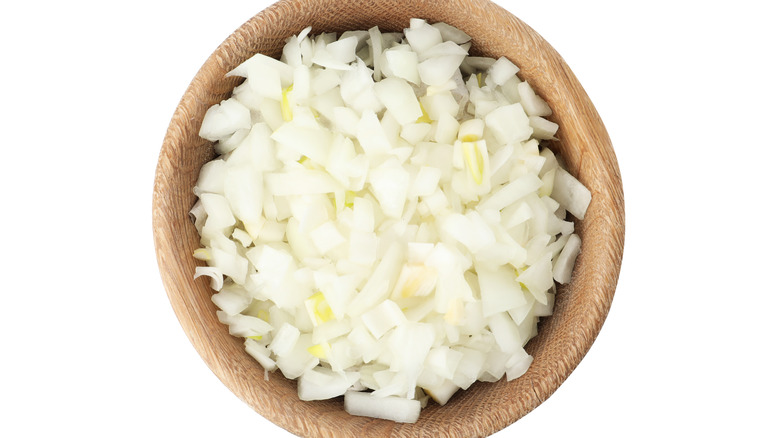 Shutterstock
Sánchez shared that when he is making up his tacos for Taco Tuesday like the rest of us, he stays away from Spanish onions and instead opts for white onions. He told Food & Wine Magazine, "Spanish onions are too aggressive." Why white onions? Sánchez told the publication that white onions tend to be milder in taste and they should be served as a garnish, not actually as part of the taco filling. 
This actually makes a lot of sense, given Sánchez's draw to traditional Mexican cooking. Per Mexconnect.com, white onions are the onions of choice for classic Mexican food. They describe this onion variety's taste as "clean" and "sharp" and a bit more on the tender side. The food writers at the Washington Post concur, sharing that the mild taste of white onions make them perfect for a pico de gallo, and they tend to be crispier than yellow onions — the perfect added crunch texture for a taco. When Sánchez wants to really amp up the flavor of his tacos, he uses cilantro, but he also notes that if you don't want to look like a newbie, keep the stems and use them as a garnish as well.