Nutella Baked Oats Recipe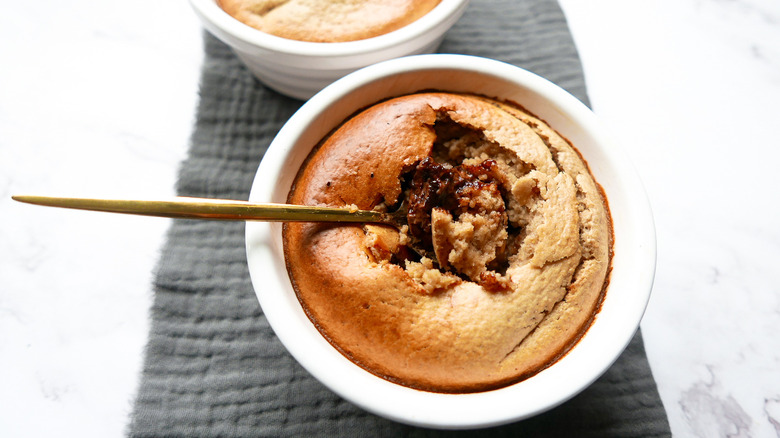 Ting Dalton/Mashed
#bakedoats have gone viral on TikTok, and looking at the videos, it's no wonder why. Pretty little ramekins jam-packed with fruit and gushing with chocolate make for the perfect, snappable breakfast. If you've been dying to join the trend, then look no further! Recipe developer Ting Dalton from Cook Simply is here to help with her very own baked oatmeal recipe. It's a fun twist on a breakfast classic that isn't too time intensive — plus, it makes for a great photo op.
And if you're convinced that oatmeal is only for grannies (as much as we love our grandmothers!), think again. The days of mushy, no-teeth-required porridge are gone, thanks to this creative use of the oven and blender. In Dalton's words, "Stovetop oats are delicious, too, but the texture is much wetter. Baked oats turn out completely differently." 
With a molten chocolate filling and addictively chewy crust and creamy interior, this fun oatmeal hack could be your favorite new breakfast recipe. 
Why baked oatmeal?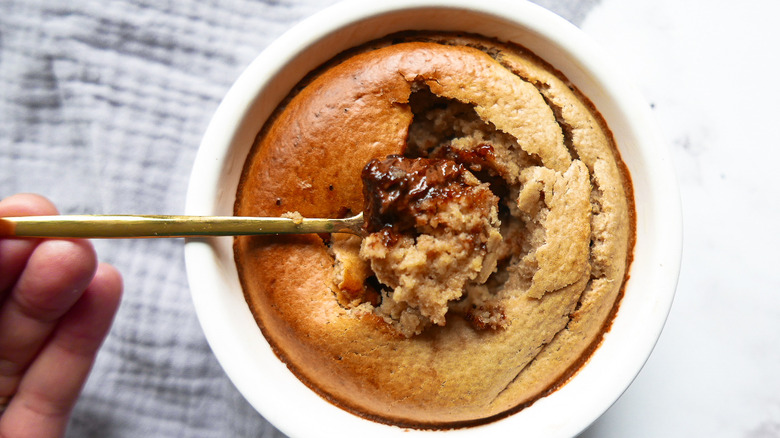 Ting Dalton/Mashed
So what's all the hype about baked oatmeal, anyway? According to Dalton, by blending the oats into a finer consistency, the resulting mixture is thicker and acts more like batter than porridge. After blending and baking, "It becomes more like a cake," says Dalton, "so even though the ingredients are healthy, you feel like you're eating cake for breakfast!" 
Healthy-ish breakfast cake with molten Nutella and sweetened with banana and honey? Count us in.
Gather the ingredients for your baked oatmeal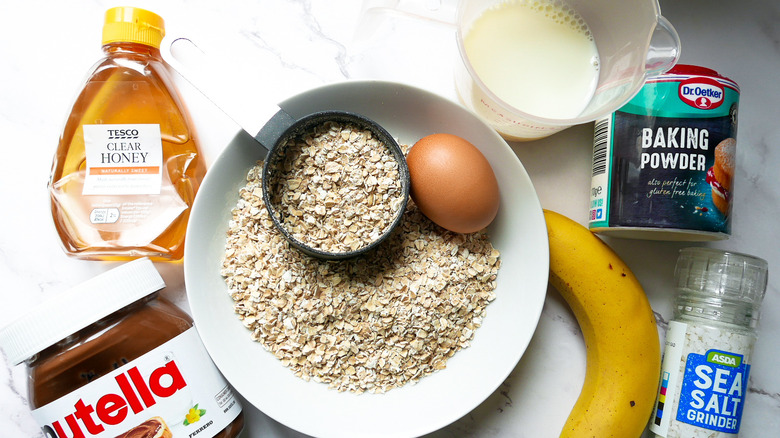 Ting Dalton/Mashed
To get started on your journey to oat-y goodness, start by gathering your ingredients. Luckily for you, you'll mostly need pantry staples for this recipe, including rolled oats, milk (alternative milks work too), a ripe banana, an egg, honey, baking powder, salt, and Nutella. To combine the ingredients, you will also need a blender. As far as baking goes, you'll need to find and grease two ramekins.
Don't fret if you don't have ramekins. Instead, opt for other deep oven-safe bowls (Dalton made sure to mention that muffin tins won't work because they aren't deep enough). If all else fails, you can double the recipe and bake in a larger oven dish like a cake pan. 
Lastly, make sure to preheat your oven before you start combining ingredients, or you'll be waiting around for it to come to temperature.
Blend, blend, blend!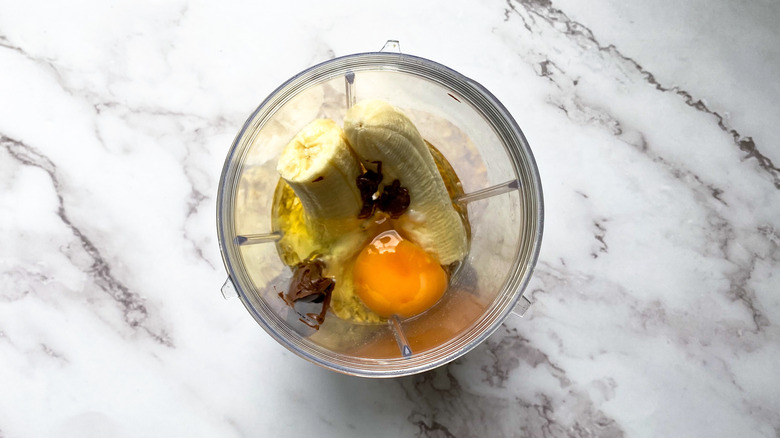 Ting Dalton/Mashed
Now that you've gathered your ingredients, you're ready to combine them. For this step, just pop all your ingredients into the blender, except two teaspoons of the Nutella, which you'll use later. You'll only need to blend for 30 to 40 seconds to get the texture right. 
This is also the time to make any substitutions. Don't like banana? You can take it out of the recipe entirely. If you want to opt for a different fruit, blend the rest of the ingredients and stir in any berries once combined. You can even replace the Nutella with peanut butter, or the honey with maple syrup. Dalton says the combinations are endless for this dish, so feel free to add whatever fillings your heart desires.
Pour batter into ramekins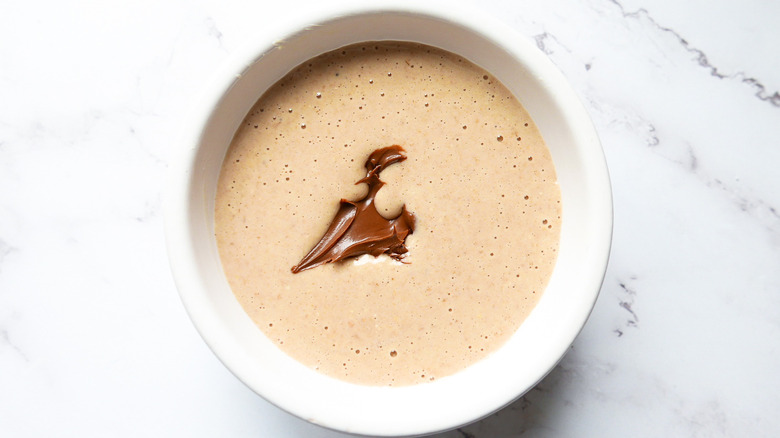 Ting Dalton/Mashed
Once everything has been combined, you can pour your mixture into the two ramekins. Just make sure that both dishes are greased before you fill them. 
Once the mixture has been evenly spread between the two ramekins, take those last two teaspoons of Nutella and spoon them into the center of each dish. This will give your cakes a gooey Nutella filling when you break them open, like an oat-y lava cake! Your grandma could never.
Time to bake!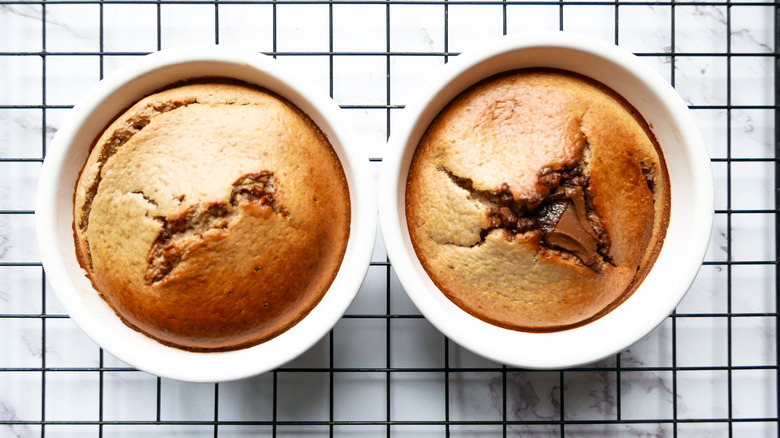 Ting Dalton/Mashed
It's finally time to bake your oatmeal. Once the dishes have been prepared, place both ramekins on a baking tray in case they overflow and put them in the oven for 30 minutes. While you wait, your home will fill with the nutty, chocolaty smell of this wonderful baked oatmeal. The hardest part is waiting, but giving these babies the time they need in the oven is well worth it. Once you experience these cake-like breakfast treats, you'll have trouble going back to simple stovetop oats, or even Instant Pot oats!
Remove from the oven and enjoy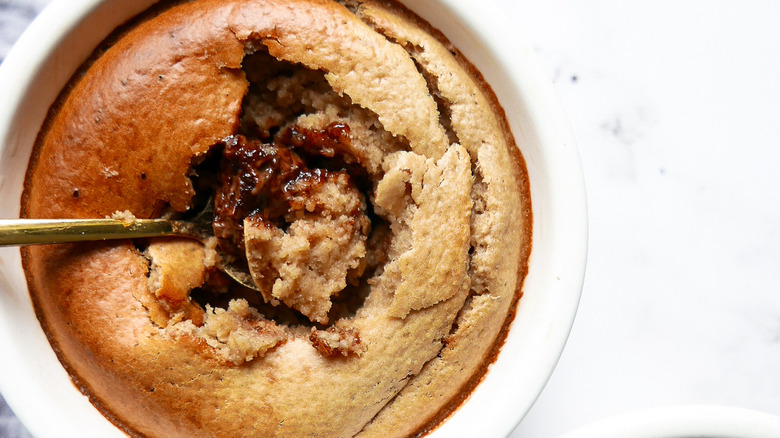 Ting Dalton/Mashed
Finally! The time has come to enjoy your baked oatmeal. Take your oats out of the oven and let them cool for a few minutes on a rack before breaking them open to enjoy the moist, fluffy texture of the oats and the gooey Nutella center. You can also add any toppings you want, such as a dollop of yogurt with honey.
For any busy bees, feel free to make these ahead of time and eat them whenever it's convenient. You can bake and refrigerate them, since Dalton says they last in the fridge for a whole week. You can also freeze them once baked. Feel free to pop your leftover oats back into the oven to warm them up before eating.
Nutella Baked Oats Recipe
This Nutella baked oats recipe, with ramekins packed with fruit and gushing with chocolate, makes for a perfectly snappable, viral Tiktok #bakedoats breakfast.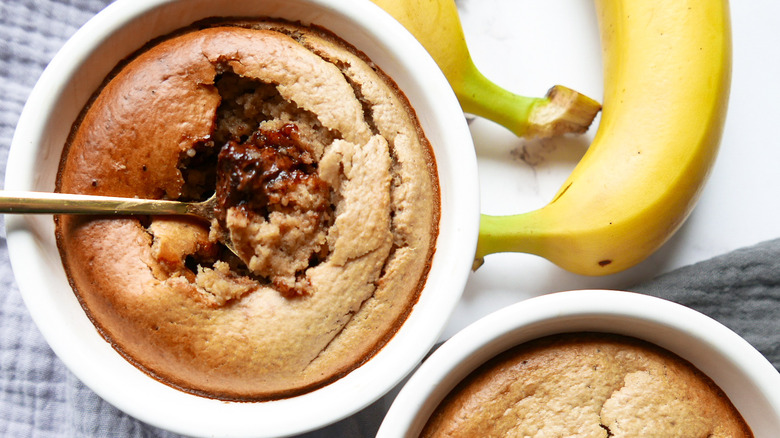 Ingredients
1 cup rolled oats
½ cup milk
1 ripe banana
1 egg
2 tablespoons honey
½ teaspoon baking powder
½ teaspoon salt
3 teaspoons Nutella, divided
Optional Ingredients
Dollop of yogurt, for serving
Honey, for serving
Directions
Preheat the over to 350 F.
In a blender, combine the oats, milk, banana, egg, honey, baking powder, salt, and 1 teaspoon of Nutella. Blend for 30 to 40 seconds.
Pour the batter into two greased ramekins or individual oven-safe dishes and spoon 1 teaspoon of Nutella into the middle of each one.
Place on a baking tray and bake for 30 minutes.
Remove from the oven, let cool several minutes, and enjoy!
Nutrition
| | |
| --- | --- |
| Calories per Serving | 382 |
| Total Fat | 9.7 g |
| Saturated Fat | 4.9 g |
| Trans Fat | 0.0 g |
| Cholesterol | 86.1 mg |
| | |
| --- | --- |
| Total Carbohydrates | 66.9 g |
| Dietary Fiber | 5.8 g |
| Total Sugars | 33.0 g |
| Sodium | 492.4 mg |
| Protein | 11.3 g |