The Truth About Christopher Prieto From BBQ Brawl Season 2
We may receive a commission on purchases made from links.
The Food Network's "BBQ Brawl" is back for a second season starting on June 14 (9 p.m. ET/PT), according to a press release from Discovery+, the Food Network's parent company. As with the first season, we'll see culinary icons and acclaimed Food Network hosts Bobby Flay and Michael Symon acting as coaches and mentors for their respective teams of  barbecue pit masters from around the country.
However, for this rematch, which promises even more excitement than the last go-round, Flay and Symon will be joined by a new coach and 'cue-mentor, former NFL player turned chef and food truck owner, Eddie Jackson, as well as 12 fresh, new "buzzworthy barbecue stars from around the country," competing before a panel of esteemed judges, including BBQ Hall of Famer Rodney Scott and "Iron Chef" Season 14 winner, Brooke Williamson, for the honor of owning the title, "Master of 'Cue," as well as being positioned as Food Network's "official BBQ exert" for the next year, "dispensing grilling tips and tricks to anyone looking for guidance."
One of the competitors this season is an esteemed BBQ chef with whom you may already be familiar. We're talking about Christopher Prieto, also known as @BarbecueNerd on Instagram. Here's the truth about Prieto, who owns and runs North Carolina's Prime Barbecue, according to the Food Network.
Here's why Christopher Prieto should feel very confident about his run on BBQ Brawl
According to the website of PRIME Barbecue, Christopher Prieto, is a "champion pitmaster, book author, barbecue judge, teacher and barbecue eating expert," whose "journey into cooking and the world of barbecue" began during his childhood in Texas, one the four barbecue capitals of the U.S. "After years of cooking on the professional barbecue circuit, teaching barbecue classes nationwide and cooking all over the country, Christopher believes he has finally achieved what he considers 'barbecue excellence' with his own signature style."
If Prieto looks familiar, it may be because you've seen him on the Food Network's "Chopped: Grill Master, during which Prieto showcased his facility with both "the brisket and the whole hog," according to The News & Observer. 
At the time he appeared on "Chopped," Prieto was in his freshman year as PRIME's owner and "head fire maker" (via PRIME Barbecue's website). He had also already authored the 2015 BBQ cookbook, "Ultimate Book of BBQ: The Complete Year-Round Guide to Grilling and Smoking," and appeared on Destination America's "BBQ Pitmasters." Later that same year, he appeared on The Cooking Channel's "Meat Masters." But even before that, Prieto was an experienced competitor: "He started competing when he was only 21 years old," and as of 2018, he already had nine Grand Championships and had cooked in the Kansas City Royal Invitational (via BBQ Beat).
A few fun facts about Christopher Prieto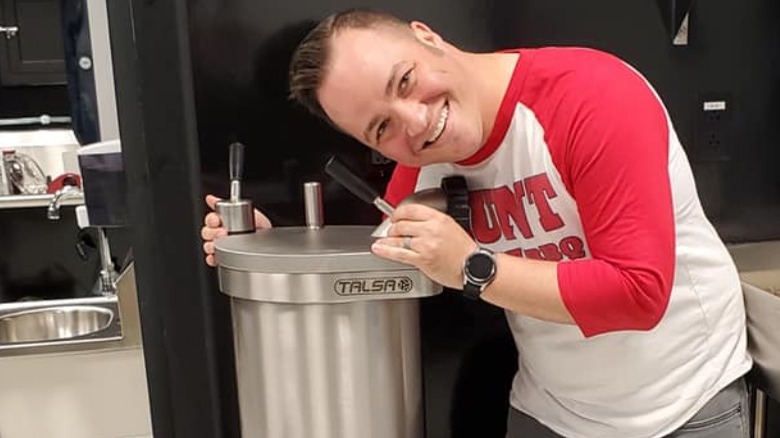 Facebook
Christopher Prieto has two words that may ultimately best describe his approach to barbecue mastery. One is "cerebral," which, according to The News & Observer, is how Prieto characterizes his own barbecue game thanks to the extensive research he puts into developing and perfecting his dishes and his technique. The other is "fusion." According to BBQ Beat, Prieto likes to bring in "flavor components from regions and cuisines outside of what you'd normally expect to see with Carolina 'cue" and has been heard to use the word "fusion" to describe his style.
Although Prieto is most famous for his 'cue talents and skills, he also has been honing a burgeoning reputation as having the "best hair" in the barbecue biz, according to BBQ Beat, which featured Prieto on a podcast, during which he, not once, but twice, mentioned that "he's very proud of his hair." But that's not exactly an unrelated coincidence in that "everything about PRIME Barbecue speaks to clean presentation, excellence in execution and presentation, a little flash, and a ton of style" (via BBQ Beat).